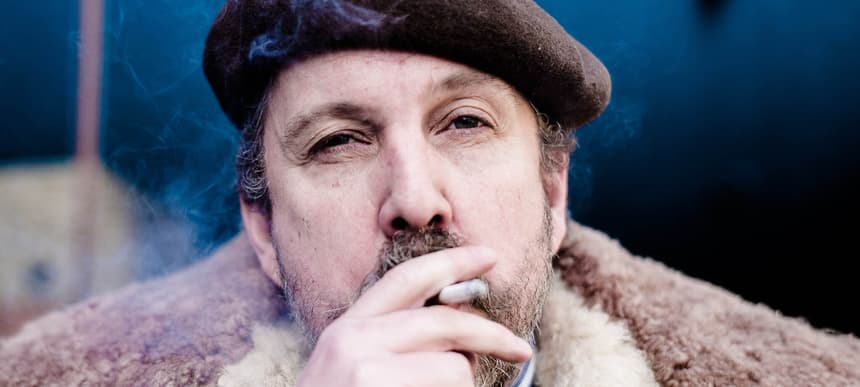 18.02.2020, Words by Felicity Martin
The electronic music community pays tribute to Andrew Weatherall
The tragic loss of the DJ, producer and pioneer has triggered an outpouring of grief on social media...
One of the UK's most respected electronic artists, Andrew Weatherall passed away yesterday aged 56 after suffering a pulmonary embolism.
Born in 1963, the DJ/producer/remixer rose to fame during the acid house era of the late '80s, most notably working on Primal Scream's 'Screamadelica', turning it into an era-defining album, while also remixing tracks by artists from Björk to Manic Street Preachers.
An anti-establishment icon, Weatherall was uncompromising in his outlook, as well as being an engaging raconteur, a revered selector and mind-bending producer.
His death has prompted an outpouring of tributes from the dance music community, paying their respects to an artist who was overwhelmingly loved by many.
Read a selection of the messages from people whose lives he touched below.
I can't believe I am writing this.#RIP Andrew Weatherall

(6 April 1963 – 17 February 2020)

One of the greatest, sweetest, funniest guys I've ever met. pic.twitter.com/hXKR02k850

— Dave Haslam (@Mr_Dave_Haslam) February 17, 2020
First time I saw Weatherall play was in the bottom floor of Back To Basics at the Music Factory in Leeds when I was 17. It was absolute carnage & he was playing Phuture's Phuture Will Survive. The memory is burned into my synapses. It changed me.

— Paul Woolford (@PaulWoolford) February 17, 2020
Weatherall was a font of all things amazing when it came to music. I'll miss his enthusiasm and his ace recommendations. A good friend and inspiration to so many x x pic.twitter.com/0OEVdoaets

— Tim Burgess (@Tim_Burgess) February 17, 2020
RIP Andrew Weatherall. The king of cool. Very, very sad news. Thoughts are with his family and friends. ❤️

— Sleaford Mods (@sleafordmods) February 17, 2020
rest in peace to a true OG, andrew weatherall. the epitome of a fearless selector <3

— josey rebelle (@JoseyRebelle) February 17, 2020
RIP Andrew Weatherall
i am so deeply saddened by this news..
sending the best of my love to Andrew's family, friends and collaborators the world over..
🌹
m/a..x

— maryanne hobbs (@maryannehobbs) February 17, 2020
View this post on Instagram
I honestly wouldn't be where I am today without Weatherall's involvement in my music. His constant support and honesty, the time we spent together making 'Tarot Sport', everything. I don't want this to be real

— Blanck Mass (@BlanckMass) February 17, 2020
The absolute architect of acid house and beyond. Without him the cultire would not have been. He never compromised. He was an idol to me, completely reshaped my life. #andrewweatherall you will be so deeply missed

— annie nightingale (@aanightingale) February 17, 2020
When i first met Andrew Weatherall in the early 90's he just starting praising me on the spot in the middle of Fat Cat records in London , which was unsettling because it was my intention to shower him with well intended praise … I managed to turn that around later on .RIP AW

— Luke Slater (@reallukeslater) February 17, 2020
So sad about Andrew Weatherall, he was a true pioneer and a constant inspiration xx

— The Chemical Brothers (@ChemBros) February 17, 2020
Back before "minimal" became a dirty word, there was a story that in the mid-90s Weatherall played an entire set at Glastonbury of just Studio 1 and Concept 1 records. It stuck out in my mind as the most renegade thing a DJ could do – play without concern for expectations.

— panic in the discogs.com (@ambivalent) February 17, 2020
RIP Weatherall. I'm devastated. A childhood hero, my mum and dad loved you and I felt blessed to have my NTS show on after yours, it meant I got to catch up of my favourite djs once a month. What a legacy. Thanks for the music Andy 🙁 💔💔💔💔

— Eclair Fifi MP (@eclairfifi) February 17, 2020
Absolutely stunned. RIP to a great of greats. Andrew Weatherall. Your electricfying music scared the shit out of me as a very young raver at cream in 1993 and many times since. Condolences to family & friends. ♥️

— Yousef (@yousefcircus) February 17, 2020
i can't even..
Andrew was one of the first people I met when i moved to london 10 years ago – the godfather of music & one of the nicest people in music
( which you realise is so so rare )
i can't believe this has happened.
he will be so sorely missed.
thank you, A

— Kelly Lee Owens (@kellyleeowens) February 17, 2020
We are all very saddened to hear about the passing of our friend, and collaborator, Andrew Weatherall. pic.twitter.com/vZ3ckl7lw0

— New Order (@neworder) February 17, 2020
I've never seen anyone do this but when Andrew Weatherall played for us he told me he was running out of records. He just allowed one record to play out, left a 20 second gap of silence and started on some acid mind benders. pic.twitter.com/CzIJMYPS1O

— TheBlackDog (@TheBlackDog) February 18, 2020
hard to put into words the influence and impact Andrew Weatherall has had on UK culture…
so sad to hear of his passing
RIP

— Gilles Peterson (@gillespeterson) February 17, 2020
OK my favourite weatherall story told to me by sean johnston… someone was giving him grief across the decks all night and eventually weatherall asks the griefer "how much did u pay to get in tonite?" and the griefer says "a fiver" and weatherall says "here's a tenner. fuck off"

— Ruf Dug (@RufDug) February 17, 2020
So sad to read of the death of legendary DJ and musician Andrew Weatherall in the early hours of this morning. He played out my music when no-one else even took notice in the 1990s. Such a fine man indeed. Farewell you Sabre of Paradise!

— Robin Rimbaud – Scanner (@robinrimbaud) February 17, 2020
(Read the full interview from which the above quote is taken).