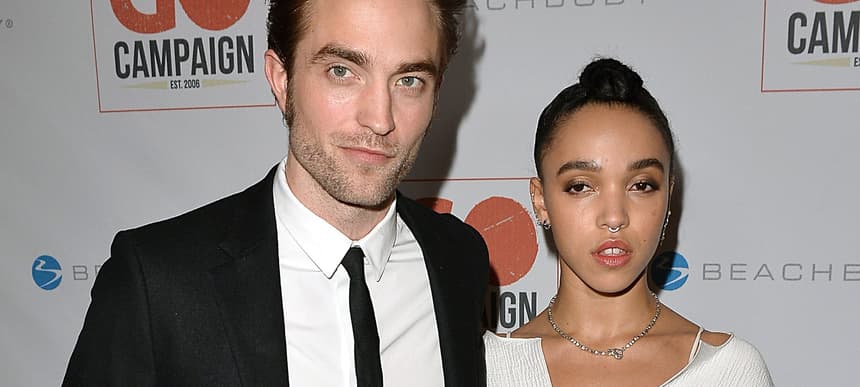 26.01.2021, Words by Billy Ward
FKA twigs opens up about "horrific" racist abuse she suffered while dating Robert Pattinson
The singer also shared details of her abusive relationship with Shia LaBeouf, such as being banned from looking other men in the eye
FKA twigs has spoken out about the "deeply horrific" online racist abuse she received from Robert Pattinson fans during her relationship with the actor.
The singer told Louis Theroux on his Grounded podcast that alongside hateful messages she was also sent pictures of monkeys.
"It was really deeply horrific and I think it was at a time where I felt like I couldn't really talk about it," she said.
The 33-year-old, who dated the Pattinson from 2014 to 2017, said she believed those sending her hate thought the actor was their "white Prince Charming" and that he should "be with somebody white and blonde".
"I feel like if I was going through it now I would be able to talk about it and do some good with it. But I don't know whether it was to do with my age or because of the social climate or being black and from Cheltenham and from a low-income family, and having to genuinely work twice as hard at everything I do to get a seat at the table," she said.
Elaborating on the racist abuse, twigs continued: "Say if I was wearing a red dress they would have a monkey in a red dress or I was on a bike they would find a monkey on a bike."
Back in December, the singer revealed she was suing ex-boyfriend Shia LaBeouf for what she has described as a "relentless" abusive relationship. She has filed a lawsuit in Los Angeles Superior Court accusing LaBeouf of sexual battery, assault and infliction of emotional distress.
In the same interview, twigs opened up to Theroux about her relationship with LaBeouf, disclosing that he had banned her from looking other men in the eye, and gave her a "quota" for the number of kisses and touches she gave him per day.
"Being nice to a waiter, or being polite to somebody [could be] seen as me flirting or wanting to engage in some sort of relationship with somebody else, when I'm literally just ordering pasta or being polite," she said.
"I was told I knew what he was like, and if I loved him I wouldn't look men in the eye, and that was my reality for a good four months towards the end of the relationship.
"I had a quota that I had to meet, which changed… it was touches, or looks, or kisses, that his previous partner apparently met this number very well, so I was 'inadequate' compared to a previous partner of his, and I had to get the touches and kisses correct," she continued.
In an email statement to the NYT, LaBeouf responded to the allegations made against him, stating: "I'm not in any position to tell anyone how my behaviour made them feel. I have no excuses for my alcoholism or aggression, only rationalisations. I have been abusive to myself and everyone around me for years. I have a history of hurting the people closest to me. I'm ashamed of that history and am sorry to those I hurt. There is nothing else I can really say".
Yesterday, FKA twigs announced she was releasing a new single 'Don't Judge Me', reuniting Headie One and Fred again.. for the first time since their 'GANG' mixtape. The video will premiere on her YouTube channel at 8pm, January 26.
Read next: Sia drops Shia LaBeouf from her film 'Music', calls him a "pathological liar"