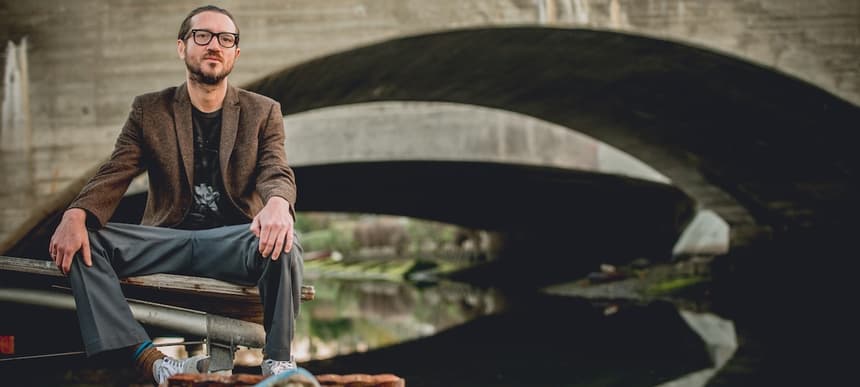 28.01.2015, Words by dummymag
John Frusciante is releasing an acid house album
Former Red Hot Chili Peppers guitarist is putting out an acid house album under the alias Trickfinger via Acid Test, home of Pépé Bradock and Tin Man.
John Frusciante, former guitarist with the Red Hot Chili Peppers, is releasing an acid house record.
Landing on Acid Test – home to the likes of Tin Man and Pépé Bradock – and released under the alias Trickfinger, the album consists of eight experimental acid tracks that do away with the baggage of conventional rock songwriting.
"I started being serious about following my dream to make electronic music, and to be my own engineer, five years ago," Frusciante says in a statement, "For the 10 years prior to that, I had been playing guitar along with a wide range of different types of programmed synthesizer and sample-based music, emulating what I heard as best as I could. I found that the languages machines forced programmers to think in had caused them to discover a new musical vocabulary…"
Okay, the idea of 'RHCP guy does acid house' might sound weird on paper, but if you've followed Frusciante's dabblings over the years then you'll know that it's not that strange. He's worked on tonnes of experimental records across various genres – jazz, psychedelic rock, ambient, rap, etc. – and even collaborated with Venetian Snares as Speed Dealer Moms on Planet Mu.
The album's opening track, After Below, is streaming now.
Trickfinger 'Trickfinger' tracklist:
01. After Below
02. Before Above
03. Rainover
04. Sain
05. Exlam
06. 85h
07. 4:30
08. Phurip
Acid Test release 'Trickfinger' on April 7th 2015.