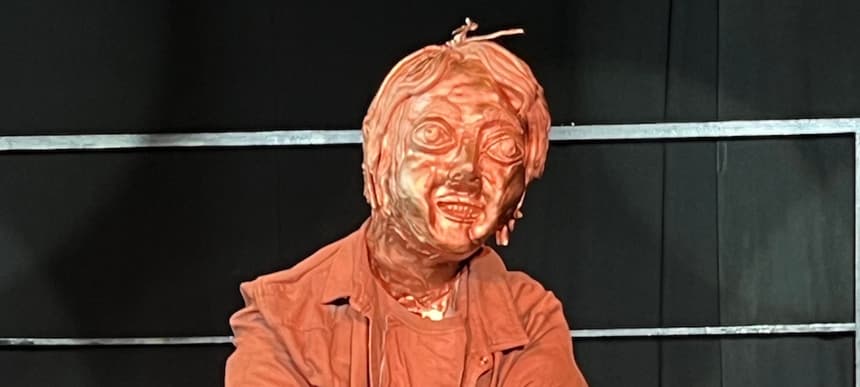 23.05.2023, Words by Billy Ward
Lewis Capaldi presented with "unusual" student-made statue of himself by former school
Apparently the sculpture is supposed to look like that
Lewis Capaldi has been presented with a bronze coated sculpture of himself to celebrate the release of his new album 'Broken By Desire To Be Heavenly Sent'. 
The statue was made by the students at St Kentigern's Academy in Blackburn, West Lothian – the secondary school that the singer-songwriter used to attend. The project took 6 months to finish. 
According to Bryan Johnston, the principal art teacher at the academy, the statue deliberately took an "unusual" approach – incorporating gigantic bulging eyes and comedically thin fingers.
"The art department got involved with the concept after speaking to Lewis' team and we decided to follow James Corden's concept when he made the statue of David Beckham a few years ago," Johnston told the Daily Record. The David Beckham statue the sculpture took inspiration from was made for The Late Late Show to prank the footballer back in 2019.

"[We] wanted to link it to Lewis' new album ['Broken By Desire To Be Heavenly Sent'] which has now been released."
He continued: "The art department at the school came up with the concept, and it went from there," he added. "We sourced a mannequin from a guy in Glasgow, took it back to school and built around it. The biggest challenge we faced was getting the face to look not quite right and a bit unusual and it went from there."

The pupils behind Capaldi's sculpture were offered tickets to the singer's intimate gig in SWG3 later that evening.
At the time of writing this article, Capaldi's new album is currently outselling the rest of the Top 20 combined and is set to be his second number 1 album. The LP is expected to match the record-breaking success of Capaldi's debut album, 'Divinely Uninspired To A Hellish Extent', which contained the most-streamed song in Official Chart history, 'Someone You Loved'.