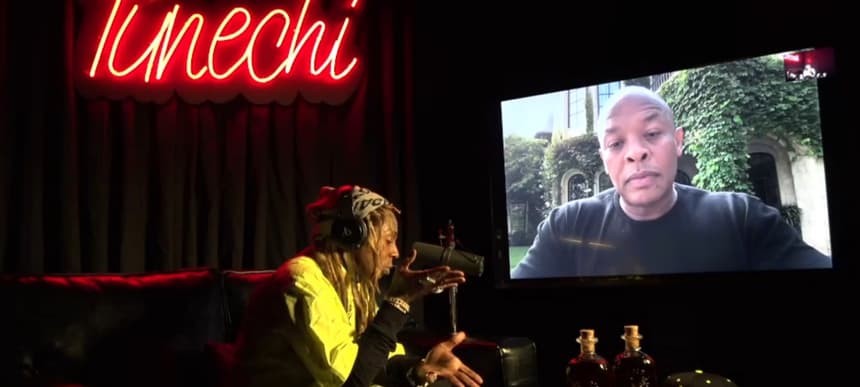 28.04.2021, Words by Felicity Martin
Lil Wayne has unreleased music with Michael Jackson and Dr. Dre, apparently
Wayne's former recording engineer spoke about their shroom-fuelled studio sessions and how much material will never see a release
Former Lil Wayne recording engineer Mike Banger recently participated in a Q&A session with a Lil Wayne Discord server.
During the session, he was asked who the biggest artist (besides Drake and Nicki Minaj) Wayne had made a track with that wasn't released, revealing that he had unreleased music with both Michael Jackson and Dr Dre.
Speaking about the Jackson collaboration, he said: "Did MJ get released? It wasn't great tho lol".
Asked which studio session was his favourite, Banger replied: "unreleased Dr Dre Detox album session was probably my fav. Dre was in there having a west coast party in our studio. So loud that we walked out. Wayne wrote the verse in his head outside. We came in and did it in like 10 min. Dre was ready to work for 10 years. Even after wayne recorded his part, Dre hovered over me telling me how to mix and requested doubles from Wayne. I ignored him and did it my way while he was making demands. When he was done asking for shit. I was done mixing and his ears were blown away."
He also spoke about the 'No Worries' session, saying: "As far as the general studio vibe lol 'No Worries' was hilarious. Shroom fueled. Everyone was out of their mind."
Banger revealed that 70% of material recorded wouldn't ever see an official release and, responding to a question about Lil Wayne high versus sober, responded: "Idk the answer since he was always high. If he was anywhere near sober, I knew there was about to be temper tantrum explosion. I wish he'd stop and help himself. Watching him get hospitalized multiple times hurts to see."
Banger has mixed and recorded numerous Lil Wayne projects including 'Tha Carter IV', 'Rebirth', 'I Am Not A Human Being' 1 and 2 and 'We Are Young Money'.
Dr. Dre was recently being treated in hospital for a brain aneurysm, but was discharged earlier this year.
Read the full transcript of the Q&A here.