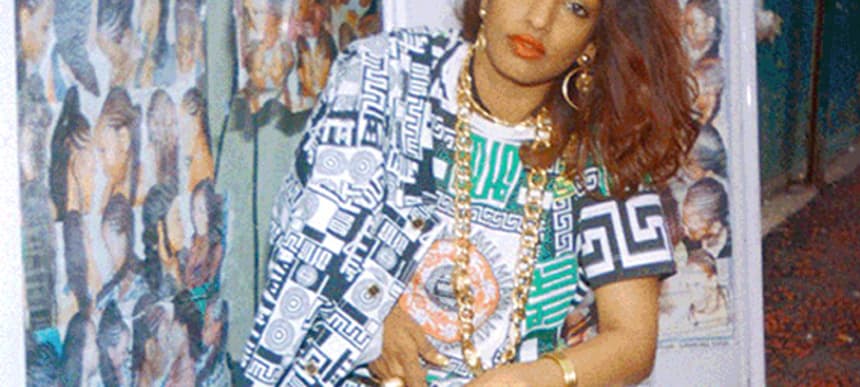 09.10.2013, Words by Steph Kretowicz
M.I.A. x Versus Versace: The bootleg has been gentrified
I've always felt compelled to defend M.I.A., sticking with her through the public swearing, weird tweets kind of encouraging violence during the London riots and inarticulate interviews generally. But I'm starting to think New York Times' Lynn Hirschberg was on to something when she implied the "Agitprop Pop" of the UK-born Sri Lankan was all radical chic since hooking up with millionaire heir Ben Bronfman and indulging in truffle-flavored French fries. I don't want to get all "counter-culture" on everyone, because we all know that's a pretty defunct concept within a global economy, but I'm going to call it. Sell out.
Yes, M.I.A. already recorded a song with Madonna. Yes, I've heard her tracks featured on several US film and TV shows I've watched lately – This is the End, Identity Thief, The Bling Ring and The Mindy Project. Yes, she performed at the Super Bowl. But in those instances, it was M.I.A.'s own soul to sell, right? But in the case of the "bootleg of a bootleg" concept behind her forthcoming M.I.A. x Versus Versace – which sees her designing clothes for the fashion house inspired by knock-offs of the brand – there's more to it than that.
"I adore the energy of the street", says Donatella Versace about the upcoming collaboration of 19-piece collection, apparently inspired by London markets. That sounds a lot like Heron Preston when he said "I'M ON A MISSION TO START A MOVEMENT OF SOPHISTICATED STREET CULTURE" in an interview with Freshness Mag way back in 2006, going on to make a name for himself by blatantly appropriating corporate brands, applying them to his own clothes and selling them. Well, congratulations Heron, you've succeeded. Thanks to not only M.I.A., but Cyril Duval, Babak Radboy, Eckhaus Latta, Brian Lichtenberg, Virgil Alboh, Kanye West and a slew of conduits filtering brand appropriation back through the vicious circle of Capitalist cooption, Versace is now doing it. And you don't get much more sophisticated than that.
Let me clarify. This isn't an issue about who ripped off whom, because even Preston laughed when he told TMI that people were bootlegging his Givenchy bootlegs and selling them for $300 on eBay. Nor can I take the credit for all these examples; Babak Radboy himself pointed out a bunch to me during an interview about his reapplied branding strategy, Shanzhai Biennial, that in turn drew from active Chinese Shanzhai culture, begun by factory workers jacking into their exploitative employers' brand power. So in the words of a friend who pointed out the bizarre similarities between Kanye West's 'Yeezus' album cover, to an unrealised design by Peter Saville for New Order's Crystal: "can't take credit mate showed me haha [sic]".
This isn't about credit; it's about how late M.I.A. is to the brand (mis)appropriation party, even after establishing herself as the original "genre-hopping blipster" and mother of offbeat hip hop, and being credited by artists like Le1f as being the artist to open up the realms of hip hop to the world of the weird. She was once always one step ahead, but evidently, being one step ahead isn't where it's at. There are, after all, the claims of artist and author Sophia Al Maria that the Romain Gavras video for M.I.A.'s Bad Girls uses images shot for shot from her own video and photography work. And that video did wonders for M.I.A.'s career (Bad Girls was one of the songs I heard on The Bling Ring. You know, the one where the rich kids take their pick of luxury items from Paris Hilton's obscene hoard of material possessions?).
More than a case of misplaced credit or M.I.A. ripping off underground ideas, though, what this Versace collaboration illustrates is a trend's natural progression from those "streets" that Donatella Versace loves so much. It's something that started off as an empowered attempt at getting some of that money building up in the vaults of a contracting moneyed class, only to be turned into art via Radboy and Duval, then pop via Abloh and Kanye West before finally being transferred back to the luxury world it came from. I recently wrote a blog post for Dazed Digital about the underground culture for appropriation of brand power-become-mainstream – a depressing and totally defeatist indication of the ultimate critique of the pervasive, garbage-eating, cyclical nature of co-option that is capitalism. I pointed to its trickle from Duval's Chanel-inspired intrusive advertising, courtesy of McDonald's, to Heron Preston, #BEEN TRILL and House of Ladosha, through Rihanna, Jay Z and Kanye West and now into Versace bootlegging its own bootlegs.
Think about it in terms of urban gentrification. You've bought a house in a poor suburb because you can't afford to live anywhere else (the very idea of property ownership is a luxury these days, I know, but humour me for a second here). You live there for a while, you might be one of those "creative types" that makes things interesting with what little cash you have, while your living conditions are a form of resistance, if you will. Then your edgy, rebellious "style", born from a lack of funds, gains notice by people with all the money in the world but none of the talent. Suddenly, you're living in Shoreditch and Prada is buying up space across the road. Your property value goes up and now you're a part of the propertied middle class, while everyone else that lived there before but wasn't so lucky in the first place had to move on and further out. What do you do then?
In M.I.A.'s case, it seems to be 'run with it and make what you can' by "heavily referenc[ing] the iconic Versace Medusa head and Greek friezes Brand" for Donatella. Oh, you mean the one that House of LaDosha already appropriated in their 'House of Ladosha Made in Queens #Boop' logo? Except we're no longer in Queens but back in Milan and it's the House of Versace, not LaDosha. Yeah, M.I.A. lives there now.