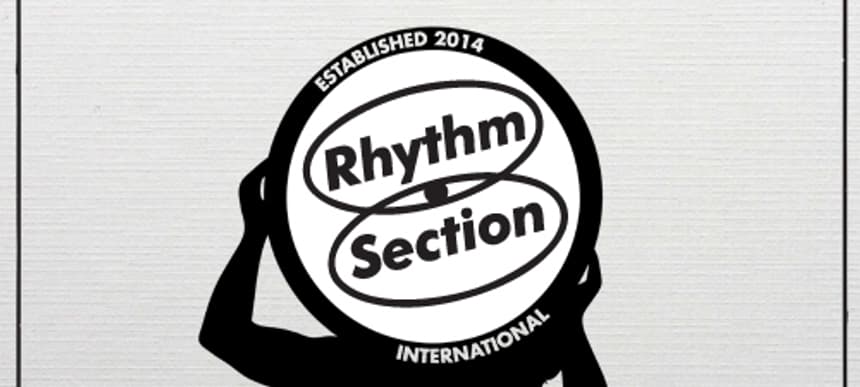 28.05.2014, Words by dummymag
Premiere: Al Dobson Jr - Columbian Special
Get down to a jam off Rhythm Section International's debut release, and read a catch-up with label main man Bradley Zero.
Vinyl-only club nights seem to continue to enjoy a rennaisance, but you won't find many as devoted to all things wax as Peckham's twice-monthly Rhythm Section. A night eschewing set-times, photos and DJs showing up armed with a USB to wack out a load of big-name drops, Rhythm Section has developed its reputation around community and vibes.
Boiler Room's Bradley Zero has headed the night for the last few years, and this week takes things to the next level by launching the party's label, Rhythm Section International. Their first release comes from Al Dobson Jr. – a Peckham local whose mini-LP 'Rye Lane Volume 1' is a sumptuous half-hour of globally-minded, jazz-tinged jams. We're premiering Columbian Special: if its snap-crackle groove can't get your hips moving even a little, then we worry for your soul.
Back in 2012, we caught up with Bradley when Rhythm Section was still in its early days, so now felt like a good time to check in with him and find out more about his vision for Rhythm Section International.
What were the reasons behind extending Rhythm Section into a label, and why now?
Bradley Zero: "Rhythm Section is born out of a very strong sense of community – a community that is also unbelievably creative and full of so much talent. Our little neighbourhood is some kind of magnet for good vibes and all I'm doing is sharing these out a little! Although the label will have a very international perspective, the focus, energy, and purpose behind all releases starts at the dancehall and is a product of all the DJs, all the producers, and all the dancers that make it what it is.
"Why now? – because the time is right and the music is there – the Rhythm Section ethos, as immaterial and hard to describe as it may be, is in some way becoming a meeting point for like minded musical folk and I want to share the product of these exciting times with the world."
You're launching Rhythm Section International with Al Dobson Jr's LP, could you tell us a bit about why that record was chosen as your first release?
Bradley Zero: "The music was the reason for starting the label. It wasn't a case of, 'Right, let's start a label, what can I put out', it was more a case of being confronted with a wealth of tracks, the likes of which I had never heard, produced right on my doorstep and thinking, 'the world needs to hear this.' I think it was one of those moments where the stars just aligned. The music was local produce (made on the same street as the party – Rye Lane), the tracks describe the essence of what Rhythm Sections stands for without being tied to any specific genre or sound; heavy on percussion, strong African flavours, Detroit leanings with tropical tendencies, distorted disco, and accidental house – the music encapsulated what Rhythm Section stood for whilst sounding completely new. It also came along at a time when the party was starting to gain respect from further a field, providing a good platform to give the music the exposure it deserves.
"That said, the release has been over a year in the making, due to the sheer volume of material handed over to me from Al Dobson Jr. This really is just the start and I envisage a huge future for him."
Any more future plans for the label you can share with us?
Bradley Zero: "Well, you should know this is a one-man operation at present so it's very much all up in here! [points to head] Starting a Label is way more work than I ever imagined, but I'm learning at a pretty fast rate! I can tell you that I have the next few releases lined up already. This debut mini-LP will be followed by a batch of remixes from some of my favourite artists and good friends including Ptaki, Ruf Dug, Andras Fox, and Beatnik, some vinyl, some digi. I also have a very exciting release from a new artist from Melbourne called Prequel planned for RS003 – I've slipped a few of these tracks into recent NTS shows just to test the water and the feedback has been really positive. I recently pressed a dubplate of Al Dobby Edits which has been causing riots around the world – this will see a white label release very soon as well.
"As I said, Rhythm Section is a local thing, born out of a strong community, but Rhythm Section International (the label) is about pushing this energy out to the world as well as embracing music and people from all around the globe. RS001 will be out this week on 12" and will be followed by a digital release in the near future – as much as Rhythm Section is very much about vinyl culture and collecting, I want this music to be available to people everywhere who perhaps don't have the means to get hold of the record. That said, wax will always come first."
In 2012, we asked about you about the Peckham scene, and you made it clear you felt that some of the talk/hype around it had been blown out of proportion. Have your feelings on that changed at all a few years on?
Bradley Zero: "I ought to tread carefully here, because in a certain way I'm one of the biggest champions of Peckham as a community; until recently I've felt that I was only championing the community from within. Now, increasingly as more eyes and ears are on this leafy South East London suburb, I do feel an increasing need to keep it as our little secret. The fact remains, however, that I love Peckham – and over the last six years of living here, it's become more of a home to me than anywhere previously. There's undeniably change in the air, so far nothing drastic – a coffee shop here, a vintage store here, but essentially nothing has actually altered since we last spoke. Sadly though, it does feel as if the bad kind of change is on the horizon – corporately-sponsored, investment-backed, council-funded change akin to cleansing. I'm part of a local action group, Peckham Vision, who have successfully (up until now) lobbied against Southwark Council's abysmal plans to tear the heart out of Peckham and homogenise it in a way that nobody who chose to come here actually wants.
"I blame lazy journalists and greedy estate agents, but rather than moaning, I've been active in Peckham's defense, staging protests at council meetings and undercutting evil estate agents with a thriving and affordable housing co-operative. Anyway, enough politics: in conclusion, the community is as strong as ever, but is under threat from hype and developers; let's stay strong, work together and keep on doing what we're doing
"To quote my friend Dimitri, ':Foam is liminal – bubbles burst. Cultural bubbles are short lived because they are not built with creativity at their core, rather economy or hype. Cultural foam develops over time, experimentation and many creative acts. Foam is the Future.'"
This may be a tough one: if you had to choose a single favourite moment from all the Rhythm Section nights, what would you pick?
Bradley Zero: "It's always the end. At the end of every dance we turn the lights on and play a couple more tunes. For the first time in the night I can fully see the smiles in the peoples faces, I can see how wet their clothes have gotten from dancing all night and I can see the look of of the other DJ, how humbled they are , and I feel complete. Music for me is about sharing and DJing simply a vehicle to share joy – and when you get to see the crowd in all their glory with the lights on after a night of losing yourself in the dark, well – that's magic – every time."
Rhythm Section International release 'Peckham Lane Volume 1' on vinyl this week, with a digital release to follow soon.