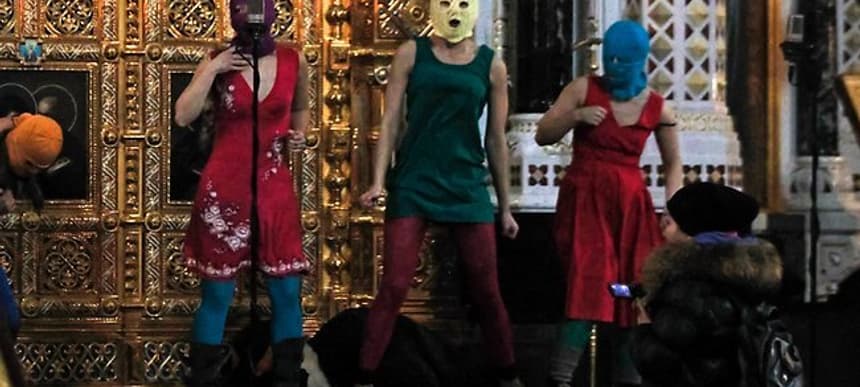 19.12.2013, Words by Aimee Cliff
Pussy Riot to be freed!
The remaining two incarcerated members of the Russian protest punk band are set to be released.
The two remaining members of Russian protest group Pussy Riot behind bars – Nadezhda Tolokonnikova and Maria Alyokhina – are set to be granted release early, possibly even this week.
Tolokonnikova, 24, and Alyokhina, 25, were both incarcerated along with their bandmate Yekaterina Samutsevich, 30, for "hooliganism motivating religious hatred" following the performance of an anti-Vladimir Putin punk song in a Moscow church in 2012, each receiving two year jail sentences. Samutsevich was released in October last year.
Putin stated in a press conference earlier today that the two women would be released sooner than expected under an amnesty passed to mark the 20th anniversary of Russia's post-Soviet constitution, according to Reuters. The amnesty will also allow the release of 30 Greenpeace members recently jailed for protesting against Arctic oil drilling.
Read Charlie Robin Jones's report on the story for Dummy from August 2012 here.
UPDATE 23/12/2013: Both members are now free. "Russia without Putin", Nadezhda Tolokonnikova shouted following release. [via Reuters]