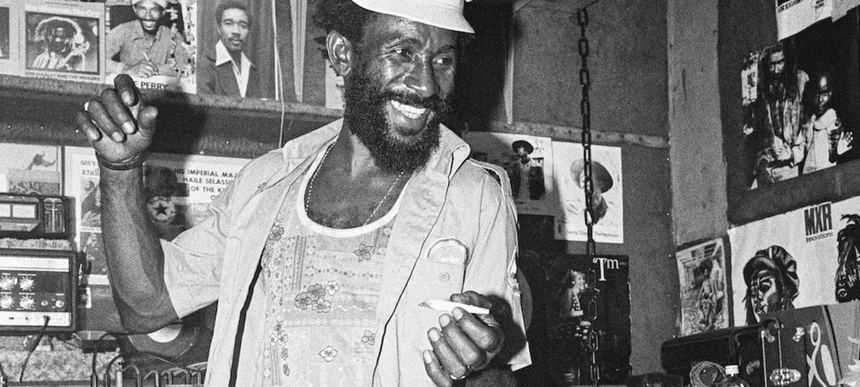 24.08.2022, Words by Billy Ward
Rare photos of Lee 'Scratch' Perry by Dennis Morris to be displayed at new 'Super Perry' exhibition
The West London exhibition & book launch opens to the public Friday, August 26...
A brand new London exhibition by legendary music photographer Dennis Morris is bringing together rare and unseen photos of reggae innovator Lee 'Scratch' Perry.
Marking the first anniversary of Perry's death and overlapping with the Notting Hill Carnival weekend, the exhibition has recreated Scratch's renowned Black Ark studio to showcase Morris' work and will feature various events, including live DJ sets, during the weeks it's open.
Dennis Morris is credited with taking some of music's most iconic photos, working closely with the Sex Pistols, Bob Marley and many more over the course of his career. Growing up he was drawn to early Lee Perry hit productions like 'Return of Django' and 'Man From MI5' and went on to develop a long friendship with the reggae artist.
In 1978, Richard Branson invited Dennis to Jamaica to scout reggae talent for his Virgin Frontline imprint. Morris took Sex Pistol's front man John Lydon along for the trip and came away with some of his most famous images of Perry, on top of shooting Lydon in the Black Ark studio.
Morris later likened the experience of shooting Scratch in his Jamaica-based studio during the '70s to "entering the magician's den, watching the wizard at work like in Harry Potter." Perry and Morris maintained a strong working relationship up to the dub producer's death in 2021.
The exhibition coincides with the launch of Morris' new 'Super Perry' book, containing 42 treasured photographs of the dub and reggae icon.
Launching on Thursday, August 25 with a private viewing from 6-10pm, the exhibition will become available to the public on Friday, August 26 until Saturday, September 10.
The 'Super Perry' exhibition is taking place at 30 Old Burlington Street, London, W1S 3AP.
Read next: A free exhibition exploring the emergence of grime is opening in the Museum of London