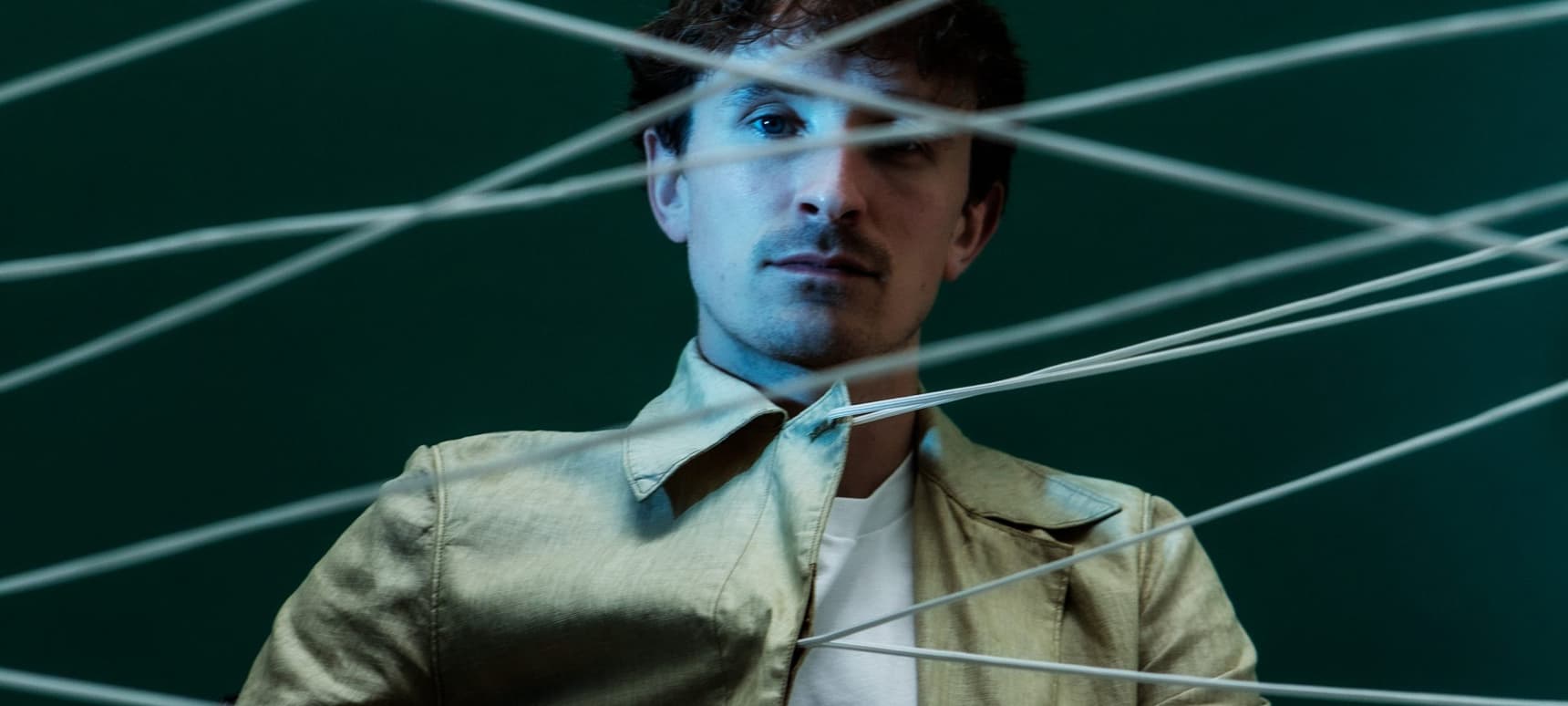 25.08.2021, Words by Maisie Goulsbra
Ross From Friends' new single 'Daisy' from forthcoming album 'Tread'
Dummy can confirm his Dad is not Andrew Weatherall...
Ross From Friends just brought out fresh new music in the form of single, 'The Daisy', with its own music video, taken from his just-announced forthcoming album, 'Tread'. The album will land on Flying Lotus' Brainfeeder imprint, and is a 12-track compilation of sequences that were built up in a pioneering new way, thanks to the software that the artist himself designed for Ableton's Max For Live platform.
Frustrated by the disruptive process of pressing start and stop when recording, Ross From Friends came up with the idea that has been developed into 'Thresho', which starts recording once the audio hits a user-defined threshold, then stops once it goes below that threshold, automatically saving and indexing the resulting clips alongside timestamps. The last two tracks on the album reference the software in their titles.
Drawing its name from one of the opening steps in solving the classic Rubik's Cube puzzle, 'The Daisy' is an emotive but dance-worthy track with a 2-step drum pattern, enticing pads, and a poignant pitched up vocal hook that tug on your heart strings. It's the first we've heard from UK producer since his 2018 album 'Family Portrait' and subsequent 'Epiphany' single, which were inspired by his parents and sister.
The music video follows the journey of a young girl on her way to becoming a speed-cuber. Rubik's cubes have been spotted on Ross From Friends' Instagram before. Director Rudá Santos says; "I've always thought the cube was a mysterious and fantastical object – so the idea to play with some of these sci-fi elements seemed very fitting and came naturally to me in the writing process."
View this post on Instagram
A small stretch of the Old Kent Road in London is significant to the creation of the forthcoming 'Tread' album – Felix Clary Weatherall, aka Ross From Friends discovered that the walk between his house and studio was his Nan's old neighbourhood and an area that his Dad had attended various parties and squats in his heyday. (Despite internet rumours Dummy can confirm his Dad is not Andrew Weatherall).
Something extra special about Ross From Friends is his live performances, and three-man live act, where electronics are blended with guitar, keys and sax. You can catch him at any of his festival and tour dates below, beginning this weekend at Lincolnshire's Lost Village Festival.
28 Aug    – Lost Village Festival, Norton Disney. UK
29 Aug – Field Day, London, UK
08 Oct    – Hope Works,    Sheffield, UK
09 Oct    – Belgrave Music Hall, Leeds, UK
16 Oct – Ulster Sports Club, Belfast, UK
29 Oct – Kompass (DJ), Ghent, BE
03 Nov – Aeronef, Lille, FR
04 Nov – Trabendo, Paris, FR
05 Nov – Le Sucre, Lyon, FR
06 Nov     – Mutations Festival, Brighton, UK
11 Nov – 24 Kitchen Street, Liverpool, UK
12 Nov     – The Crossing, Birmingham, UK
02 Dec     – Komedia, Bath, UK
03 Dec     – O2 Academy, Oxford, UK
18 Dec     – Braindance at AB, Brussels, BE
2022
22 Jan – Button Factory, Dublin, IE
26 Jan – Gloria, Cologne, DE
27 Jan – Festsaal, Berlin, DE
28 Jan – SWG3, Glasgow, UK
29 Jan – Electric Brixton, London, UK
10 Feb – Vega, Copenhagen, DK
11 Feb – Jaeger, Oslo, NO
12 Feb – Grelle Forelle, Vienna, AT
18 Feb – Boiler Shop, Newcastle, UK
19 Feb – Trinity, Bristol, UK
26 Feb – Academy 2, Manchester, UK
30 Mar – Melkweg, Amsterdam, NL
31 Mar – BIRD, Rotterdam, NL
01 Apr – Doornroosje, Nijmegen, NL
Listen to 'The Daisy' on your preferred streaming service here and watch the video below.
For more of the best new music like this, find Dummy on Spotify and follow Electronics.