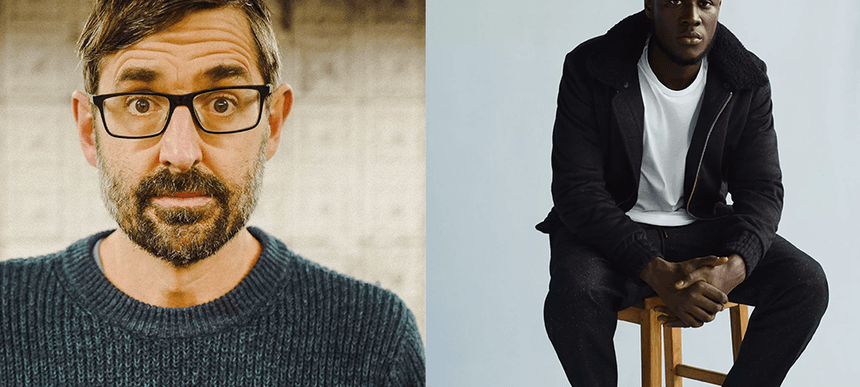 05.04.2022, Words by Billy Ward
Stormzy and Louis Theroux are collaborating on a new BBC documentary series
"To be kicking off with the genius that is Stormzy is proper pinch-me stuff..."
Louis Theroux is linking up with Stormzy for the first episode of a new six-part documentary series launching on BBC 2 later this year.
Currently titled 'The Louis Theroux Interviews', the new show will see the film maker sit down with a number of cultural icons to take a deep dive into their stories so far.
It's been revealed that the Croydon-hailing rapper, who recently gave the London crowd a night to remember during his home-coming show at the O2 Arena, will be the subject of episode 1, with the five subsequent guests yet to be announced.
The Stormzy episode promises "an in-depth and personally revealing encounter" at the rapper's home and during his tour, with Theroux commenting on the upcoming series: "I'm so excited to be embarking on this new series – something very different to the kind of TV I normally make. This will be a chance to meet and spend time with people I admire, getting to know them, having long form and revealing conversations, with honesty, emotion, and humour.
"To be kicking off with the genius that is Stormzy is proper pinch-me stuff. I can't wait to get going," he added.
Some fans were surprised to spot Theroux in the crowd at the rapper's recent Glasgow show in Ovo Hydro, with people taking to social media to post photos and videos of the Bafta award-winning documentary maker enjoying the music.
"Louis Theroux being at Stormzy in Glasgow is the most random thing to ever happen," wrote one user.
The new show is set to come to BBC 2 at some point in 2022, however, a date is yet to be announced.
louis theroux standing in the crowd alone at stormzy. obsessed pic.twitter.com/JbXua958J8

— zoë walker ☻ (@zoew4lker) April 4, 2022