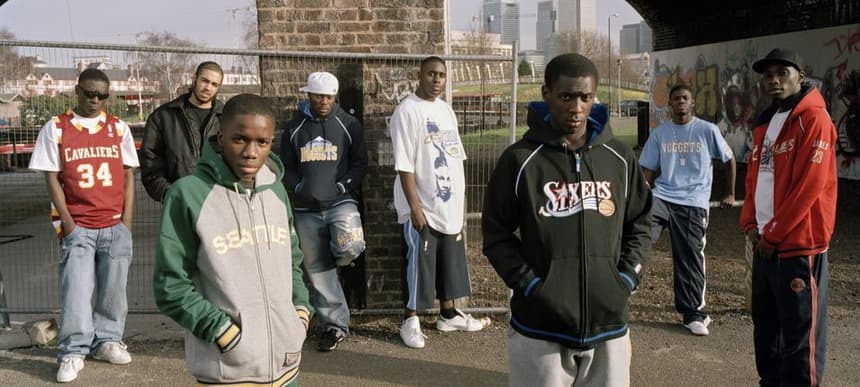 23.01.2017, Words by dummymag
The 10 Best White Label Grime Instrumentals, according to Rapid (Ruff Sqwad)
There aren't many more people as well placed to pick the ten best white label grime beats as Prince Rapid. An original member of the pionE3ring grime collective Ruff Sqwad – who played an instrumental role in shifting grime to where it sits in the mainstream today – Rapid is a certified part of grime's history. He's also one of the best beat-makers to ever do it from within the scene.
Teaming up with the White Label Orchestra, Rapid will present a celebration of the origins of grime at the Jazz Cafe on the June 18th. Ruff Sqwad Orchestra will reimagine several of the Ruff Sqwad instrumentals you'll hear below alongside a few faces who have helped develop grime to becoming the globally-loved genre it is today.
Producing tracks for an array of household names such as Dizzee Rascal, Tinie Tempah, Boy Better Know, Kano, Asher D, Chipmunk, Wiley and Wretch 32, Rapid is probably the best-placed man in the scene to select the 10 Best White Label instrumentals. Check out his full list below.
1. Ruff Sqwad – Anna Down
Rapid: This was Ruff Sqwad's first ever video, we put our money together for this track to shoot a video that ending up costing us £3200 – a lot of money back then, especially as we were independent with no jobs.
The production by Dirt Danger shocked a lot of people because it was so unique, with the different blends of synth leads and basses he used, it created an absolute monster. To add the icing to the cake, 'Down' was an introduction to the half-time beat productions which crossed between Hip Hop and Garage. This was from a time when grime didn't have a name!
2. Seb Zero – Who Am I
R: I remember hearing the original song which was Paul McCartney's 'All The Lonely People' and falling in love with it. I got my friend to download it for me, threw it in Logic and started playing around with the sample until this monster was created. See Zero was causing waves on the south of the river with his flows, so I put him on the verses, and the rest is history
3. 2016 – Shifty Ridos
R: This track is taken from the Ruff Sqwad Guns N Roses 'Mixtape Vol 2'. This track is one of my favourites. It still sounds very futuristic due to the sounds Dirt Danger used, complimenting the sound Shifty rapped about it being the year 2016 all the way back in 2003 and a lot of the things he said became true.
4. Ruff Sqwad – Xtra
R: When I made this beat, I remember being in studio with Skepta in South London. Skepta loved the beat, but thought I should make the sub bass more aggressive, as it's quite subtle. This is one of my favourite productions as it always goes off in a rave due to that beat change at the chorus section, combined with the very catchy hook.
5. Ruff Sqwad – No Bass
R: Ruff Sqwad Music is known for its hard drums and deep bass lines!! When Slix pulled this production out the box which had no bass, I was surprised – but loved it because of its uniqueness and dynamics.
6. XTC – Functions on a Low
R: This track is one of the best grime tracks in the world, based on the instrumentation and melodies XTC used. Stormzy laying his vocals on the beat to make "Shut Up" helped expose this sound to a new grime audience and generation.
7. Wiley – Friday Night
R: I produced this track in the same period when 'Guns 'N Roses 1' was created. Wiley picked this beat out for himself which he released on 'DA 2ND PHAZE'. The sample of the male vocalist in this beat reminds me of something you'll here on a House tune but, the guitar riff adds a totally new dimension to the production.
8. Ruff Sqwad – Pied Piper
R: This must be the quickest track I've made… I never thought it would connect with the listeners! It was quite experimental in terms of structure and melody. It still stands up strong today with the new grime tracks, especially in a stage show which sometimes still surprises me. Newer listeners will know it from Santan Dave and AJ Tracey remixing it for Thiago Silva, released in 2016.
9. Ruff Sqwad – Together
R: I think this is one of Ruff Sqwads most popular tracks, and the track that has had the most remixes recorded by MCs around the world. Most definitely a classic!! So ironic that it's a love song! lol..
10. Ruff Sqwad – Clio
R: One of the most epic Ruff Sqwad productions to date for me! I reckon I must have been in some type of war mode when I made Clio… it sounds like music you would use in a film before or during a battle scene!
Catch the Prince Rapid presents The Ruff Sqwad Orchestra Live at The Jazz Cafe June 18th. Stream Ruff Sqwad's 'White Label Classics' below.