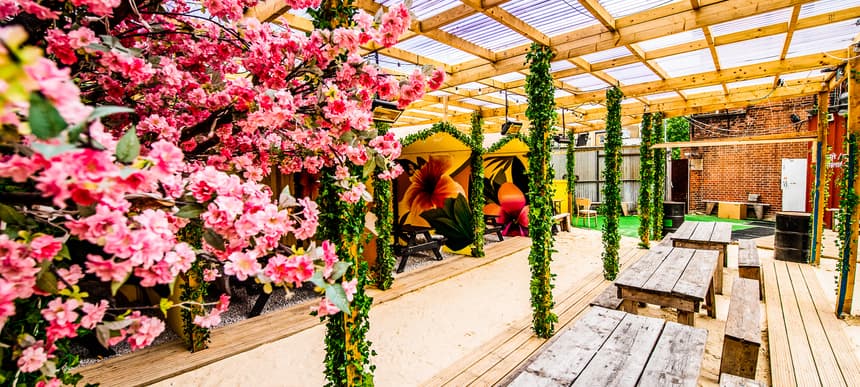 07.07.2020, Words by Billy Ward
The Brixton Courtyard announces socially-distanced events with Leon Vynehall, Sherelle, Erol Alkan and more
All-weather socially distanced tables and private booths will allow attendees to enjoy themselves with a clear mind
As lockdown restrictions are lifted across the country, the entertainment sector is entering into unknown territory as venues start to reopen their doors to the public. The 'new normal' is something the Brixton Jamm team has been meticulously preparing for, hoping to salvage what's left of the British summer with an impressive event series.
Opening its doors Thursday, July 9th, the newly renovated Covid-safe outdoors areas will host street food traders, games, craft beer, cocktails and more – every day of the week – plus a roster of world-class DJs including Erol Alkan, DJ Boring, Sherelle and Leon Vynehall.
Establishing itself as a staple party location in South London over the last ten years, Brixton Jamm is ensuring its facilities are able to cater to this socially-distanced world in the form of The Brixton Courtyard, a brand new experience set over three areas: The Courtyard, The Beach and The Garden.
All-weather socially distanced tables and private booths will allow attendees to enjoy themselves with a clear mind while listening to a mix of house, disco, reggae, garage, funk, soul, hip hop and jazz – delivered through Brixton Jamm's stacked soundsystem.
The varied sounds, styles, and scenes taking over The Brixton Courtyard will be hosted by a series of acclaimed UK promoters including Little Gay Brother, Percolate, Shut The Front Door, Fever 105, and more, with artists including Dan Shake, DJ Marky, Crazy P, Channel One, Spectrasoul, and many more.
The Brixton Courtyard's July schedule:
9th July – Shut The Front Door – Crazy P (DJ), LUCiD, Liem Jay
10th July – Brixton Jamm Presents – DJ Marky, Tendai + TBA
11th July – Percolate – Leon Vynehall, Kiara Scuro, Krwyald & Farrer
12th July – Channel One Sundays – Channel One, Tudor Lion, Keith Lawerence
16th July – Shut The Front Door – Friendly Fires, Michelle Manetti, Zerya
17th July – Two Six One – Spectrasoul, Beffskee + TBA
18th July – Percolate – Moxie + TBA
19th July – Fever 105 – Norman Jay, Scarlett May O'Malley + TBA
22nd July – Percolate – Dan Shake, Eliza Rose, Elkka
23rd July – Bondax & Karma Kid – Bondax, Karma Kid, Helena Star
24th July – Two Six One – LSB, Louise Plus One, Structure
25th July – Percolate – Erol Alkan, Toshiki Ohta, Kmya
26th July – Little Gay Brother – Michelle Manetti, Oli Keens, Reece Spooner, Joshua James
29th July – Percolate – DJ Boring, Tia Cousins + TBA
31st July – Percolate – Sherelle, LCY + TBA
For tickets, full music programme and Covid-19 safety guidelines, head here.
Read next: UK government announces 1.57bn support package for the arts