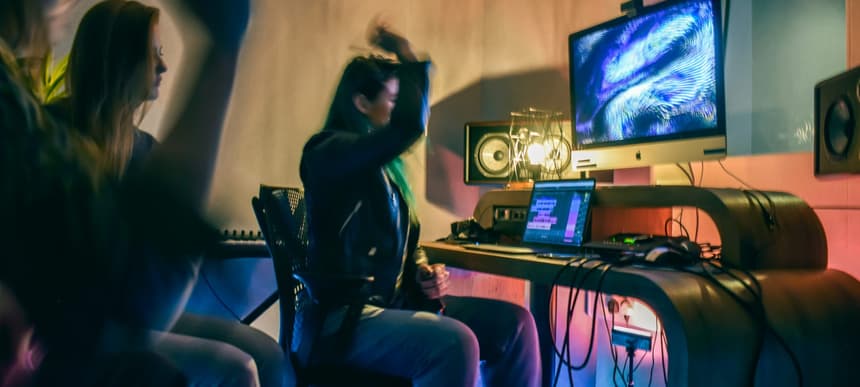 06.09.2021, Words by Maisie Goulsbra
The Halley creates Launchpad for young people aged 18-26
Aimed at empowering the next generation of music industry professionals...
East London music industry hub and workspace the halley (home to Dummy and DMY) is offering a 3 month membership programme for young people ages 18-26 who have a music related idea and would like to turn it into something more. All you have to do is describe the music related idea, and explain your future goals and ambitions, providing links to websites where necessary.
the halley is a community work space created by The AEI Group, the independent music company behind ventures like Drum&BassArena, UKF, NCS, Featherstone, TheSoundYouNeed, SubSoul, El Dorado, Detonate Festival, Let It Roll, and The Collab. Situated along the canal side in East London's Haggerston, a membership at the halley also includes discount at Cafe Route.
Aimed at empowering the next generation of music industry professionals, the halley's Launchpad programme is offering 10 of its spaces for 3 months, plus access to industry resources and and expertise, such as:
– Introduction into halley/AEI community and opportunity for networking
– Invitation to all halley community events
– One to one workshops with experts in the music industry
– Features/Amplification on halley and AEI Social Media/blog
– At the end, some participants will be invited to join the halley community and offered a 12 months membership for free
The current members involved are:
Paul Benney, CEO DMY (Dummy / DMY Artists)
Vicky Eacott, Project and Marketing Manager, Positive Subversion
Siofra Mcomb, CEO, Positive Subversion
Artcha James, Founder, Artcha Series
Iain Cooke, Music Supervisor, Iain Cooke Music
Estera Dabrowska, Music Coordinator, Iain Cooke Music
Robbie Murch, Founder, Identification of Music / Bump agency
Alex Branson, Founder, ABC Music
Sophie Glynne, Founder, System Records
Applications for the Launchpad programme should be submitted by the 15th September via the Launchpad website page here.
Alternatively, applicants can record a five minute video answering the questions in the application form below and send it to Ellie at ellie@thehalley.co.uk. (Dropbox, WeTransfer + Google Drive are recommended).
Read next: Yahama Music's new documentary series 'House of Talents' offers emerging artists a unique songwriting experience.