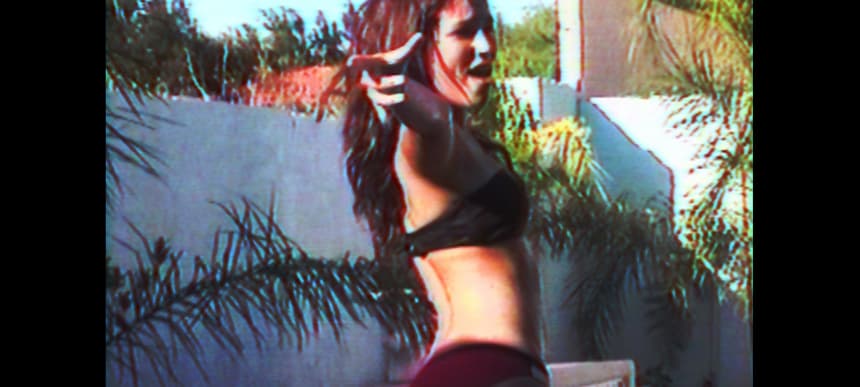 16.08.2018, Words by dummymag
Video Premiere: DEBIT 'Remain'
For her first music video, New York-based Mexican American producer DEBIT chose to collaborate with Brooklyn based Salvadoran director/editor Tatiana Del Fuego (Lucy Morales), and Lucas Carlisle (titles) on an abstracted coming-of-age story set to her apocalyptic cut 'Remain'. Edited out of archival footage DEBIT shot of herself and her friends in the streets and suburbs of Laredo, Texas in the early 2000s, it pairs everyday American teen activities with the hyper-stylised blend of border-crossing ambient and energised club music DEBIT explored throughout her debut album Animus (released earlier this year through N.A.A.F.I.).
Filtered through the glitchy – and now nostalgic digital video quality of the era, 'Remain' plays on the contrast between fading memories of her carefree younger years with her evolved form as one of the more sophisticated and thoughtful electronic music producers to enter the spotlight in 2018, while also riffing on the disparity between our internal and external worlds. Who we are on the surface, and what lies beneath.
Here's the thing though, it's not so much a juxtaposition as it is an integration. Society has long trained us to think in binaries, but reality is often closer to a spectrum. You don't have to be one or the other; you can be both; you can be multitudes. DEBIT's a dancefloor philosopher who draws from a rich array of wellsprings, a meme troll who'd love to go viral on social; and a woman with knowledge of self and a bigger vision for herself and her musical community. An empowered creator on the rise, who clearly remembers what it was like to be a restless teenager on the cusp of figuring out who she might be.
DEBIT: "When we were making the video, we were exploring how we'd explored our sexuality, social dynamics, and the raw energy and fun summer times that came with that. It was amazing how Tatiana Del Fuego captured this very essential part of my persona which is what lingers and remains from my past selves."
Watch the Tatiana Del Fuego directed video exclusively below.