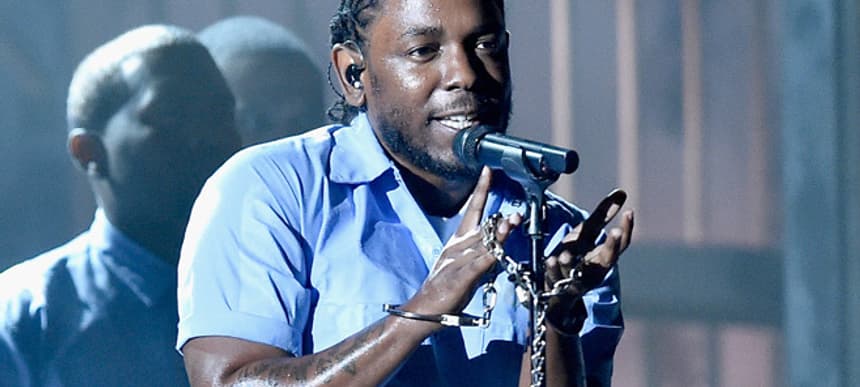 16.02.2016, Words by dummymag
Watch Kendrick Lamar debut a new track in his Grammys 2016 performance
Kendrick Lamar debuted a new song during his performance at the Grammy Awards.
Introduced to the stage by actor Don Cheadle, Kendrick performed his 'To Pimp A Butterfly' singles The Blacker The Berry and Alright. K.Dot began his three-song medley chained in a prison set that then transformed into an African-themed stage. He then unveiled the previously unheard track while the word COMPTON projected onto an image of the African continent behind him.
Speaking to Billboard, show producer Ken Ehrlich said this about the preparation for the show:
"Kendrick came to us and said that we live in a time where these issues confront us every day and that it's important that they be [sic] given a public forum, and he would like to use his x number of minutes to create a great performance that is consistent with his this year. It is overtly political, and it is overtly provocative, and I think if nothing else it's going to give people something to think about and talk about."
After garnering 11 nominations in December, Kendrick left the event last night winning five awards for Best Rap Song (Alright), Best Rap Performance (Alright), Best Rap/Sung Collaboration (These Walls feat. Bilal, Thundercat, and Anna Wise), Best Music Video (Bad Blood with Taylor Swift), and Best Rap Album ('To Pimp A Butterfly').
Watch Kendrick Lamar's 2016 Grammy Awards performance below via Slate.
Kendrick Lamar's latest album 'To Pimp A Butterfly' is out now through Interscope (buy).