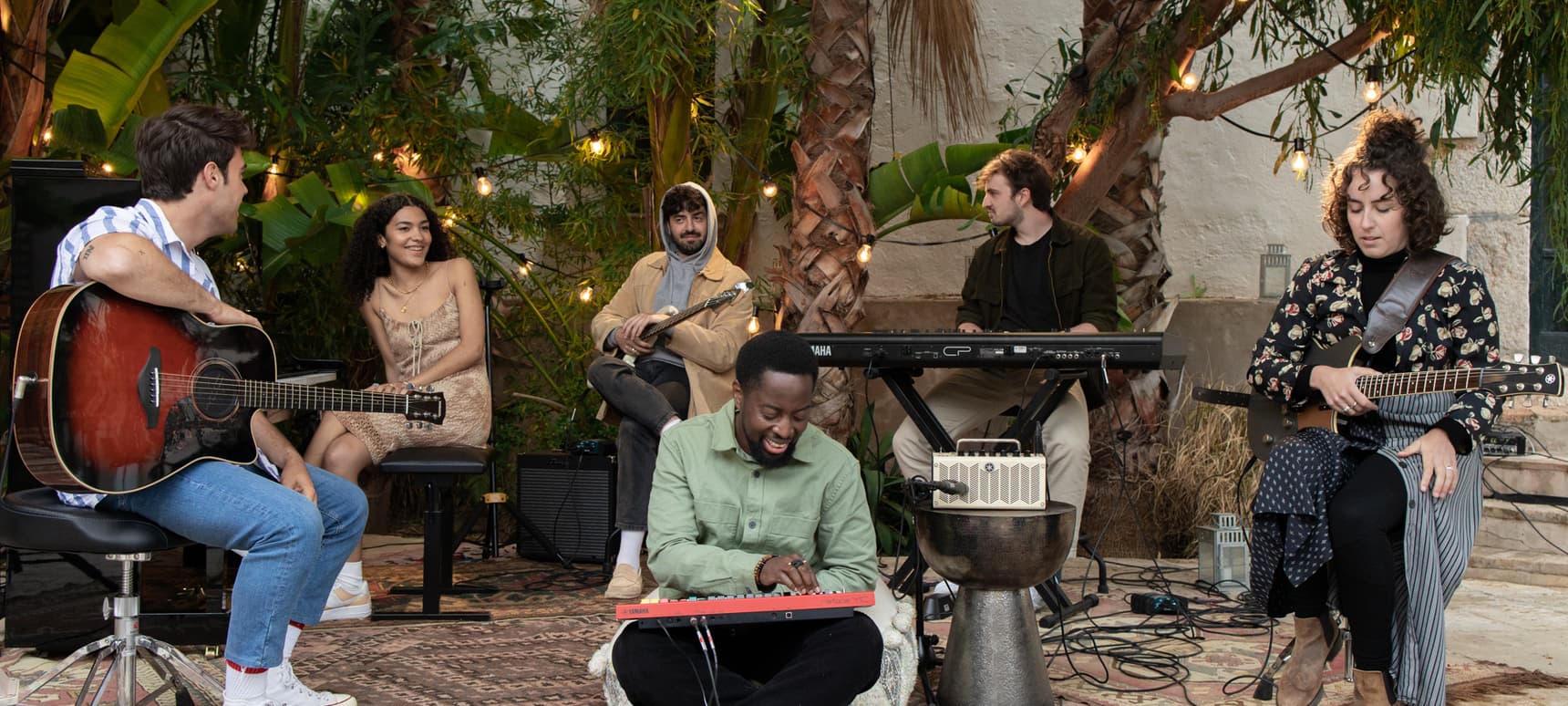 31.08.2021, Words by Billy Ward
Yahama Music's new documentary series 'House of Talents' offers emerging artists a unique songwriting experience
The series features Olivia Dean, JNR Williams, Sara Cruz and more...
Yahama Music presents a new three-part documentary series 'House of Talents', offering up-and-coming creatives the chance to meet with likeminded individuals and hone their craft in a collaborative space.
The documentary follows the journey of six emerging artists from across Europe, coming together for an exclusive song writing experience in Barcelona. Living in a villa filled with instruments and a home studio, Olivia Dean, JNR Williams, Sara Cruz, Ignacio Serrano, Rubin Henkel and Marc Mâhfoud embark on a mission to create music and perform live.
Sebastian Krenmayr, Yamaha Music's Head of Brand in Europe, explains: "With WAY UP: House of Talents, the mission was to empower emerging artists from different parts of the world to come together in a creative environment, where they can collaborate, mix their styles and create music."
The first episode captures the beginning of the artists' journey, seeing them meet for the first time before arriving at the House of Talents in Barcelona. They form teams of two and have three days to create their songs before a final performance of their work in an intimate concert.
In the second episode, the artists get the chance to experiment with their tracks in the villa's home studio. Producer Jesus supports them with refining song layers and exploring new instruments. Yamaha artist Miki Santamaria also pays a visit to support the new talents in their creative process.
On the final day and third episode, the artists get ready to perform their individual songs that they have been working over the past days.
Running alongside the series, Yahama have also launched a new podcast where host Parisa Tarjomani talks to some of the artists who were invited to the exclusive song writing experience this summer in Spain.
All three episodes are out now on the Yahama Global Youtube channel.
Watch the first episode of 'WAY UP: House of Talents' below: