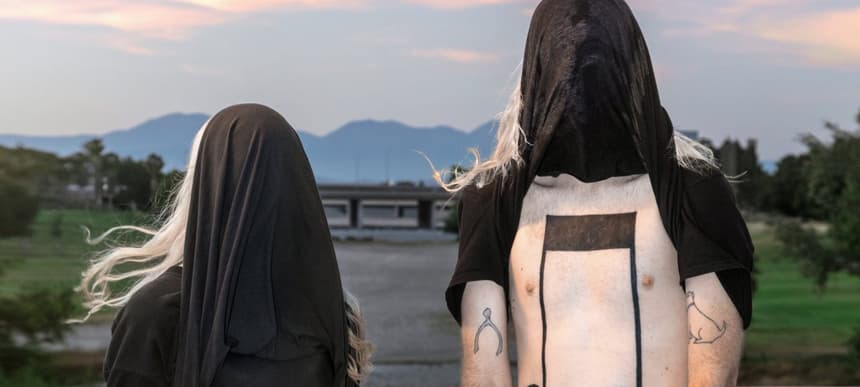 16.02.2023, Words by Payton Dunn
100 gecs, Ryan Leahan, Vylet Pony and more front our ULTRA HYPER playlist this week
Here's the best of what the hyperpop scene had to offer this week
Hyperpop is such a niche scene that it's hard to find enough bangers each week to keep you satisfied. That's why we set out to sift through all the noise. Check out the five best hyperpop tracks of the week below.
1. Ryan Leahan - 'The Princess Who Had Chosen Life'
Ryan Leahan made our playlist last week for his song 'The Fairy, the Wizard and the Moon', and this week, he's made his way right up to the top of the list with his new single 'The Princess Who Had Chosen Life'.
The hyperpunk artist has taken a sharp turn into the world of fantasy with his latest releases, basing his songs off of mystical medieval tales that are woven into his narratives. Those narratives made its way into the instrumentation too, with this song featuring a grand orchestral section. 
2. Vylet Pony, GalaxySquid, NekoSnicker - 'Pony Rock!'
If you were on hyperpop Twitter at all within the past few weeks, there's no way you could've ignored Vylet Pony's new album 'Carousel (An Examination of the Shadow, Creekflow, and its Life as an Afterthought)'. The album features some of the most interesting and unique production that the scene has heard so far this year. It intricately weaves together the world of dance, J-pop, hyperpop, and 8-bit music, borrowing equally from all the styles. 
3. kmoe - 'crush'
kmoe is the youngest artist on our list this week. He may only be 18, but he's already developed an impressive knack for music production. On 'crush', he morphs together mind-melting synthesisers with overblown bass that's enough to shatter your ears in the best way possible.
4. 100 gecs - 'Hollywood Baby'
100 gecs is back with quite possibly the best single off of their upcoming album '10,000 gecs'. The song satirises the vapidity and excess of Hollywood culture. On the chorus, Dylan Brady croons out, "I'm going crazy / Little tiny Hollywood baby / Brand new Mercedes / I've been at the crib going crazy". Those simplistic emo lyrics have become a staple of the gecs formula over the years, and we're all here for it.
5. Reikko - 'can't stay away again'
'can't stay away again' embraces the simplistic yet powerful formula of deconstructed club from the early days of hyperpop. It juxtaposes a thrashing syncopated bassline with lighthearted synthesisers that create the most danceable entry on our list this week. 
Like our ULTRA HYPER playlist here and follow DMY on Spotify to stay ahead of the game on the best new hyperpop tracks of the week.