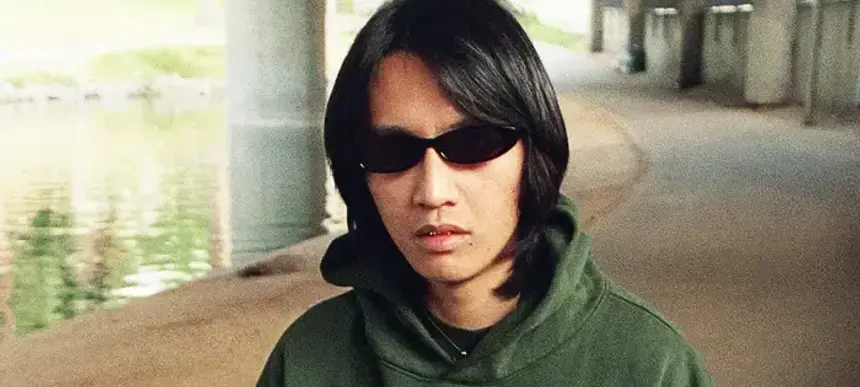 02.02.2023, Words by Payton Dunn, Photos by Razy Faouri
Eyedress, Kaleah Lee, Rose Gray, and more front our BEDROOM POP playlist this week
Here's the best of what the scene had to offer
In a scene that's getting more and more crowded by the day, it's hard to pick out the gems from all of the half-baked demos that should've been left in the drafts. We're here to do that sorting for you! Below are the five best bedroom pop tracks of the week, stamped with the DMY seal of approval.
1. Eyedress - 'HOUSE OF CARDS' (Kevin Shields Rainbow Belts Remix)
This remix is lifted from Eyedress' 2022 album 'FULL TIME LOVER', a 28-song-long endeavour that proved to be the singer's magnum opus. Eyedress' original track seemingly exists in a hazy liminal state, fogging up the mind with its dream-like synths that entrench the listener into its slightly off-kilter world. Kevin Shields' remix of it expands that universe even further, almost doubling it in length and making the track even more immersive than it was previously.
2. Kaleah Lee - 'Out of Body'
On the other end of the bedroom spectrum, we have a subtle acoustic track. Its layers of acoustic guitars move around the listener as they slowly descend around Kaleah Lee's melancholic vocals, with a raw approach to songwriting that makes this one of the most emotional tracks of the week.
3. Rose Gray - 'Sun Comes Up'
'Sun Comes Up' is the most danceable bedroom pop track of the week, laying out an undeniable groove with its distorted drums that dance on top of the song's lively vocal samples. It's the closing track off of the singer's 'Higher Than The Sun' EP, rounding out the previous three tracks with a bang and making for a phenomenal closer.
4. Malcolm Todd - 'What's Up'
'What's Up' leans into bedroom pop's most playful production techniques. With a kick that momentarily shatters the entire track before quickly setting it up all over again and a Mario Kart sample of all things, this track is equal parts hilarious and soulful. The release is just the singer's third to date, following up his 2022 EP 'Demos Before Prom'. If that early quality is any indication, the coming year has big things in store for Malcolm Todd.
5. GAZEKEEP - 'Don't Get Yourself Dry'
'Don't Get Yourself Dry' leans more towards the indie rock end of the bedroom pop spectrum, with fuzzed out guitars that are overlaid on a laid-back drum groove, all culminating to create a smokey atmosphere that feels like a bustling basement show that's just about to reach its climax.
Like our BEDROOM POP playlist here and follow DMY on Spotify to stay ahead of the game on the best new bedroom pop tracks of the week.