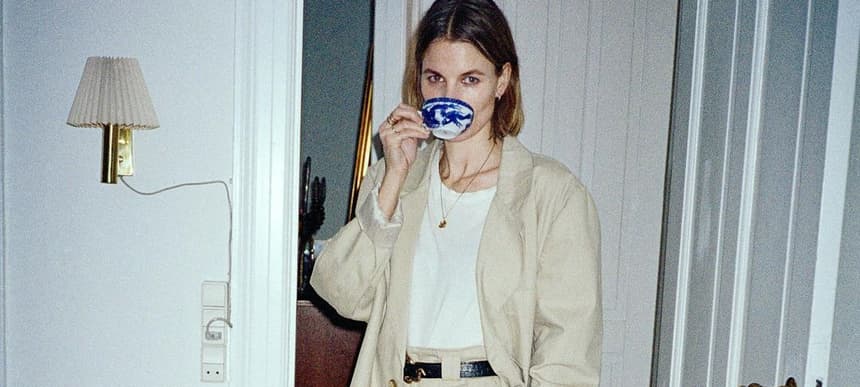 17.01.2023, Words by Billy Ward
LINN, Stacy N.K.R and theOGM front our BRAND NEW Tracks of the Week
Listen to the hottest tracks from our carefully crafted playlist showcasing a number of under-the-radar artists
Incorporating talent from across the globe, check out five tracks from our meticulously-created BRAND NEW playlist showcasing some of the most exciting up-and-coming talents around.
Up-and-coming Danish art-rocker LINN is continuing the roll-out for her new EP 'Femte Dimension', out January 19, with this off-kilter, moody cut. Expanding her oblique sound with an indie-nodding flare, 'Worth It' encompasses groaning lo-fi guitar chords and ghostly vocals showing the rising talent's penchant for rejecting convention. This is one of the most emotive and interesting tracks we've heard this week and rightly earns a spot in this week's round up. 
2. Stacy N.K.R, Danny Chaska - 'SE17'
'SE17' is the effortlessly-cool debut single from rising South London rapper Stacy N.K.R. Featuring a smooth UK hip hop beat from Bristol-based 19-year-old producer and artist Danny Chaska, Stacy glides over the instrumental with a mixture of R&B hooks and laid-back verses paying homage to her post code. We can't wait to hear more from this exciting new talent. 
3. theOGM, elete, Eyedress - 'for your EYES'
We have another debut offering in our playlist round up today, this time coming from theOGM, co-founder of American punk-rap group Ho99o9. Parting ways from the explosive thrashcore sound his band has been championing for years, theOGM provides a smooth yet hard-hitting hip hop track featuring a verse from elete and production from Eyedress. 
4. Pretty V - 'Aqrxvst (29)' 
After appearing in our BRAND NEW round up last week, Pretty V makes another feature. This time we've gone with '29', the raw, guitar-heavy demo from his Aqrxvst band rehearsals with Archy Marshall (King Krule) and Jack D'Cruz (Jadasea). After first rearing its head on Pretty V's YouTube channel a couple of weeks back, the 3-track demo tape was recently added to Spotify and we couldn't resist adding it to our playlist. 
Arriving via Dean Blunt's WORLD MUSIC imprint and existing in a similar sonic lane to Blunt, Mica Levi and Tirzah, mysterious rising talent Yakub's latest offering 'Posh Spice' is one to get lost in. Featuring no vocals whatsoever, the instrumental guitar cut is the perfect daydreaming soundtrack. 
Like our BRAND NEW playlist here and follow Dummy on Spotify to stay ahead of the game on the freshest new music. [Other entries include:  and more]