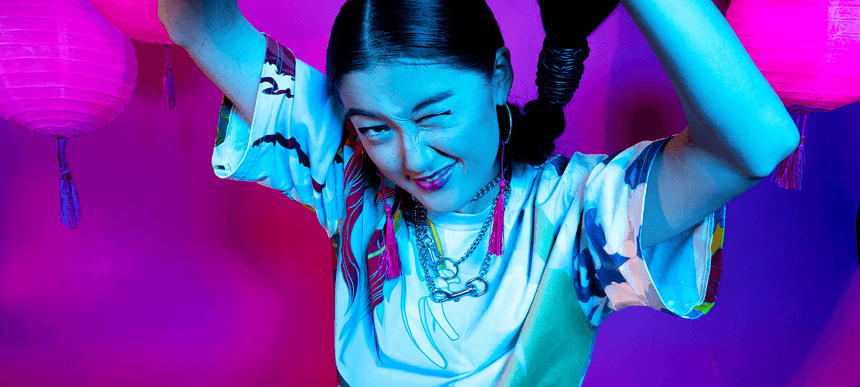 02.03.2023, Words by Payton Dunn, Photos by Tatyana Rutherston
LVRA, Alexander Benjamin, BLUEM, and more front our BRAND NEW playlist
Listen to the best new tracks of the week
Incorporating talent from across the globe, check out five tracks from our BRAND NEW playlist showcasing the most exciting up-and-coming talents around.
1. Alexander Benjamin - Pretty White Dress
Alexander Benjamin is relatively new to music as a whole.
He released his first EP Hopeless Romantic in June of last year, and his new song 'Pretty White Dress' was quite possibly the most addictive song we heard this week. The artist's charisma shines over the song's undeniable bass groove, which combine into a carefree banger that'll get you dancing in no time.
2. LVRA, Spent - venom
'venom' is the latest song from Chinese-Scottish artist LVRA.
The song saw her channeling the essence of UK nightlife into it, with the artist explaining, "'venom' is a song that oozes confidence out like green sticky dew, and was written after a particularly eventful night out. For me, going to clubs is a chance to put on all the shit I can't wear during the day – it's a place where I've seen so much individuality and style, and queer club scene here in London has been where I've been able to explore my own queerness – something that I never felt safe enough to do before I came here."
Visually, it sees her dawning on the fashion choices that she explored outside of the real world growing up, saying, "As a kid I was able to explore alternative styles through the internet and instagram – but existing in that community, seeing it in the flesh – it really gives you a whole other level of confidence. And craziness!"
3. BLUEM - angel
Few artists can bounce between multiple different languages in the same song as effortlessly as BLUEM can. The London-based artist fuses Italian with English on the verses of 'angel', but it's not the first time she's experimented with both languages. She took the dive into English songwriting after moving to the UK from Sardinia, Italy to study music, and she released her English-sung EP Picolina in 2018. On her 2021 album NOTTE, she bounced back and forth between the two languages. That combination is what makes her music so potent. She embraces her heritage alongside the music she heard upon moving to the UK, keeping one foot firmly in Italy and the other here in England.
4. Lontalius - I Want I Want I Want
'I Want I Want I Want' chronicles Lontalius's experience navigating the tumultuous journey of finding love as a queer person, explaining, "The song is an expression of frustration and angst towards pretty much everything in life, and the feeling that the person you're dancing beside might solve everything."
"It's not a rational feeling, and I'm sure all that angst is just projection, but I think I needed to say it out loud. I usually express myself in a more downtempo energy, but it felt right to let this one go off the rails."
5. Ferdous - Euphoria (At Night)
Ferdous rounds out our list with the dreamiest cut of the week. The artist combines ethereal synths with hypnotic drums on the new song, epitomizing the slightly groggy and peaceful feeling of nighttime.
Like our BRAND NEW playlist here and follow DMY on Spotify to stay ahead of the game on the freshest new music.