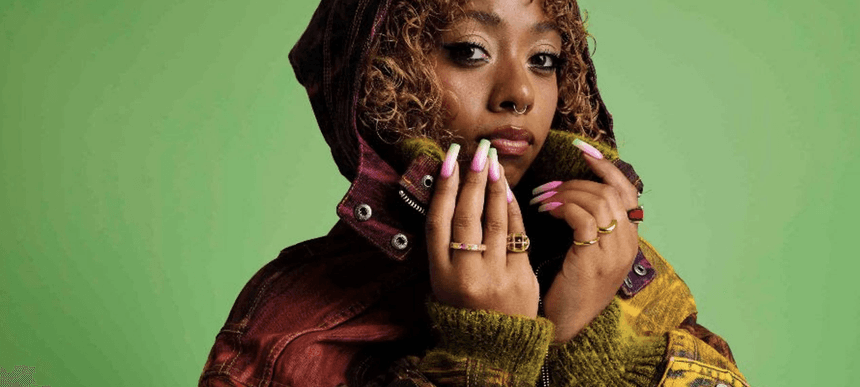 07.08.2023, Words by Billy Ward
Nia Archives, Jorja Smith, M Huncho and more front our NEXT HYPE playlist
Listen to the best new songs from across the genre spectrum
Check out these tracks from our NEXT HYPE playlist, which is dedicated to bringing you the best music from all of the genres out there.
1. Nia Archives - 'Bad Gyalz' 
Yesterday (Sunday August 6), Nia Archives hosted a one-day rave at East London's 60 Dock Road to celebrate her new single and the women it pays homage to. 'Bad Gyalz' is a love letter to the girls that have been coming to Archives' jungle raves over the past year, flipping the script on an often male dominated scene and bringing about a new era of inclusive dance parties. "I've wanted to do this for a while, it's about creating safer spaces for women and baddies in general in dance music," she explains.
2. Jorja Smith - 'GO GO GO'
Jorja Smith's latest single 'GO GO GO' marks an unexpected departure from her R&B sound, veering towards the world of indie rock. The Londoner claims that she's always had a love for alternative music and this new sound definitely suits her. Whether this is a one-off or a sign for more to come, we're loving the indie icon Jorja Smith era. 
3. M Huncho - 'any minute' feat. Slim
M Huncho and Lewisham rapper Slim released their new single 'Any Minute' last week, acknowledging that things can change at any minute when you play the game. These two first collaborated on Slim's debut in 2018 just before he went inside - he got out this earlier year and was keen to rekindle this creative partnership. We've got no complaints. 
Stream our NEXT HYPE playlist below: