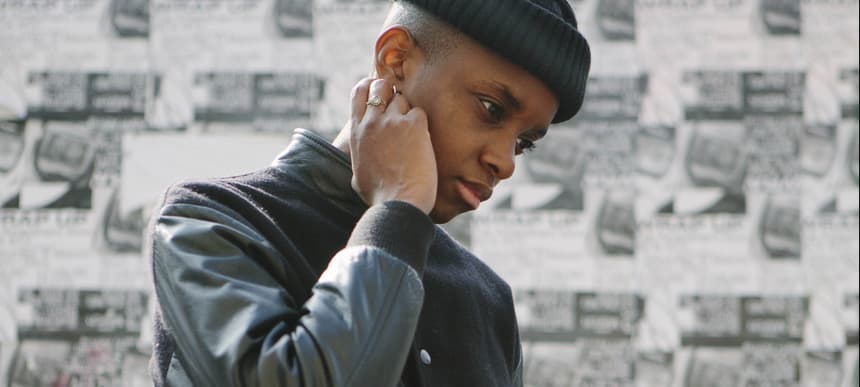 07.08.2019, Words by Felicity Martin
The 10 Best 160 BPM Tracks, according to Sherelle
"It's moody while owning every room and sound system it's unleashed upon..."
If there's a rising DJ whose name is on everyone's lips right now, it's Sherelle. The London-based selector specialises in fast rhythms, be it jungle, juke or footwork – basically anything that sits at around 160 beats per minute. Those sounds, plus a Boiler Room set that went viral for its ridiculous energy and that 'Ripgroove Refix', have attracted her a serious following, and a healthy run of bookings in some of the biggest clubs and line-ups going.
She's also part of 6 Figure Gang, a crack DJ team comprised of herself, Fauzia, Dobby, L U C Y, Yazzus and Jossy Mitsu, who've been hauling their forward-thinking party sounds up and down the country. Ahead of an appearance at Horst festival this September, Sherelle has named some of the finest 160 BPM tracks in her arsenal. Read on below for some of the fire-paced anthems she'll draw for again and again.
1. Fracture – 'Cold & Rain feat. Inaya Day'
"Excuse the pun, but it's quite simply one of the coldest tracks that Fracture has ever made."
2. Dawn Day Night – 'Death of Scorpio'
"For me one of the most adventurous producers of our time… This was their first introduction to the world under Fracture's Astrophonica Label."
3. Morgan Hislop – 'Umbra (DJ EARL Teklife Remix)'
"DJ Earl and Morgan Hislop is quite simply a match made in heaven. Essential listening."
4. Om Unit – 'Spiritwerk'
"A classic by a classic producer. This track embodies everything to do with footwork, jungle, drum 'n' bass. It's moody while owning every room and sound system it's unleashed upon."
5. Kush Jones – 'Yeah'
"Kush Jones is one of the most exciting producers around at the moment. 'Yeah' is a classic of his which embodies everything that 160 has to offer."
6. Surly & Swisha – 'Nobody Betta'
"Surly and Swisha are two amazing producers who work quite a lot with collectives like Juke Bounce Werk. This track is a perfect example of using already existing genres such as garage/house to create something new and fresh. Big up Big Dope P of Moveltraxx!"
7. DJ Manny – 'How Does It Feel (Remix)'
"Teklife's DJ Manny shows a different side to his production with this rowdy banger!"
8. DJ Manny – 'Go Down'
"Put simply, one of the best refixes of Denise Belfon – 'Work'!"
9. Machinedrum – 'Heavyweight'
"Machinedrum has been championing 160/footwork/juke/you name it for years. His track 'Heavyweight' is an essential part of how footwork evolved and will undoubtedly influencing producers for years to come."
10. DJ Rashad X DJ Spinn X Taso – 'Luchini VIP'
"DJ Rashad started everything. His VIP of this rap classic shows how versatile he was as a producer and why he could literally do anything. His regular collaborations with Spinn and Taso often birthed incredible tracks. See 'Acid' as another example of the greatness!"
You can catch Sherelle on Reprezent every other Tuesday from 9 – 11pm, and she plays Horst festival in Belgium this September.