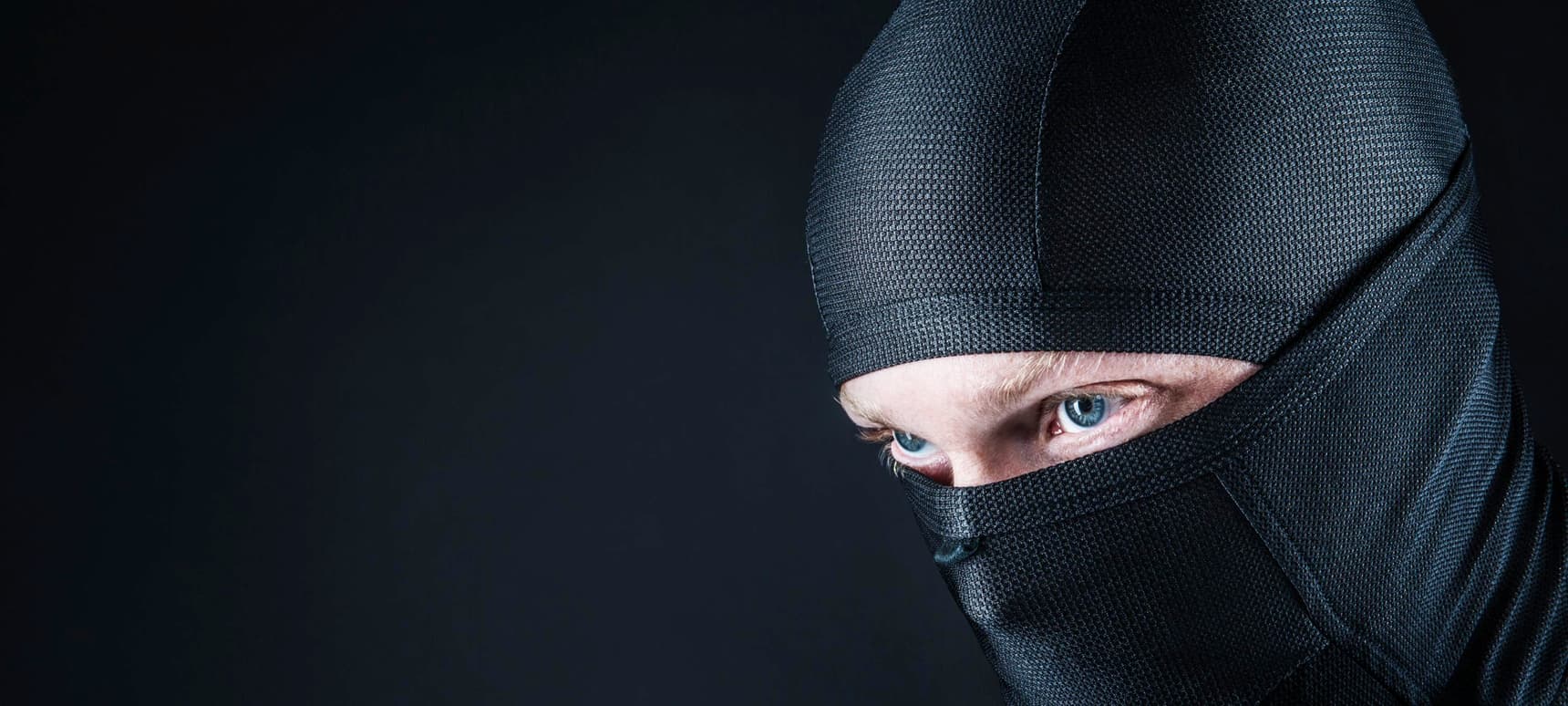 26.02.2019, Words by Felicity Martin
The 10 Best '90s Hip-Hop Records, according to Jaguar Skills
The DJ/producer with an encyclopaedic knowledge of '90s boom-bap shares the genre's finest cuts
If there's anyone who possesses an encyclopaedic knowledge of '90s hip-hop, it's Jaguar Skills. Having been sharpening his tools for the past 20 years, the DJ/producer's style of dextrous, cut 'n' paste mixing is now infamous – with his selections as sharp as his lightning speed selecting. Continuing his reign as one of the most respected figures in the hip-hop world, 2018 saw him release the 'Miseducation of a Hip Hop Boss' EP on his own Viper Recordings which drafted in Double S, Saskilla and more for a multi-genre assault.
Ahead of a string of dates at immersive clubnight 'Foreverland' on its 'Enchanted Forest Rave' tour, the balaclava-clad DJ has pieced together a list of his all-time favourite boom-bap anthems from the '90s, along with an array of personal anecdotes that prove how deeply rooted he is in the culture.
1. KMD – 'Mr Hood'
"Coming off working with 3rd Bass, Zev Love X (who later became MF Doom) – with his crew – KMD created an amazing debut album. Filled with rare samples, and film dialogue, this was the first time I'd ever heard anything as creative as this. Chopping up some rare-ass spoken word LP to create the character of Mr Hood, is still genius. This really influenced my style moving forward."
2. Black Sheep – 'U Mean I'm Not'
"Black Sheep were the last crew to come out of the Native Tongues collective. Comprising De La Soul, Jungle Brothers, A Tribe Called Quest, Moni Love and Queen Latifah, Native Tongues for me in the '90s were the favourite crew. They chopped jazz samples, disco breaks, stuff that wasn't getting used, and flipped it, making super original dope beats. Black Sheep, however, decided to take their lyrical style in a more wayward direction. 'U Mean I'm Not' is a push against the hard gangsta shit that was happening at the time, and is also super funny. Check it 'til the end. It's amazing."
3. Kool G Rap & DJ Polo – 'The Streets Of New York'
"Kool G Rap is one of the greatest MCs ever – OK? Check his shit, then get back to me… This tune, produced by legendary hip-hop producer Marly Marl, marked a turning point for Kool G. Deep story telling lyrics, an amazing beat… what more do you need? When I heard this on Westwood's Capital Radio show in the '90s, man, it totally blew my mind. Amazing. After you've finished listening to this, check the sample – The Fatback Band 'Gotta Learn How to Dance' – it's dope too!"
4. A Tribe Called Quest – 'Electric Relaxation'
"I could pick pretty much any Tribe song for this. They were the group that defined my '90s. The samples they picked, Q-Tip's amazing delivery and voice, Ali Shaheed's production, Phife's flows…. wow! After I heard Tribe's 'Low End Theory' LP, I started in earnest to dig for samples and records. 'Electric Relaxation', to me, is the perfect hip-hop record. The sampled they used, Ronnie Foster's 'Mystic Brew', is fusion jazz at its finest, and the fact that Tribe flipped this and made it into a 6-bar loop for the track, is, in my nerdy brain, one of the greatest things to have ever been made by man. 6-bar loops, baby."
5. Ghostface Killah – 'Stroke Of Death'
"Off his 'Supreme Cilentelle' album, Ghostface rips bars over the weirdest beat of all time. An off-beat scratch and some dusty drums. That's it. It's weird, funky and brave to me. Like Tribe, Wu-Tang made Jag Skills into who he is today. Wu Tang's crew, their flows, their visuals were inspiring. Ghost always stood out to me, and this tune is one of his weirder ones. Which makes it ever more dope to me. Cutting edge hip-hop or headache material? You decide."
6. N.W.A – '100 Miles and Runnin''
"The beats of this EP are next-level. Even by today's standards. The energy was huge, plus the skits were Hollywood level cinematic. Really useful for pissing off your parents, this EP re-defined what you could do with a hip-hop record, production-wise. '100 Miles and Runnin" was the joint for me, but 'Fuck The Police 2', damn, that took shit to a whole new level. One of my buddies once played FTP2 at a bar mitzvah… I'll leave it at that."
7. De La Soul – 'D.A.I.S.Y. Age'
"The true creative masters of hip-hop, who have NEVER fallen off, or, in my humble opinion, have never made a bad record, released their first LP '3 Feet High And Rising' and changed the game forever. ALL of this LP is amazing. Me and my friend Darren used to rock this tape continually. And this track, 'D.A.I.S.Y. AGE' seemed to be on loop for years. It's simple, and dope."
8. Busta Rhymes – 'Everything Remains Raw'
"I was in New York when Busta went solo and performed his track 'Woo Haa' to the Elektra staff for the first time. I was lucky enough to attend. It was something else. I still have the video of it somewhere. Busta basically, ran into the crowd of 30 people and ripped through the track. They played the sample of the tune first, which was this super weird jazz record (Galt McDermont 'Space') – then the DJ cut into the 'Woo Haa' beat. No one on earth had heard this tune, and it was quite a fucking moment. After which he performed the track, 'Everything Remains Raw'. That was the b-side. Real hip-hop shit here by one of the top five emcees ever! Hip-hop moments that weren't captured on Instagram!"
9. Canibus & DJ Clue – '97 Mentality Freestyle'
"This was on white label, but came out on a DJ Clue mixtape initially. Canibus, when he arrived on the scene, was hailed as one of the greatest emcees to do it. If you check this freestyle, you'll hear why. Over Capadonna's '97 Mentality' beat (one of my fave beats ever made), Canibus' bars are hard to beat. Heads were buzzing about the release of his debut album, but it kinda flopped. The beats weren't that good, and it seemed hard to capture Canibus' lyrical freestyle fury on record. Shame, cos he was amazing."
10. Pete Rock & CL Smooth – 'The Good Life'
"This track came out on the 'All Souled Out' EP. Every tune is dope on it, but this one really takes me back to when I was first discovering hip-hop full time. It seemed to mesh really well with all the other scenes in London at the time. Especially the acid jazz scene, which I loved too. Gilles Peterson and Patrik Fordge would play this, as well as Westwood and Max-N-Dave. Hip-hop was a real positive force when this came out, and I feel lucky to have been a part of that. And I still say the name of this record in a Tim Westwood voice. You try it, it's funny."
Catch Jaguar Skills at Foreverland's Enchanted Forest Rave at Glasgow O2 Academy on 8th March, and playing an exclusive hip-hop mash up set at Carnival Magnifico at Digbeth Arena, Birmingham, on 7th June.
Related: Read 'The 10 Best Dutch Hip Hop Tracks according to Appelsap'