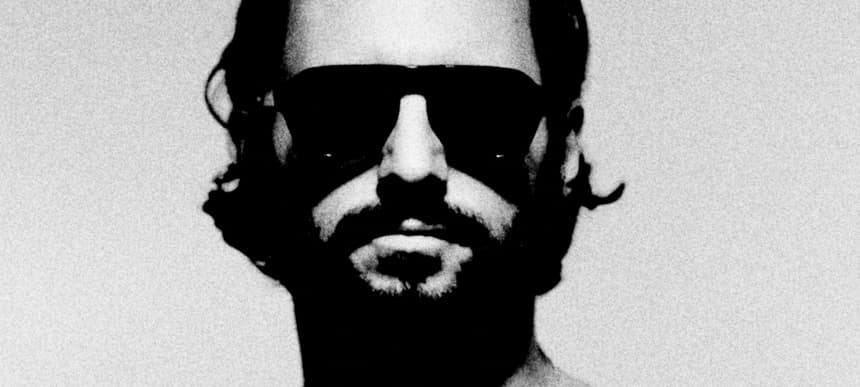 26.03.2021, Words by Felicity Martin
The 10 Best Absolute Heaters, according to Paul Woolford
"I've wheeled it back four times while I'm writing this, so there you have it..."
Paul Woolford is a rare breed of artist, one who has successfully compartmentalised two distinct sounds into equally-beloved monikers: his birth name and Special Request. As Woolford, the Leeds-born producer and DJ is responsible for enormous, chart-scaling bangers – his Diplo and Kareen Lomax-featuring 'Looking For Me' went platinum in the UK, and he just dropped 'HEAT' with the Grammy-nominated Amber Mark. As Special Request, he digs into the old-skool jungle sounds of '90s-era pirate radio, most recently linking up with Tim Reaper on a heavy EP for Hooversound before delivering a mind-blowing DJ-Kicks mix.
As well as being one of the hardest-working, he's one of the most interesting figures in the dance music world right now, as someone who can command such a presence in two largely different scenes. With this in mind, we wanted to tap into his musical brain to uncover the absolute heaters and all-time favourites that Paul Woolford holds dear.
1. Chaka Khan & Rufus – 'Ain't Nobody (Frankie Knuckles Hallucinogenic Mix)'
"Absolute all-time personal favourites are what this list entails and we start with this incredible dub of the '80s classic. Frankie kept it all intact but augmented it, and added the delays over the vocals which trigger all the right feels. Spine-tingling stuff. I have fond memories of closing the Space terrace with this a couple of times during my residency there…"
2. Kaytranada ft. Van Jess – 'Taste'
"We all love Kaytranada and it was great to see him properly acknowledged by the Grammys, but I feel Van Jess should be massive. I love what they do and on this low-slung throbber their vocals drive the groove in such an appropriate way. An overlooked classic."
3. Boof – 'Birgit Boogie'
"Mr Maurice Fulton is in a world of his own and occasionally we are lucky enough to be able to take a peek inside and wonder at how beautiful it can be. Here he lays down a groove that's pure Larry Levan meets Compass Point, and applies the starry-eyed magic from some lush keys. You get the impression once he set it up it just fell out of his shirt sleeve. Incredible."
4. SG Lewis ft. Lucky Daye – 'Feed The Fire'
"I have no idea how this was not Number One globally, it's such a good record. Clearly using Daft Punk's 'Voyager' as the harmonic basis, the vocal from Lucky Daye completely elevates it into the realm of being close to Rodney Temperton-Quincy Jones-MJ territory. Instant classic and will be tanned for years."
5. Paul Woolford & Amber Mark – 'HEAT'
"Yes, it's a heater! This came about last Summer as it was absolutely baking hot, and it felt like the natural follow-up to 'Looking For Me', although I did not realise it at the time. Amber really brought it with her vocals and I adore her section about a third of the way through where she says: 'Can't take it, can't feel the fire, can't take it, burning up tonight'."
6. Special Request – 'Amnesia'
"Made in the kitchen in my old house, equipment on the breakfast bar, sun streaming through the windows, and picked up by XL Recordings the same day I sent them it. Once this was in the bag, we just kept going and they took the following eight tracks on the bounce as well. We accidentally had enough for an album although we released it as 3 x 12" singles in the old XL classic silver and black design. Shed and Detboi also contributed some killer mixes on another 12″."
7. Missy Elliott ft. JAY Z – 'Wake Up'
"Heating it up differently on this one. Super-stark killer drums punctuate this absolute banger which sounds as incredible today as it did when it was released in 2003. As soon as the sun comes out, go and play this in your car with the windows down. It's one of those."
8. Change – 'Change Of Heart'
"I adore this entire '80s soul and funk era, pretty much in its entirety. As I became a teenager I was listening to the radio so much, and there was a soul show on Radio Aire in Leeds every Saturday. Then I discovered pirate radio, and it was completely over. Every possible permutation of dance music with mad adverts every now and then. It was fucking wild and opened up my tastes completely."
9. Carly Rae Jepsen ft. Bleachers – 'Comeback'
"I'm telling you this is a proper emotional banger, albeit with a velvet touch. Taken from the B-sides version of her last album from last year. Pure end of Summer teenage angst, quite possibly a perfect pop song. She believes deeply in every word she is singing and I've wheeled it back four times while I'm writing this, so there you have it."
10. Sade – 'Sweetest Taboo'
"All-time classic and such a sultry and atmospheric song. Late-night island life, deserted sandy beaches, a million forgotten moments… LIFE itself. Don't let it slip through your fingers…"
Hear Paul Woolford's 'HEAT' featuring Amber Mark and his Special Request DJ-Kicks mix.