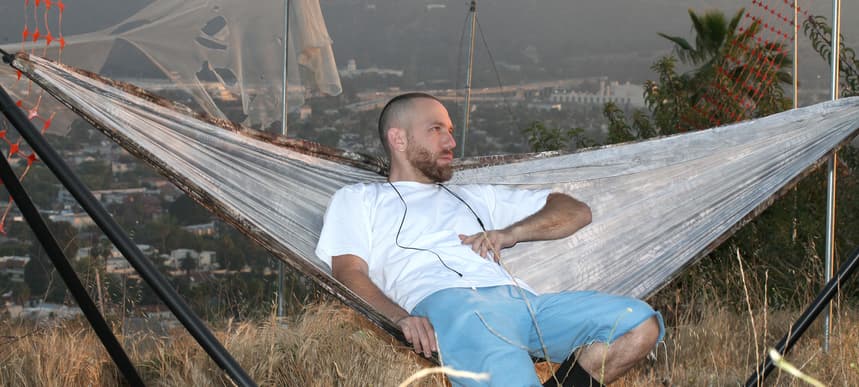 06.09.2019, Words by Felicity Martin
The 10 Best Breakbeat Diva Anthems, according to Kingdom
"I had never heard of it until 2007 when I saw a drag queen in New York lip synch to it and was blown away. This takes me to ecstasy."
Kingdom has long been a central figure in vocal-led R&B-meets-dance music. The Fade to Mind boss and LA-based producer has pioneered a hyper-melodic and future-facing sound through the label, releasing (and producing for) Kelela's influential 'CUT 4 ME' album along with early offerings from the likes of D∆WN, Nguzunguzu and Fatima Al Qadiri.
Dropping his debut 'Tears in the Club' LP in 2017 that tapped up Syd and SZA for vocals, he's kept the theme of the strong female vocal on his newest offering, 'EXTERRA (Vol. 1)'. Released today, the six-tracker finds Brooklyn's Ms. Boogie and Tiara Thomas lacing the harder-hitting beats that verge at times on crunk with their vocals. In the spirit of this, Kingdom has shared his ten favourite all-female vocals over breakbeat house, breakbeat hardcore, and early jungle.
1. True Faith (Feat. Bridgett Grace) – 'Take Me Away (Pinup Girls Mix)'
"I love when the beat cuts out after the short intro and you're left hanging in the abyss with the diva calling out: "Take me away". A perfect UK remix of Detroit diva house track."
2. Dead Man's Chest – 'Tears (Fantasia Version)'
"A dark jungle flip of Brandy's 'Angel In Disguise'. There should be more original R&B that is this haunting and broken."
3. Manix feat. Marie – 'Let Your Mind Be Free'
"Full of happy pianos and messy breaks, then a rug-pull switch to the chaotic darkside at 1:35. My favourite breakbeat hardcore anthem."
4. Dj SS – 'Dawn In May'
"This is a remix of Adina Howard's 'Freak Like Me' – named in the tradition of abstracting a lyric to avoid copyright issues: "it's all about the dog in me" turned into 'Dawn In May'."
5. Elisabeth Troy – 'Greater Love'
"Elisabeth Troy lent her voice to so many legendary songs. The beginning of the intro sounds like a proper soul classic, and then the start-stop breaks and loon calls come in."
6. Roz – 'U Can Be My Lover (Jonny L Dub)'
"Sub-bass-filled jungle version of an obscure '90s New Jack R&B jam."
7. Debbie Malone – 'Rescue Me'
"Early diva house with breaks – I think this was an American house song that crossed over to the UK."
8. DJ Vibes – 'Sing It Loud'
"Another song that started out as slower US house track that was remixed into a hardcore anthem that laid the foundation for the happy hardcore sound."
9. loggi – 'where has all the love gone'
"A sweet/chaotic contrast of a classic sounding soul vocal over insanely syncopated breakbeat."
10. Baby D – 'Let Me Be Your Fantasy'
"This was a crossover hit in its day, but I had never heard of it until 2007 when I saw a drag queen in New York lip synch to it and was blown away. This takes me to ecstasy."
Watch the video for Kingdom's 'High Enough (ft. Tiara Thomas)':
Buy/stream Kingdom's 'EXTERRA (Vol. 1)' here.