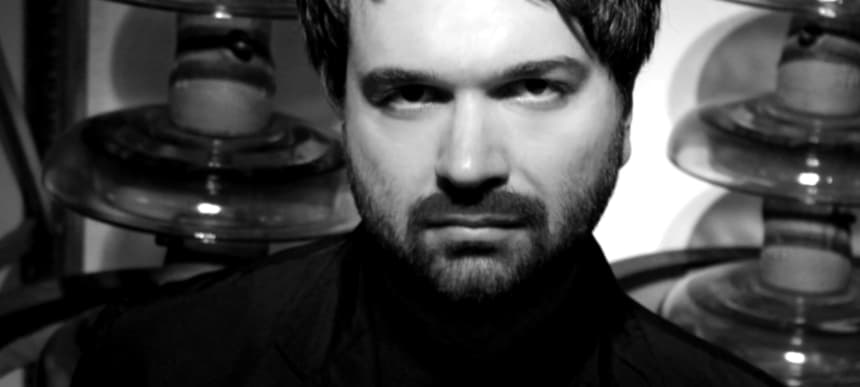 12.02.2019, Words by Felicity Martin
The 10 Best Cyberpunk Tracks On Sega Mega Drive, according to Remute
The Hamburg producer reveals his favourite tracks to grace the '90s games console
Hamburg electronic artist Remute doesn't exactly do releases by the book. In 2017, he released an album via Floppy disc, finding 1,44 Megabytes to be just enough for good music. This year, he's continuing his experimentations with formats by releasing an album on Sega Mega Drive Cartridge: 'Technoptimistic' is the first-ever techno album to be programmed and released via the 16-bit console.
In anticipation of its release next month, Remute has shared his ten favourite cyberpunk tracks to ever grace the '90s games console. "The Yamaha FM-chip of the Sega Mega Drive console truly generates some unique sounds," he says. "With its metallic and digital rough timbre, it turns almost ANYTHING into a sparkling cyberpunk vision. So, close your eyes and dream yourself away."
1. Robocop Vs The Terminator
"Two cyberpunk icons in one game and what an awesome game this is! As awesome as the punchy soundtrack by Tommy Tallarico."
2. Sonic 3
"OK, Sonic isn't really a cyberpunk icon but when you close your eyes and listen to the 'Ice Cap Zone' tune you're Blade Runner Deckard dancing in a club full of Replicants. Did you know Michael Jackson was involved with the Sonic 3 soundtrack?!"
3. Vectorman
"This game was released quite late in the Mega Drive's lifespan. It had a very futuristic, quirky and cyberpunk-y graphic design and features some uber-cool electro-cyberpunk-techno."
4. Overdrive
"Technically not a 'game', but in its core this demo from the legendary demoscene-group 'TiTAN' is very Cyberpunk because these talented coders hacked and optimized the hell out of the Mega Drive and provided something so advanced and never seen or heard before on this game system. One guy from TiTAN called Kabuto was involved with my upcoming Mega Drive album 'Technoptimistic'.
5. Alien 3
"While the Alien franchise only provides subtle cyberpunk undertones, the soundtrack of the Mega Drive game features some groovy cyberpunk bangers that would even make the legless Bishop dance."
6. Shadowrun
"Shadowrun started off as a table top role-playing game in the late '80s and gathered a large fanbase of worldwide cyberpunks. The Mega Drive version is an excellent adventure game that features some mystical and floating electronic compositions."
7. PGA Tour Golf
"Uhm, a golf game in a cyberpunk list?! Right, the sound chip of the Mega Drive can turn ANYTHING into cyberpunk. Rob Hubbard's glorious, electrified title song music transforms you into a fully optimised sport android made to win!"
8. Techno Cop
"A very gory, violent game with a very gory, violent protagonist reminiscent of cyberpunk hero Robocop. The music is so metallic, harsh and merciless like a T-800 endoskeleton."
9. Syndicate
"The Syndicate game always felt like a playable Neuromancer chapter. The minimalistic yet pulsating Electro-soundtrack drives the cyberpunk level to 100%."
10. Streets Of Rage 3
"The soundtrack of Streets Of Rage 2 is for sure one of my all-time favourite game soundtracks, but the third instalment of the series featured such a twisted, experimental and truly hi-NRG cyberpunk-techno OST that pushes the FM-chip of the Mega Drive to its absolute maximum and probably beyond. Wild!"
Listen to the first track, 'A Warm Feeling Of Total Immersion', from Remute's forthcoming album:
'Technoptimistic' album is released on March 22nd 2019 via Remute Limited.
Related: Read 'The 10 Best Sega Mega Drive and Genesis tracks, according to DJ Sonikku