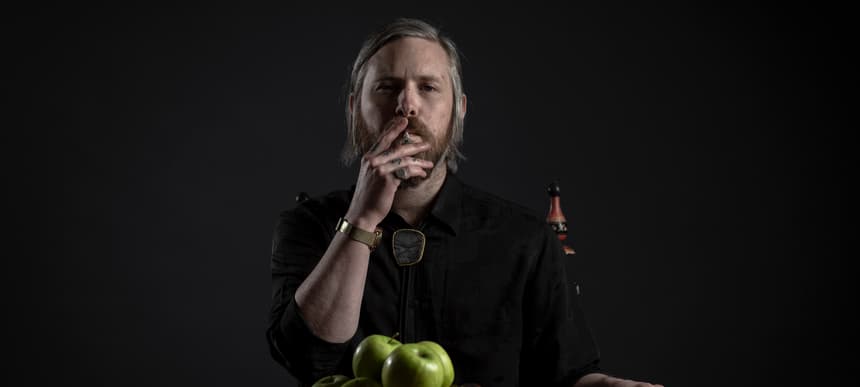 14.08.2019, Words by Felicity Martin
The 10 Best Drag Race Lip Synch For Your Life Tracks, according to Blanck Mass
"This one was amazing and perhaps for all the wrong reasons but iconic nonetheless..."
Fuck Buttons' Benjamin John Power, aka Blanck Mass, is like many millions of others, a RuPaul's Drag Race fan. When the Scotland-based producer's not working on music, that is. His latest album, 'Animated Violence Mild', which arrives on Friday via Sacred Bones, tackles some pretty big themes through some even bigger, noisy sounds. 'In this post-industrial, post-enlightenment religion of ourselves,' the press release reads, 'we have manifested a serpent of consumerism which now coils back upon us.' Which is something we can all get behind.
Throughout Drag Race her-story, one thing has remained constant: the importance of the Lip Sync For Your Life. The reality TV show staple, whereby two queens are pitted against each other to a song hand-selected by Ru herself, has provided countless showdowns, controversies and just simply great content. Ahead of 'Animated Violence Mild's release, Power runs us through the most sickening Lip Synchs to date…
1. Jinkx Monsoon v Detox: Yma Sumac – 'Malambo No. 1'
"I'm gonna start strong here. Easily my favourite LSFYL and also my favourite song that's ever been used in one. The perfect track for Jinkx to "play up a schtick". Jinkx winning this one had a real sense of 'universal justice' considering how Jinkx had been treated by 'Ro-laska-tox'. I often watch this if I'm feeling low for any reason as a pick-me-up. A pivotal moment in Drag race for me. Jinkx Monsoon for President; that's a world I wanna live in."
2. Sharon Needles v Phi Phi O'Hara: The Weather Girls – 'It's Raining Men'
"I'm convinced that Sharon Needles can't dance for shit but that doesn't stop her being one of the best queens the world has ever seen. Sharon camped this one up to such an amazing place that I feel no matter what Phi Phi did it was always going to go Sharon's way. Luckily for Phi Phi though, Willam got disqualified meaning the Sharon and Phi Phi drama could continue another day."
3. Naomi Smalls v Gian Gunn: RuPaul – 'Adrenaline'
"It's hard to pick a favourite lip synch from Naomi Smalls but purely based on contortion I'm going to have to pick this one. Naomi went on to become a lip synch assassin later in All Stars and really started to shine here. She pulls some of the most incredible shapes, it's beyond me how she hits these angles, only to be rivalled perhaps by Yvie Oddly recently. She's definitely one of the most interesting queens to see in a LSFYL I can think of, especially here. Gia was great but I really don't think she stood much of a chance against Naomi."
4. Sasha Velour v Shea Coulee: Whitney Houston – 'So Emotional'
"As much as I think gimmicks in a lip synch can often feel a little bit cheap, this was an iconic moment for Sasha Velour which I'm pretty sure sealed the crown for her in season nine. Sasha's creativity is next-level and the wig reveal showering her in rose petals was an incredible moment not only in Drag Race but an iconic moment in drag, period."
5. Valentina v Nina Bo'nina Brown: Ariana Grande – 'Greedy'
"This one was amazing and perhaps for all the wrong reasons but iconic nonetheless. The fact that Val even decided to leave her mask on for the lip synch in the first place is testament to the fact that she really does live in 'Val's World' and I love that. Saying that, Nina definitely deserved the win here, no doubt about it, but still a particularly rebellious moment in Drag Race alongside Pearl's "Do I have something on my face?" moment. You've got to appreciate the rebellion in drag."
6. Manila Luzon v Delta Work: Donna Summer – 'Macarthur park'
"When Manila goes cross-eyed and crazed here it's so perfectly timed and executed that the lip synch could have been won here on that moment alone."
7. Scarlet Envy v Ra'jah O'Hara: Donna Summer – 'Last Dance'
"Scarlet won this lip-synch as far as I am concerned. Not too sure what the deal was here and if it was somewhat predetermined but Scarlet's LSFYL here was easily one of the best of season 11. Her subsequent elimination to me felt massively unjust. It's not the fact that Ra'jah wasn't doing a great job as she was. I just felt that Scarlet's gimmicks didn't feel at all tacky and that she performed with so much poise and and character that she deserved the win."
8. Chi Chi DeVayne v Thorgy Thor: Jennifer Holliday – 'And I Am Telling You I'm Not Going'
"Whether Chi Chi breaking her necklace and covering the stage in pearls was accidental or not, it was definitely fortuitous. I'm convinced that this happy accident(?) was the final icing on the cake to an already incredibly emotive lip synch that left Thorgy totally overshadowed. UPDATE: while typing this I have just rewatched and noticed that Chi Chi's necklace got caught in her heel whilst she is on her knees. So yes, accident."
9. Mimi Imfurst v India Ferrah: Thelma Houston – 'Don't Leave Me This Way'
"This one was plain odd. I'm not sure what possessed Mimi to pick India up and parade her around draped over her shoulder but it definitely didn't work out for her. I would speculate that she panicked and tried to sabotage the whole lip synch but I really am not sure. Anyway. It didn't work out for her in the end."
10. Alyssa Edwards v Tatianna: Rihanna – 'Shut Up & Drive'
"This has gone down in history as one of the best LSFYLs to ever happen and that's justified. Maybe for the simple reason that it is so difficult to pick who would have actually won here. Both Alyssa and Tatianna were on incredible form. This was testament to how hard both of these queens work, how talented they both are, and if there was ever a time for Ru to say: "Shantay, you both stay," then this was it."
Watch Blanck Mass's 'Love Is A Parasite':
Blanck Mass's 'Animated Violence' album comes out this Friday via Sacred Bones.
"What's more grand than the idea of someone's internals?" Read our interview with Blanck Mass