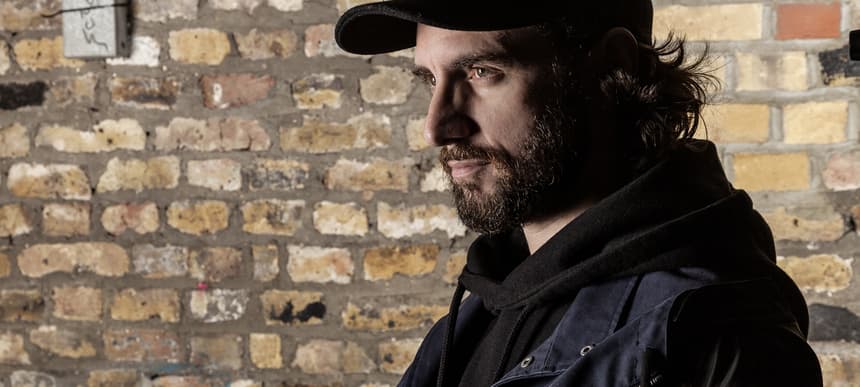 01.03.2017, Words by dummymag
The 10 Best Electro Tracks, according to Special Request
"Guaranteed to bring the house down in any self-respecting selector's set..."
Special Request, aka Paul Woolford, has been around the rave block but still remains on the cutting edge releasing music on Carl Craig's Planet E and uber-indie XL amongst others. Having first played London's fabric in 2004 he has now played all three rooms at various times and in various contexts, even on one occasion, playing Room 1 and Room 2 on the same Saturday night. And now his affinity with the club has lead to him being invited to mix the latest fabric compilation and a fine mix it is too. Taking in electro, jungle, drum'n'bass and even grime via Aphex Twin in his Caustic Window and Polygon Window guises it's a thoroughly modern journey that acknowledges the past but looks to the future. In his own words:
"This mix is about heightened emotions and making them as contrasting and intense as they can be – I wanted to create something lush that slowly moves into the realm of the unhinged. There were no moments of doubt, which is rare with studio mixes. Usually there is some trepidation and soul-searching, but I felt no pressure this time. Beyond the tracks themselves, the overarching idea was that it needed to hold the power of suggestion. So you hear the textures collide and the sensations unlock like valves. For the most part it was recorded and mixed by hand, vinyl & files, so you can feel the traction from time to time. There's some editing on occasion, only where it absolutely demanded it. I wanted it to feel as live as it could be, with all the momentary tension that entails."
Special Request's Ten Best Electro tracks
Cybotron 'Clear' (Fantasy)
The undisputed! Juan Atkins and Rick Davis created another world and we all continue to feel the influence year after year. The entire electro blueprint is in this track and it sounds SO futuristic, SO sci-fi, SO cold, yet warm. The section where the bass alters in the bridge is just magic – guaranteed to send any party into the stratosphere.
Visage 'Frequency 7' 
I'm stretching a bit here, this is almost proto-electro – such an oddity. A British record from out of the Blitz days that was taken and embraced in Detroit and played by Electrifyin' Mojo on his show, in turn influencing others. Pure analogue heat with quite a fierce strut going on. Monstrous.
Cybotron 'Techno City' 
Super-evocative melancholic material from Juan & Rick again – I first encountered this on one of the Streetsounds Electro albums and it really got under my skin. I always picture a vast cityscape at dawn when I listen to it – punctuated by the spoken alarm clock saying "6.57am"… there's nothing else that sounds like this record.
Stefan Vincent 'Aquilae' (Dynamic Reflection)
Spine-tingling true electro from Stefan Vincent – this was released in 2015 but I would say it's an instant classic. Pure emotion, beautiful production and so much soul – quite incredible that it wasn't massive, it was completely overlooked. A hidden treasure. It doesn't get much better than this. I've used it in the FabricLive mix just before the mix takes a turn into the heavier material and it really sets the scene.
Egyptian Lover 'Egypt Egypt'
No list of electro records is complete without the master Egyptian Lover in there. Again, something that came to me through the Streetsounds Electro compilations – everybody was copying tapes, sometimes you'd get 3rd and 4th generation copies that were so scuzzy, but the tracks sounded so out there. I played a gig at Panorama bar last year with Egyptian Lover and he was a gentleman – he even gave me one of his classic albums, which was a nice touch. Pretty incredible to be playing a gig with a guy who's music you first heard 26 years ago!
Caustic Window 'On The Romance Tip' (Rephlex)
Richard D. James in Caustic Window mode with this pretty spaced-out jam. He really put the focus back on the drums becoming really interesting and the way he sampled himself became an inspiration for so many globally. I always think the best way to think of Richard's music is completely out of time. So much of it sounds simultaneously futuristic yet arcane, which has meant that it hasn't dated at all.
Claro Intellecto 'Peace Of Mind' (Ai Records)
Fucking stunner! Apparently, there's a 12″ repress coming from Delsin imminently, but this is just a stone-cold classic. Every home should have one. Another one from the FABRICLIVE mix, so you can get it on there, plug, plug…
Dexter 'No More' (Klakson)
Simply put, one of the finest electro records ever created, from the sounds to the arrangement, to the atmosphere. Obtusely funky. Unfeasibly low-slung. Guaranteed to bring the house down in any self-respecting selector's set, and brought to us by the mighty Klakson. I could have picked about another 5 Dexter tracks, he's a proper sick puppy.
Kraftwerk 'Tour De France' & 'Numbers' (Klang)
The two biggest, baddest electro beats of them all. 'Numbers' is 38 years old – get your head around that for a minute. Still sounding absolutely impeccable. 'Tour De France' came out in 1984, so a little younger (but not much!) – both absolutely transport you to another dimension. I went to see Kraftwerk at Manchester Velodrome with a friend and we were quite "refreshed" we'll say… so half way through Tour De France, the British cycling team came out and started doing laps of the velodrome, causing much confusion and disbelief. Quite a moment.
FABRICLIVE 91: Special Request tracklisting:
01. Aleksi Perälä – UK74R1619170 [AP Musik]
02. Special Request – Telepathic Dog [Houndstooth]
03. Caustic Window – Cordialatron [Rephlex]
04. DJ Stingray – Solitude [Unknown To The Unknown]
05. Plastician – The Lift [Terrorhythm]
06. Special Request – Psychic Vampires [Houndstooth]
07. Claro Intelecto – Peace Of Mind [Ai]
08. Polygon Window – Audax Powder [Warp]
09. Abul Mogard – Desires Are Reminiscences By Now [Ecstatic]
10. Dexter – No More [Klakson]
11. 214 – Frostbite [Frustrated Funk]
12. Alden Tyrell – Obsession Btz [Clone]
13. Stanislav Tolkachev – See You Tomorrow [Mord]
14. Special Request – Redrum (Thrash Mix) [Houndstooth]
15. Stefan Vincent – Aquilae [Dynamic Reflection]
16. Special Request – The True Knot [Houndstooth]
17. Cristian Vogel – Atomic Layers [Sub Rosa]
18. Shapednoise Feat. Justin K Broadrick – Enlightenment [Type]
19. Dillinja – Deadly Deep Subs (Remix) [2015 Remaster] [Razors Edge]
20. Forest Drive West – Turtle Break [Rupture]
21. Special Request – Replicant [Houndstooth]
22. Rood Project – Thunder [Whitehouse]
23. Special Request – Stairfoot Lane Bunker [Houndstooth]
24. DJ Trace & Nico – Monkeys (DJ Future & Eric Electric VIP) [117]
25. Keith Fullerton Whitman – Stereo Music For Serge Modular Part Two [Kranky]
26. Nolige – Adrenaline (2016 Edit) [Foundation X]
27. ASC – (Event #4) [Samurai Red Seal]
28. Mika Vaino – Omertà [raster-noton]
29. Carl Craig – Technoloambient (Max Dub) [Planet E]
30. Abul Mogard – Desires Are Reminiscences By Now [Ecstatic]
FABRICLIVE 91: Special Request is out 24th March