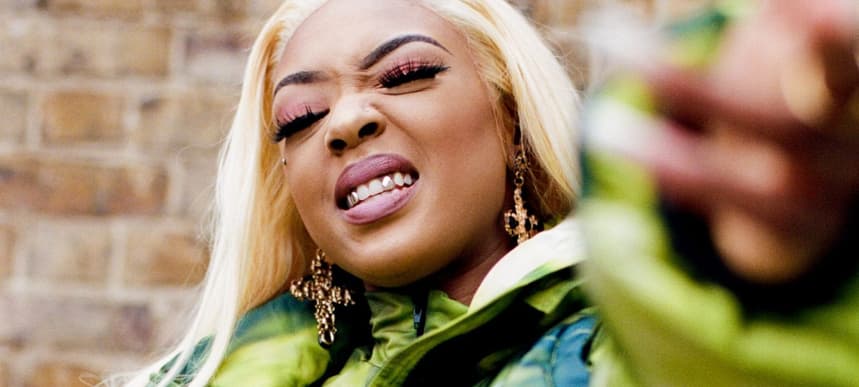 17.04.2020, Words by Felicity Martin
The 10 Best Female Rappers of All Time, according to Lavida Loca
"She ignored the haters and look where she is now?!"
Lavida Loca is one of the most exciting new voices in rap. Historically a male-dominated genre, UK rap has recently seen a load of talented female artists breaking through, and the South London MC is at the forefront of this wave of success. Armed with a direct, no-nonsense flow and true tales from her past, Lavida Loca has turned heads with her unique style of rapping inspired by a long love of fellow south Londoner Giggs as well as versatile spitters like Vybz Kartel and Sneakbo. She peppers her English bars with Spanish, having learnt the language during a spell in prison where she befriended a group of Colombian girls.
Her debut EP '2 Sides' is out today, with the name reflecting her versatility as an artist. On it, she both sings and raps, with her storytelling style apparent on the record's title track, while elsewhere she scores collaborations with CS and Miss Lafamilia. As well as the aforementioned MCs, there have been a wealth of female rappers to come from both sides of the Atlantic that gave her the confidence to slay in her own lane, and read on for the ones who have inspired Lavida Loca the most.
1. Lisa 'Left Eye' Lopes
"Left Eye is a big inspiration to me musically and on a deeper level other than music also, but her music showed everything she was and what she believed in. She's always inspired me in being sure that I stay true to myself regardless of whether people understand me or not."
2. Lil' Kim
"Lil' Kim paved the way for females like me to be able to do this in the first place. I love that Kim was bold enough to begin rapping sexually, when it wasn't acceptable to do so but grabbed everybody's attention doing just that! I love this, because although I don't rap sexually, I have to salute a woman that was able to have the confidence it needed to carve out her lane!"
3. Nicki Minaj
"Nicki is my favourite lyricist out of all of these women, because damn she can really rap! This is a woman who's perfected the art of rap in my opinion, her pen game is flawless and I feel like people are beginning to forget why we need to pay homage to Nicki!"
4. Cardi B
"I love Cardi because she's definitely opened a door for female rappers like me in our generation to feel comfortable being our true selves in a world of judgemental social media. Cardi has always been so pure in her music, so honest with her life and her journey. This inspired me a lot in feeling comfortable in my own skin and knowing regardless of whether people talk bad, they'll be people who relate and love you for it. She ignored the haters and look where she is now?! Inspo!"
5. Mulatto
"I love love love Mulatto, she hasn't even reached the peak of her career yet she's newly signed – but this girl can really rap. Any beat, any topic, she kills it. Don't sleep on Mulatto, she's about to take the world by storm."
6. Doja Cat
"I love Doja Cat for always unapologetically being her, her personality is shown in her music to her videos and I love her for that. She's very versatile too!"
7. Megan Thee Stallion
"I listen to Megan and instantly get my hot girl on. Her music is good for self confidence, when I need to remember I'm that bitch, Megan reminds me of that! I love her movement, I love her music and again, a very talented rapper! Maybe people sleep on her pen game because of her content but go listen to her freestyles!"
8. Young M.A
"Young M.A! I love Young M.A because she represents a different kind of female. In an industry that holds a certain level of expectation for how a female rapper 'should' look, she came and absolutely changed that narrative. When she came into the game, men didn't 'look' at her, they listened… and when we all listened, we heard a real talented female rapper that broke a stereotype."
9. Dreezy
"Dreezy has been doing this for long we all know her pen game is stupendous. She's a real savage and raps like one!"
10. Lauryn Hill
"Lauryn Hill is the first woman I've seen to sing and rap and actually master both, neither was mediocre. I rap but I also love to sing which I've shown a little in my new EP, she's definitely inspired me in believing I can do so."
Lavida Loca's '2 Sides' EP is out today – stream it here.