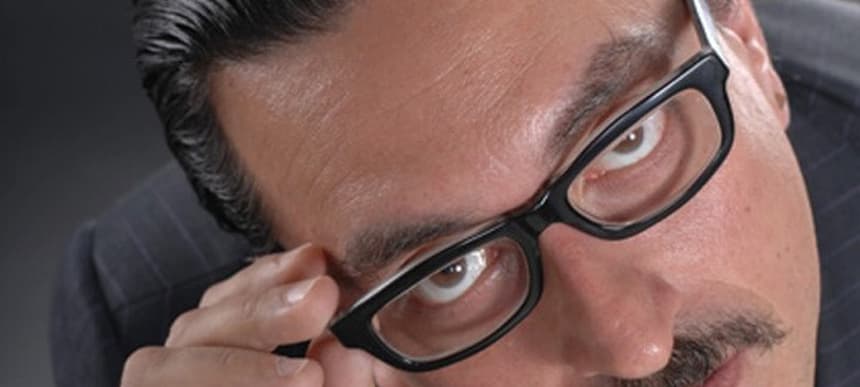 13.02.2019, Words by Felicity Martin
The 10 Best Frankie Knuckles Tracks, according to Eric Kupper
"House is a feeling, not a BPM."
January 18th 2019 would have been Frankie Knuckles' 64th birthday. There's no doubt he would've partied hard for it, and to honour inarguably the most important figure in house music to date, a special Directors Cut version of 'Baby Wants To Ride' is being released, with re-recorded vocals from original vocalist Jamie Principle, plus a Jimmy Edgar edit on the flip.
Directors Cut is the joint project between Frankie and his longtime friend Eric Kupper – together they enjoyed a production and writing partnership producing original releases and remixes, and as a result have a rich discography of hits under their collective belt. As well as the 'Baby Wants To Ride' rework, there's also a Directors Cut compilation planned for spring (of which fifty per cent of the profits will go to the Frankie Knuckles Foundation, which tackles LGBTQ youth homelessness, AIDS research and music in schools amongst other causes).
Frankie has left behind an unquestionable legacy and an immeasurable stamp on electronic music, and below his close collaborator lists his favourite cuts from the deep, historic vaults, along with some insight into the pair's working process.
1. Frankie Knuckles Presents 'Your Love'
"True cross-genre underground classic, fusing elements of Italian Disco, European electro-pop, with what I would describe as an early 1980's 'Lower East Side' (of Manhattan, bands like ESG, A Certain Ratio) underground dance sensibility. Jamie Principle's keyboards and vocals are seminal."
2. Frankie Knuckles Presents 'Baby Wants To Ride'
"For me, this is one of the tracks that helped define the early sound of Chicago house. A raw blend of that aforementioned Italian disco, throbby, bleepy goodness, raw four-to-the-floor drum machine beats, a Minneapolis/Prince-esque keyboard stab, and Jamie's powerfully steamy vocal performance. A serious game changer. Very happy to have the new version out there."
3. Frankie Knuckles presents Satoshi Tomiie featuring Robert Owens – 'Tears'
"The first record I ever did with Def Mix almost exactly 30 years ago (it was May 24, 1989) was as the keyboardist for David Morales' remix of 'Tears'. As much as this means to me on so many levels, the original version, which was done before I started collaborating with the Def Mix crew, is still my favourite. It was a shockingly beautiful production. Lush chords, Robert's seemingly stream-of-conscious vocals, and Satoshi's fat syncopated bass line… man."
4. Sounds Of Blackness – 'The Pressure (Frankie Knuckles Classic Mix)'
"I did not play on this record, and I'm glad. Only because this record came out the way it did; emotive, beyond soulful, gospel house PERFECTION. It still brings tears to my eyes when I hear it."
5. Frankie Knuckles – 'The Whistle Song (EK 12" Mix)'
"This song is obviously super special to me. I wrote it after hearing Frankie play back in 1990 at the Def Mix 5th anniversary party at the Red Zone in NYC. It was a major turning point for both our careers, and the song that cemented our musical bond."
6. Michael Jackson – 'Rock With You (Frankie Knuckles Remix)'
"I had missed mid-tempo and downtempo house for a long time, and I'm very pleased to hear a resurgence of house tracks below 120 bpm again during the past five years or so. House is a feeling, not a BPM. This track, released in 1995, is a prime example. It is is pure Frankie class. I did the bass line and a few keyboards, and that gorgeous live piano is played by Peter Schwartz. The long symphonic intro is just sublime. It was an honour to be a part of this."
7. Hercules and Love Affair – 'Blind (Frankie Knuckles Remix)'
"This song marked a turning point in the way Frankie and I worked together, as it was when we started working remotely. He was back living in Chicago after a long stint in NYC, was just recovering from an operation, and couldn't make it to my studio in the country outside of NYC. But with the modern technology of the time, we were still able to collaborate. This was really exciting for the both of us. The vocal for this record was just magical. The concept was to fuse the lush style of the music we created together in the '90s with the more electronic vibe he was doing before we had met, and come up with something fresh and unique. This was the beginning of what became 'Director's Cut'.
8. Human Life – 'In It Together'
"Such a cool song…! Somewhat more 'electronic' than some of our other work, I think this remix showed our diversity without compromise."
9. Lil Louis feat. ChinahBlac – 'Fable (Frankie Knuckles' Directors Cut Classic Club Mix)'
"Another record that brings a tear to my eye. It is just a beautiful song… a song this good makes a remixer's job quite easy. I think this one will (or at least should) go down as one of the best Director's Cut remixes."
10. Lou Rawls – 'You'll Never Find Another Love Like Mine (Kenny Summit, Frankie Knuckles, Eric Kupper Remix)'
"I wasn't there, but I was told that this is the last record Frankie ever played in his lifetime, at Ministry of Sound. It took another four years to get the clearance to release it, and I know Frankie was smiling when it was finally released. He absolutely adored this record."
Eric has supplied an additional two tracks which we'll happily include:
11. Depeche Mode – 'Wrong (Frankie Knuckles Vocal Dub)'
"This was a bit of a sleeper, and a really cool, tough yet beautifully atmospheric record. I've played it out, but it always sounded better to me when Frankie played it…"
12. Whitney Houston – 'Million Dollar Bill (Frankie Knuckles Director's Cut Signature Dub)'
"We had a lot of fun with this, and I think it shows. This is one of a few records we did together where I play the dub as often as I do the vocal mix. I also believe it may have been the first remix we did to carry the 'Director's Cut' moniker."
Director's Cut album was released on vinyl on February 1st and arrives digitally this Friday February 15th 2019 via SoSure Music – buy it here.
Related: Read our interview with Frankie Knuckles from 2013.