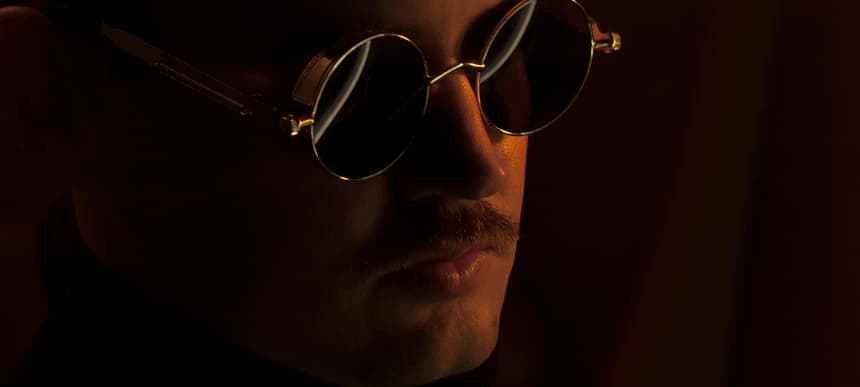 22.03.2019, Words by Felicity Martin
The 10 Best Freak House Tracks, according to Dance System
The Night Slugs boss, under his raw, jacking moniker, reveals the tracks to wind up a crowd with...
Sometimes you just want to unleash some slamming house bangers. And that's exactly what Night Slugs co-founder James Connolly aka L-Vis 1990 is doing under his Dance System guise. He's returning to the moniker to explore more raw, jacking, warehouse-flavoured sounds that wouldn't fit under his hyper-futuristic production work as L-Vis. Previously, these Dance Mania-influenced sounds have graced Clone's Jack For Daze and Ultramajic, while his newest effort is an outing for Monkeytown.
Ahead of the new 'Wind 'Em Up' EP arriving on Modeselektor's label, a four-tracker that'll (as the name would suggest) wind up a crowd, the producer and DJ selects the ten cuts he'll dust off to twist out a dancefloor.
1. Cajmere – 'Percolator'
"Without doubt this is one of the most important trax ever to me as a DJ. It hasn't left my box since the moment I first heard it. There is just no arguing with the Percolator, it works on any dancefloor. The simplicity of that swung bubble popping riff and Mr Velvet's vocal hook just connects with people. It's fun and ridiculous and at the same time hard/serious, this is my blueprint for making house music."
2. L.I.A.M / Marcus Mixx – 'Psychousic'
"Of all the flangers in the world I think this might be the craziest and most fucked up I have ever heard in house music. The track makes you feel like you are spiralling into into this never-ending void. The track was made in 1987 but it still sound so futuristic, I can't even imagine what it must have been like to hear this in the Chicago clubs back then."
3. Thomas Bangalter – 'What To Do'
"'Trax on da Rocks' was one of my first records I bought when I was 15 and is still so influential for me to this day. 'What To Do' is just pure madness, the perfect blend of my two major loves – ghetto house and jungle. The chopped up amens and banging Deeon-esque beat just destroy every dance."
4. Paul Woolford/Bobby Peru – 'Erotic Discourse'
"There are some records that are so important to you that you remember the exact time and place where you first pulled it. I remember picking up a test pressing of 'Erotic Discourse' in Rounder Records in Brighton in 2006 and it blew my mind, it was just so out of this world. I loved the feeling of finding a record like that, you felt like you had just unearthed some magical treasure. You don't get that feeling downloading an MP3 on Beatport these days."
5. Eric Martin – 'Emergency (Steve Poindexter Re-Edit)'
"This track always makes me laugh every time I hear it… it's just so fucking ridiculous. That siren sound, the reversed drums and of course the secret sauce for any crazy house track, flanger. I love how raw it is, you can hear Martin turning on and off tracks on the mixer and stopping and starting drum machines, experimenting like some mad ghetto house scientist. If I really want to twist crowds up I'll always pull for this one."
6. Armand Van Helden – 'Necessary Evil'
"Armand Van Helden at his hardest and wildest. I love this record so much. You can tell he just wanted to make a track to fuck with people on the dancefloor and it really works. I recently listened to his Love Nation set from 1999 and he opens with this on two decks and just goes back and forth with the saw for three minutes until the crowd are going to to explode. So much fun."
7. DJ Rush – 'Lucious Lon Pt. 2'
"There are so many DJ Rush tracks I could have chosen for this. Rush is the undisputed king of madness for me. This one in particular is really pushing the limits. The twisted polyrhythms and that double-time beat really screw with your head, I always enjoy watching people try dance to this one."
8. Basement Jaxx – 'Fly Life / Fly Life Extra'
"This is probably one of the more straightforward tracks in my selection but this tune still stands out in any set to this day. The relentless horn stabs and rumbling bassline are so powerful. 'Fly Life' is one of those tracks that can push your set into another realm. The 'Extra' version is just something else though. The crunching metallic SFX and mad siren sounds really elevate it. I remember hearing Soundstream play it at Panorama a few years back, gives me goosebumps thinking about it now."
9. DJ Deeon – 'Freak Like Me'
"It wouldn't make sense to not have this in this list. 'Freak Like Me' is a tune you can play to audiences and it drives people nuts. The vocal hook is so infectious… I love to break my sets down to just that vocal loop for a couple of minutes hysteria before letting those hard ass 909 drums loose."
10. Soundhack – 'Devils Run'
"Soundhack/ Soundstream is probably one of my favourite producers of the last 20 years. Everything Frank makes is so simple and effective. He captures the real essence of those freaky Chicago trax but puts his own spin on it that feels super fresh and exciting. This track is all about anticipation and anxiety, it never quite gives you the full payoff you might expect but thats why it's so devastating in the middle of a set. An audience really pays attention when you drop this one."
Listen to the EP's lead single, 'Wind 'Em Up':
Dance System's 'Wind 'Em Up' is released by Monkeytown on April 12th 2019 – pre-order it here.