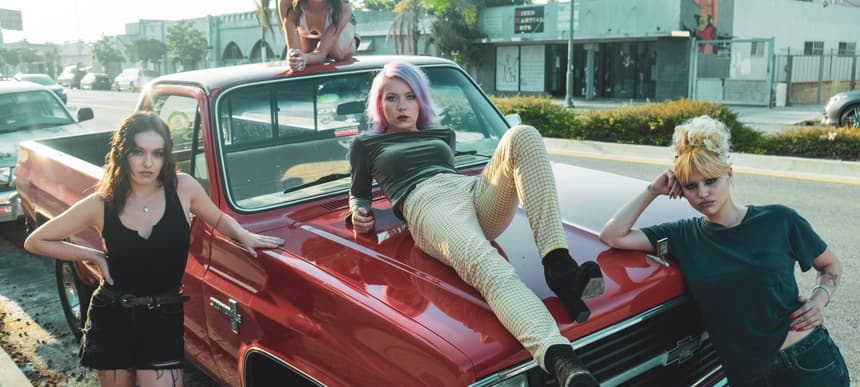 31.03.2021, Words by Felicity Martin
The 10 Best Girl Groups, according to Nasty Cherry
"I remember hearing them in an early-2000s film with Lindsay Lohan and I was obsessed..."
While the term 'girl group' could evoke images of sloppily-formed X Factor outfits and manufactured packages straight from the mind of Simon Cowell, history has provided us with countless strong, boundary-pushing all-female units. Nasty Cherry are yet another example of this: the alt-pop group put together and now mentored by Charli XCX that formed in 2019 – a "girl gang" inspired by striking teen movie bands. "My vision is that they become the biggest band in the world, a band I would have wanted to listen to and have been inspired by when I was 15," Charli told Rolling Stone. They've even got their own six-part Netflix docuseries: I'm With The Band: Nasty Cherry.
Made up of Gabi Bechtel (vocals), Chloe Chaidez (guitar), Georgia Somary (bass) and Debbie Knox-Hewson (drums), the group are a transatlantic girl gang, with members from both London and California. Following last year's 'Season 2' EP, latest single 'Her Body' was co-written with Charli and produced by Yves Rothman, and is a taste of EP 'Nasty Cherry: The Movie' that drops this Friday via Charli's Vroom Vroom Recordings. In anticipation of this, the group have picked out their favourite girl bands, from huge pop icons to lesser-known (and even fictional) female outfits.
All Saints
Georgia: "I was five when their debut album came out, and it fast became a sleepover and dance routine staple (they felt so cool and grown up to me), and the CD for this album ended up in my car again when I was 22 and soundtracked a lot of 6.30am drives to work. This album is wild in terms of samples – Steely Dan's 'The Fez' is sampled on 'I Know Where It's At', and William Orbit sampled himself from Madonna's 'Frozen' on 'Pure Shores'. Shaznay specifically wrote some iconic songs, and the band had some really great group harmonies/half-spoken choruses that do it for me."
ESG
Gabi: "I love their lyrics and passion for not giving a shit. Definitely inspired me when first coming into Nasty Cherry, I understood why they were so badass because I felt that power from my lovely ladies."
Haim
Debbie: "They're incredible songwriters and their live show is amazing. The first time I saw them live was in Vegas. I was on my first tour around the states and I just remember being euphoric and drunk. I've been drunkenly aux-cording Haim at house parties since."
Spice Girls
Debbie: "The first band that springs to mind when I think 'girl band'. They were such an important part of my childhood. I remember watching the movie five times in a week when I got it on VHS. A dream world of buffalo shoes, leather trench coats and combat trousers."
Vanity 6
Debbie: "Apparently Prince was inspired by Barbara Streisand in 'A Star Is Born' to put together a girl band. I personally don't see the connection there, but I love Vanity 6. Their music video for 'Nasty Girl' (quite on brand for us) is filled with '80s hair, awkward dancing and gloves: I love them so much it hurts. We were actually thinking about Vanity 6 when we wrote 'Brain Soup'. They're iconic."
The Carrie Nations (From Beyond the Valley of the Dolls)
Georgia: "This '60s fictitious all-female band was probably the most important sonic and visual coming of age for me, as I'd never seen such a cool group of women on screen in my life, going through their own sexual and cultural awakenings and issues as they moved to Los Angeles for the first time to make music and find themselves. The first time I heard this song was the first time I'd snuck a guy into my bedroom as a teen, and Beyond the Valley of the Dolls happened to be playing on Channel 4 at 1am. It will always be associated with teen excitement for me, lust and desperately wanting to grow up faster."
Lillix
Debbie: "I remember hearing them in an early-2000s film with Lindsay Lohan and I was obsessed. Studded belts and ripped jeans and impractically long fringes. Oh… and wallets attached to belts attached to your jeans."
The Supremes
Debbie: They're not playing instruments but surely they count, right? I don't care. They are the OGs and 'Keep Me Hanging' On' is literally one of my favourite songs of all time and I lose my shit every time it comes on at a cousin's wedding or someone's retirement party."
Shangri-Las
Georgia: "They always seemed pretty mysterious to me! I actually don't know much about the band beyond the music and insanely well thought out live choreographed performances they did (I can't forget the really bizarre man on motorbike tv appearance). Mary's voice is a heartbreaker, it makes me want to cry, she's got this depth and sadness to it that hits even in the songs that are super adolescent. I love how they used call and response harmonies and those cool whispery intros that are instantly recognisable. This is my favourite song because the vocal melodies are quite psych-y and I love how dramatically it builds with the cinematic strings."
The Donnas
Debbie: "Their drummer Torry Castellano was my absolute hero growing up. I was obsessed with how powerful she looked on stage. Not my favourite band of all time to listen to, but, aesthetically, a vibe."