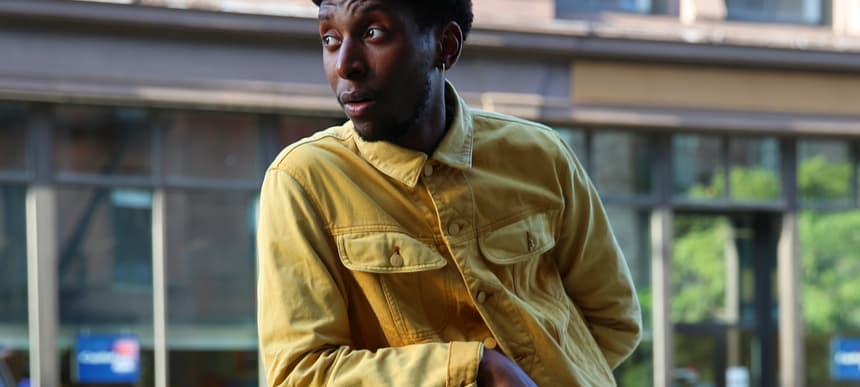 18.01.2019, Words by Felicity Martin
The 10 Best Gospel-Influenced Tracks, according to Samm Henshaw
The son of a reverend, Samm lists his favourite church music-inspired sounds...
You don't have to be a genius to see that R&B-meets-gospel singer Samm Henshaw is an artist on the ascent – despite his 24 years of age he's already ticked off bucket list items like working with Pharrell and touring with Chance The Rapper. Raised in South London, Samm is the son of a reverend – and as a result, has been surrounded by gospel music from a young age.
His latest single, a link-up with Atlanta duo EarthGang, revolves around handclaps and gospel vocals – recalling the soulful sounds of church music, while lyrically, the track revolves around the battle a teenage Henshaw had with his parents to get out of bed for the morning service on Sundays. In keeping with the themes of this single, below Henshaw lists his ten favourite records inspired by gospel music.
1. Samm Henshaw – 'Church ft. EarthGang'
"This is probably my favourite of the lot. Basically, it's what would happen if a young soul crooner and a gospel choir had a hip-hop baby, the outcome you'd get would be 'Church'."
2. Kanye West – 'Jesus Walks'
"This is the one obvious choice but this album was fire! To be fair, his first three albums changed the game for me. It opened me up to real genre blending; his music was hip-hop, soul, gospel and even rock all at the same time. He's just a musical genius."
3. Chance the Rapper – 'Finish Line/Drown'
"The 'Colouring Book' album to me furthered the work done by Kanye's early albums, it was just a vibe man, it became even better seeing how it translated live. So much energy."
4. Leon Bridges – 'River'
"Leon just has so much soul; you'd think he was born in the '60s. I had the privilege of seeing him at Village Underground a few years ago and this song stood out for me, so good!"
5. Jonathan McReynolds – 'Lovin' Me'
"This is quite an old joint but it just feels like gospel, the simplicity of the music matched with the vulnerability of his voice just makes this a dope song."
6. Tori Kelly – 'Never Alone'
"Tori has always had one of the best voices I've ever heard, so when she was doing a gospel album I was really hoping for something special and I wasn't disappointed. I could have put most of the album on this list but this one was just special."
7. Lauryn Hill – 'To Zion'
"No list would not be complete without one of the best vocalists to grace our planet. Her tone, her songwriting, just amazing. Whenever I hear this song you are just transported right into her life, her situation, her decision and her joy!"
8. Outkast – 'Hey Ya'
"Andrè 3000 and Big Boi for me one of the best rap duos ever. This double album is a masterpiece, covers so many genres and sounds and the lyricism is just dope!"
9. John Legend – 'Used to Love You'
"John Legend is one of the influences for my project; the Get Lifted album is a classic that I feel many people overlook. The songs and production on this album still stand the test of time, 14 years on and ordinary people still bangs."
10. Michael Jackson – 'Man in the Mirror'
"MJ – need I say more?!"
Check out Samm Henshaw's 'Church':