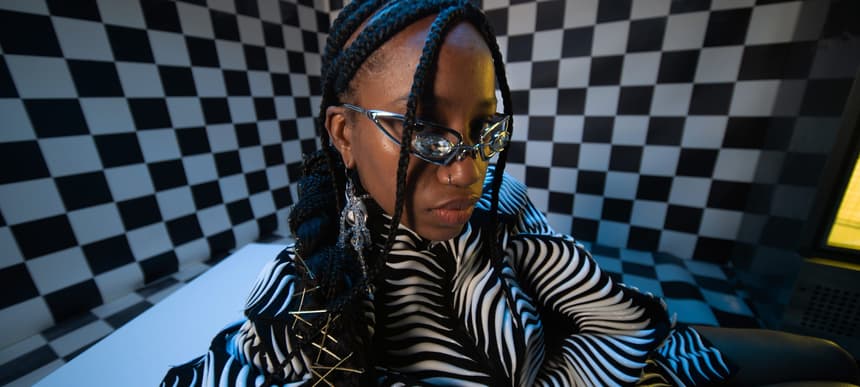 31.03.2020, Words by Felicity Martin
The 10 Best Hype Williams-Directed Videos, according to Denai Moore
"I remember watching this as a kid and being terrified..."
Fisheye lenses, metallic interiors and split-screens: the hip-hop and R&B videos of the '90s were synonymous with Hype Williams. Since debuting in 1994 with Wu-Tang Clan's 'Can It Be All So Simple', the legendary New York director has commandeered visuals for everyone from Aaliyah to Sisqó to Lil Wayne, making flamboyant statements like putting Missy Elliott in a bin bag-like suit. It's hard to imagine anyone else translating the larger-than-life personas of the biggest names in rap and R&B into film so well. Though he's doing less and less these days, he was recently announced as the director behind Megan Thee Stallion's forthcoming Fever: Thee Movie.
Singer-songwriter Denai Moore is just one of the artists heavily inspired by the Hype Williams aesthetic. The Cid Rim collaborator recently released the video for 'Cascades', which takes visual cues from the iconic director, while also being inspired by surrealist films from the 1930s and high fashion photographers like Tim Walker. 'Cascades' is the lead single from the British-Jamaican's forthcoming album 'Modern Dread', due for release this summer on Because Music. Below, Moore takes us through some of her favourite Hype Williams moments.
1. Busta Rhymes – 'Gimme Some More'
"Busta Rhymes really pushed what it looked like visually to be a hip-hop artist in the '90s. At a time when men in hip-hop were always so hyper 'masculine', he played around with hair and costume unlike any other artist at the time.This video for me encapsulates what the Hype Williams gaze looked like. The camera movement and fish eye lens creates a surreal and weird world in the music video. You can definitely see how his influence in modern day artists, like Tyler The Creator, or even Tim Walker?"
2. Kanye West – 'Runaway'
"This music video was so ahead of its time in terms of creating a world or narrative around a music video. This video to me reads as more of a collaborative effort with Kanye, but the video is really beautiful and timeless."
3. Busta Rhymes – 'Put Your Hands Where My Eyes Can See Them'
"This video is still so fresh hair and costume-wise. At this time for me Hype Williams was creating something that was original and so rich. Busta Rhymes performance in this video is really interesting and animated. This video really had that 'shock' factor to it in terms of conceptually, Busta being dressed up as the devil and there being a ritualistic fire. I remember watching this as a kid and being terrified. This is in my opinion one of the best music videos ever."
4. Busta Rhymes ft Janet Jackson – 'What's It's Gonna Be?'
"Again, the hair and costume and set-design is insane! Conceptually there are things in this video that I've never seen before – like Busta being animated as the rain around Janet?! Again Busta being a rockstar in this music video as a hip-hop artist at the time was so revolutionary! Subverting what you mean expect from someone like him. Makes me think if this video also influenced the 'Scream' video with Michael Jackson."
5. Missy Elliot – 'The Rain'
"This video to me is the video I think about when it comes to Missy. The set-up of her in that oversized Black Parachute outfit is iconic. Similarly to other videos this images seem to have lived on and sticks in your mind for years. The subtle warped animation on her lips when she sings really close to camera was definitely a visual that inspired 'Cascades'. Hype Williams seems to understand how to bring out and represent an artist for who they are."
6. N*E*R*D – 'Rock Star'
"This music video to me was iconic because it was out at the time of nu-metal and emo bands emerging in the early 2000s, and it was really refreshing to see N*E*R*D portrayed in the same way as those bands in this music video. N*E*R*D really paved the way in terms of genre bending with hip-hop and heavy sounds at this time, pre-Jay Z and Linkin Park collaborating. They were undefinable."
7. TLC – 'No Scrubs'
"This video is so iconic. The concept and set-up of the swing shot is really innovative. I think the portrayal of TLC in this video is really impactful, as they where some really bold high fashion clothing, set in a futuristic world. The use of ultra wide/fish eye shots really tap in to Hype Williams' signature aesthetic."
8. No Doubt – 'Ex-Girlfriend'
"Growing up I loved No Doubt, like N*E*R*D they were genre-less. This music video stylistically is so weird and quirky. The bold colours in the set design and hair and make-up shines again through this video."
9. Beyoncé – 'Drunk In Love'
"I remember where I was when I first listened to this whole record. In comparison to a lot of Hype Williams videos this is more simplistic, but there's something really poetic about the ocean waves crashing in black and white, while Beyonce and Jay Z perform this song. As well as it being in black and white, which adds to the intimacy of the visual. This self-titled record was a real moment for me, it's my favourite Beyoncé album. There's was so much depth in terms of the visuals that worked alongside this whole album."
10. Travis Scott – '90210 ft. Kacy Hill'
"Travis Scott is one of my favourite visual artists of our generation, his music video are always so cinematic and original. This video of Travis being portrayed as a doll reminds of the 'Heartless' Kanye video that Hype Williams also created in a modern context. The portrayal of vulnerability and loneliness is really powerful – the fact that the woman's face is censored throughout the whole video…"
Watch Denai Moore's Hype Williams-inspired 'Cascades':