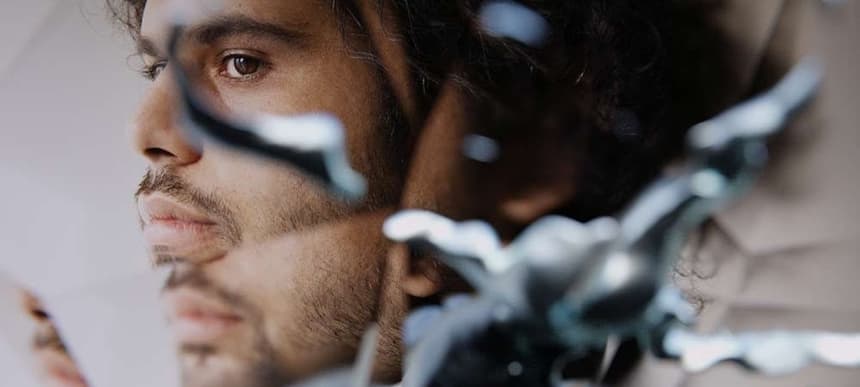 11.04.2018, Words by dummymag
The 10 best Iranian musicians to look out for according to Mahdyar
Tehran-born producer Mahdyar is a vital-figure in Iran's underground music scene, whilst making his initial mark as a teenager producing a majority of the newly emerged Persian Hip-Hop movement, the Iranian-producer continues to heighten his distinct sound and involvement within the scene despite being blacklisted by his country's Ministry of Culture and moving to Europe back in 2009.
Now residing in Paris, he unveils his debut album 'Seized' an extensive body of work retaining the grit and urgency of his hip-hop roots, whilst sonically aiming further off-the grid with a darker and more provocative soundscape filled with frenetic energy toying with structure form and identity.
In order to mark the release of his debut album, Mahdyar steps up with a meticulous list of his ten-most talented Iranian artists to look out for. Scroll down for the full selection.
Ash Koosha
"Ash Koosha is a futurist composer/producer. He is one of those very productive artists who you have to constantly look out for. He releases new music almost every week and I know he has a ton of great material that he hasn't released yet. If you're late to the party, I suggest starting with the album GUUD which is an amazing debut full of surprises."
Hichkas
"Hichkas is the father of Persian Hip Hop. People often argue about who was actually the first person who ever rapped in Farsi, but they all agree Hichkas is the main rapper who has been influencing the genre from the day it was born in Iran. He managed to influence and nurture a scene that began with less than 5 rappers with questionable technical abilities to what it is today, which is a thriving music culture with thousands of rappers with complex flows and metaphors. I think Hichkas' delivery is so powerful that even if you don't understand Farsi, you can feel the vibe and appreciate the skills. Currently Iranians worldwide are impatiently anticipating his next album called Mojaz."
Hossein Alizadeh
"Hossein Alizadeh is truly a master at his work. He is one of the best Iranian traditional composers and has been nominated for the Grammy's Best Traditional World Album 3 times. Alizadeh is very prolific and has been releasing albums every couple of years since the 70s. I also really admire his film scoring such as the Turtles Can Fly soundtrack and the Under the Cutting Blade series soundtrack."
Keyhan Kalhor
"Keyhan Kalhor is another great Iranian traditional composer who also performs pure magic with an Iranian bowed-string instrument called Kamancheh. He won the Grammy for Best World Album in 2016 and has been nominated for the Grammy's Best Traditional World Album 3 times. Kalhor is also very prolific and has been releasing albums almost every year since the late 90s."
Lafawndah
"Lafawndah is an experimental-pop musician who has been making a lot of buzz with her fresh music in the past couple of years. I suggest checking her Tan EP released on Warp Records and her cover of Ace of Base All That She Wants. It seems that this is just the beginning and she's going to release many interesting projects in the near future."
Leila
"Leila is probably the first Iranian musician that I heard who was truly making forward-thinking music according to any standards. I mean she works with the likes of Aphex Twin and Bjork, we're talking some next level stuff. If somehow you haven't heard this phenomenon yet, you should check all of her albums. I'm don't know when her next project will be out but I personally look forward to it very much."
Loris Tjeknavorian
"Loris Tjeknavorian is a great composer and conductor. He might not be very active these days but he has composed over 75 pieces including operas, symphonies, ballets, concertos and many soundtracks in his long career. Tjeknavorain has released over 100 recordings with labels such as RCA, Philips, EMI and ASV so I can assure you he has written enough material for all of us to drown in."
Reveal
"If you appreciate A-grade bars, Reveal is the great MC that you should look out for. After leading the legendary underground groupPoisonous Poets in London and mentoring some of the highest Persian hip-hop figures in Tehran, he took some time off to finish his studies at university. I've heard he's back now and preparing to drop some new heat."
Ramin Djawadi
Game of Thrones *drops the mic*
Rostam
"Rostam Batmanglij is a well-known musician and former member of Vampire Weekend. It has been only a couple of years since Rostam left Vampire Weekend but in this short time he has dropped multiple interesting projects including his collaborative project Discovery on XL Recordings and his own solo albums. Rostam seems to be very active so hopefully there's much more to be released."
Seized out now via Kowloon Records, buy here.
Listen to Dummy's curated playlists on Spotify.