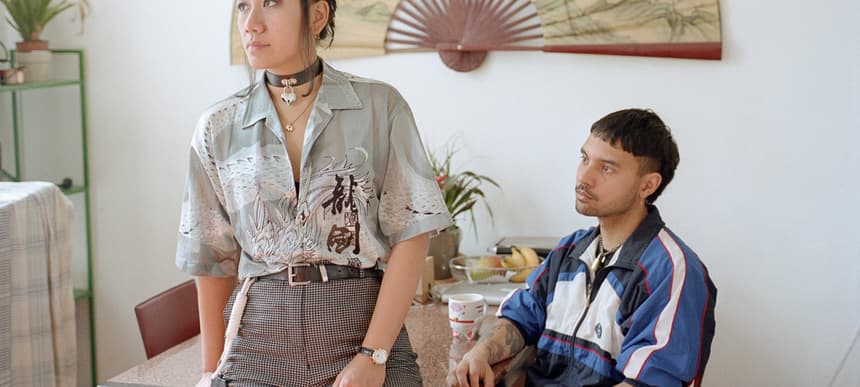 16.10.2019, Words by Felicity Martin
The 10 Best MTV Chill Out Zone Tracks, according to Animistic Beliefs
"Still remember listening to this at night! Didn't even know what techno was back then..."
MTV Chill Out Zone was a long-running TV show that first appeared on MTV Europe in 1991. Unlike other music shows which catered to the mainstream, Chill Out Zone was consistently adventurous with its music choices, focusing on genres like ambient, laidback house, trip-hop, jungle and trance. The weekly show would regularly programme music from artists like The Orb, Josh Wink, Portishead and Orbital, attracting a number of electronic music obsessives still awake in the early hours. Richard D. James even did the title music for it.
Rotterdam-based duo Animistic Beliefs grew up hooked to Chill Out Zone, a platform that introduced them to many weird and wonderful electronic artists who pushed boundaries and inspired them to do the same. The pair – Marvin and Linh – have just released their debut album 'Mindset:Reset', a rich document that pieces together Detroit techno and textural electro with IDM, and it's clear on listening to the LP that they were heavily inspired by the leftfield sonics of the Chill Out Zone. Below, they cast their minds back to the early '90s to pick out some of the best tracks that the beloved programme screened. It's a blast from the past…
1. Aphex Twin – 'Windowlicker'
Marvin: "Back in the year 2000 my dad bought me my first TV. I remember clearly being captivated by this classic video. Everything from the intro to the end was so alien to us both… Chris Cunningham and Aphex Twin are a golden combo!"
2. Ken Ishii – 'Extra'
Linh: "Oh yes!! This video also blew me away when I first saw it… I think it took me another ten years to realise that it was made by the director who also made Akira."
3. Dizzee Rascal – 'I Luv U'
Marvin: "Amazing tune. The whole 'Boy In Da Corner' album is amazing. I remember buying the yellow CD! This kicked off my grime period, haha. Still have a thing for old skool grime/Eski beats."
4. Björk – 'All Is Full Of Love'
Linh: "Another Chris Cunningham video. Still one of our favourite tracks/videos ever. Björk is such a forward-thinking artist. Love her to bits."
5. Radiohead – 'Pyramid Song'
Marvin and Linh: "I feel like people either love or hate Radiohead. We LOVE them. They're a band that is miles ahead of the rest, to be honest. Especially love their more electronic work."
6. Massive Attack – 'Teardrop'
Linh: "A great track and Massive Attack is just amazing. Whenever I hear this track I get instantly drawn into it and time stands still for a moment. It calms me and clears my mind."
7. Jeff Mills – 'The Bells'
Marvin: "Still remember listening to this at night! Didn't even know what techno was back then… Such great times! You could turn on MTV at night and hear Robert Miles' 'Children', followed by Jeff Mills' 'The Bells' and Aphex Twin's 'Come To Daddy'."
8. Future Sound Of London – 'Amoeba'
Marvin and Linh: "Ambient, trip hop, people chilling underwater. Perfect. It actually served as an inspiration for our own first video 'Marianentrog Patrol'."
9. Squarepusher – 'The Exploding Psychology'
Marvin: "This might be the first IDM track I ever listened to. I remember being obsessed by all of the drum sounds and programming. I was already into jungle, but this was another level. It was around this time that I started making beats on FL Studio."
10. LFO – 'We Are Back'
Linh: "This video was a pre-internet mashup, made from the Twin Peaks TV series and the film The Hitcher, both shot from the screen. The video actually got a number of plays on broadcast TV!"
Watch the video for Animistic Beliefs' album title track:
Follow Dummy's curated playlists on Spotify: Next Hype: The Best New Music, Brand New, Electronics, Rap Drill & Grime and Bedroom Pop.