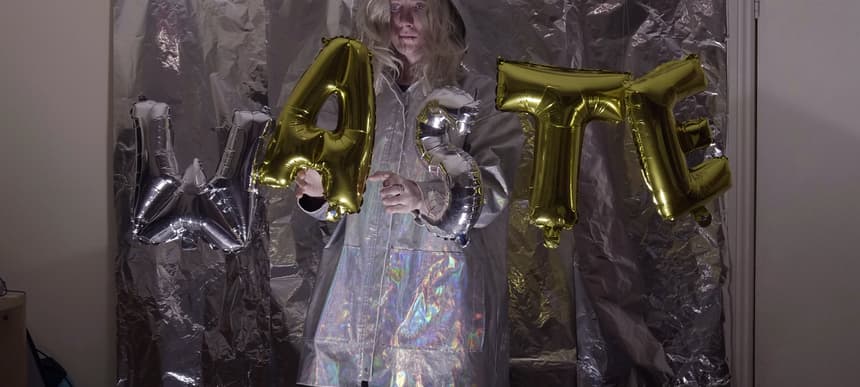 12.04.2019, Words by Felicity Martin
The 10 Best New Leftfield Irish Electronic Acts, according to Wastefellow
"The man has a few scary club anthems lined up for release later this year, and I am confident they will be cauterising dancefloors far and wide once they drop"
Dublin singer-songwriter-producer Wastefellow, real name Diolmhain Ingram Roche, is a sharp new talent. Off the back of last year's forward-thinking 'Post-Human Potential EP' that arrived on Ireland's most-nattered-about label of the minute, Soft Boy Records, today he puts out new cut 'Fizzy Lifting Drinks.'
A beautiful construct, it sounds something like if Tame Impala was exploring a breaks project. Based on a riff created for his noise band Frank when Wastefellow was 16, its immediate soporific quality sits within a ravey, dancefloor-minded packaging.
As the Soft Boy family exemplifies, theres a wealth of talent currently emanating from that part of the world. Wastefellow has just set off on his 'Wastefellow World Tour of Dublin and Cork and Galway' tour (no prizes for guessing whereabouts he's headed) and below, he talks us through the best new leftfield electronic artists coming out of his homeland right now.
1. Clu
"Clu has been performing and releasing music for a good bit longer than myself, so while I shouldn't be calling him a 'new Irish electronic artist', I love his work so much that I feel compelled to start this list with him. His 2016 EP on Gobstopper, 'MOOD', is a landmark record for me; I had never heard anything like it before, and I've heard nothing like it since. He mixes songwriting and warped club production effortlessly, creating a sound that is uniquely his. I can't overstate the impact that those four tracks have had on me, and I'm very excited to hear his new material, which is apparently coming just around the corner."
2. Maria Somerville
"I know it's only April, but I feel pretty confident in saying Maria Somerville has already put out my album of the year, 'All My People'. There is something to the way Maria writes songs that makes my heart ache and my spine vibrate with every listen. I had the pleasure of seeing her play to a sold out Bello Bar in Dublin a few weeks back (featuring my own drummer, Brendan Doherty), and I can safely say that the record is just as powerful when performed live. If she is playing near you any time soon, make it your business to go to the gig."
3. Blusher
"Patrúin are a label I'm really excited about, they're putting out some of the most forward-thinking music around right now, and Blusher's debut Tren Rezno is a steaming hot prime example of this. The full record features moments of dense ambience and acoustic guitar, alongside some b a n g i n g warped club tracks 'that are just as likely to make the listener weep as they are to make them dance'. Five of these tracks are showcased on a vinyl sampler, which I really recommend picking up (the vinyl also features some stellar design by Mel Keane, who designed the Maria Somerville album)."
4. Dreamcycles
"Dreamcycles' work sounds like the future of music; she treats sound in a way which is very much her own, merging and colliding the recognisable so as to create something that is wholly new and transcendental, whether that's via her productions, installations or DJ sets. I feel extremely blessed to have her opening my Dublin show in The Button Factory later this month. I've linked a recent mix and a recent Nirvana cover, to give an idea of the breadth of her work."
5. Brién
"Soft Boy, Pear Boy, and rumoured to have a few releases coming on a very influential label soon (boy), Brién is a musical wunderkind. He's a virtuoso multi-instrumentalist with an uncanny feel for earworm hooks and irresistible rhythms. I've had the pleasure of watching him work on a few occasions now, and each time has been an inspiration. He's also just started doing live sets, which feature him singing over some seriously sexy R&B bangers – a must-see."
6. Matt Finnegan
"Another of my Soft Boy Fam, Matt is an incredibly versatile producer, whether he's making hip-hop, house or breakneck hardcore. He's also hands down one of my favourite DJs. The man has a few scary club anthems lined up for release later this year, and I am confident they will be cauterising dancefloors far and wide once they drop – keep those ears open wide kids."
7. Ozwald
"One of the Wriggle crew, Ozwald makes an irresponsible blend of bassline and UK funky that absolutely w r e c k s the club. He's a deft producer who seems to be able to create a hook from anything, and make it look easy in the process. I play out his 'Captain Jack' bassline VIP when DJing every chance I get, and will continue to do so until I go deaf."
8. lullahush
"Having made a name for himself with leftfield pop production for AE MAK and Elkin, as well as attending the final (sob) RBMA in Berlin last year, lullahush is just now starting to release his own material, and it is oh so very beautiful. So far he's been shown off some blissed-out tunes for dreaming to, with incredibly detailed, twisting production. I'm really looking forward to his album, and I think you'll be hearing his name a whole lot in the near future."
9. Ian Nyquist
"I've known Ian for a few years, but the first time I really heard his music was when I saw him open at the launch of J. Colleran's album 'Gardenia' last summer. I was blown away… we're talking blown through the wall and left sprawled in the street type blown away. Ian's work sits in a tradition of haunting ambience and warped field recordings that is very much a part of my musical makeup. His recent album 'Cuan' is essential listening, a great record to stick on the headphones, then go for a long walk and get lost in."
10. Fat Pablo
"Fat Pablo are a unique entry on this list, because rather than being an artist, they are in fact, six artists (a band, I think they call themselves). Each member of the band brings a distinct element to the table, and this coalesces into atmospheric, psyched out rock music, with a deeply electronic backbone; I adore them and the music they make. They are also an absolutely cracking band live, and if you don't believe me, you can very conveniently catch them playing at my Dublin show in The Button Factory on the 26th of April! Gee whiz!"
Listen to Wastefellow's 'Fizzy Lifting Drinks':