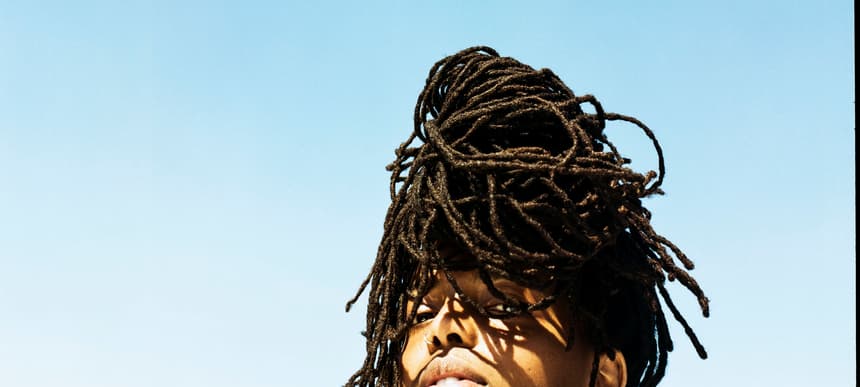 16.08.2019, Words by Felicity Martin
The 10 Best New School Broken Beat Tracks, according to Shy One
"If you caught any of my sets last year it's very likely you heard me open with this..."
While some selectors choose to focus on one sound, sharpening their knowledge of that particular area, Shy One isn't afraid to tap into multiple. The versatile, West London-raised DJ has become known for her wide-ranging sets that touch on house, UK rap and broken beat, which she's found homes for on stations like Balamii, Rinse and NTS.
As something of an authority on broken beat, Mali Larrington-Nelson has taken part in a new compilation by bruk pioneers EVM128 and James Rudie, 'Input Vol. 1'. The concept for the collaborative record was simple: "make a beat, pass it on, and let someone else add to it." As a genre with collaboration at the heart of it, we asked Larrington-Nelson to guide us through her favourite bruk tracks by the new skool of producers.
1. Ben Hauke – 'Simple ft. Jerome Thomas'
"Ben's one of my favourite London producers and this tune reminds me of one of my fave bruk tunes – 'Manhood' by Vikter Duplaix."
2. Neue Grafik – 'I Miss Something (NameBrandSound Remix)'
"Not that the original was missing anything, but the remix just took it to another level."
3. Henry Keen – 'Gotta Step!'
"Henry's music has such a raw, free style and this release on Madjazz has a real honest feel to it. The album captures inner city London for me."
4. Neue Grafik – 'Why You'
"If you caught any of my sets last year it's very likely you heard me open with this. Deep grooves released on Rhythm Section."
5. Larri Laurent – 'Lefenrite'
"'Lefenrite' is mysterious b-side to Ishfaq's wicked flip of D'Angelo's 'Left and Right' that has been doing damage on the floor for a couple years."
6. Captain Over – '4D'
"Captain Over's sound is a visionary mix of grime, broken beat, house and more. Perfect modern bruk sound."
7. K15 – 'Broken Theme'
"Flip of a wicked track by Kamaal Williams (Henry Wu) – 'K15', and he takes a broken jazz track and makes it dancefloor friendly."
8. Karmasound – 'Can See Thru You (Sean McCabe Broken Mind Remix)'
"This release on Phuture Shock Musik has so many great broken beat components – there's jazz, soul, house and more mixed in with the late-night broken beat sound here."
9. Radius Etc – 'Interstellar Danceoff'
"Another big one here to end the list."
10. SMBD x K15 – 'Dry Mango Pt 2.'
"Two of my London faves coming together, released on one of my favourite London labels [Apron Records]."
Stream or purchase Shy One's 'INPUT' release here.