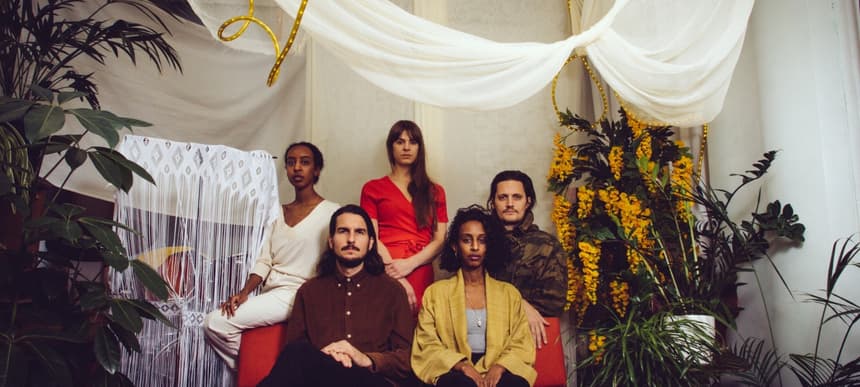 22.10.2019, Words by Felicity Martin
The 10 Best Non-English International Pop Hits, according to Sirens Of Lesbos
"Back when we were children, this Latin choral piece gave us more sleepless nights than Es..."
Increasingly these days, we're seeing a movement away from the English language's domination of the music charts. With K-pop, J-pop and Latin American music (for starters) infiltrating the mainstream, there are growing opportunities for non-Western artists to gain a stronghold on global popular music.
Five-piece Sirens of Lesbos are Switzerland-based, but originate from diverse locations: Sudan, Eritrea and the Czech Republic, after their parents were freedom fighters and political refugees seeking asylum. Together they make sounds that touch on soul, jazz and euphoric disco and, following a stunning cover of Simply Red's 'Fairground', their latest single 'Waltz' was inspired by Jay Z's 'My 1st Song' and samples '60s tune 'Tu Y Tu Mirar… Yo Y Mi Canción' by Chilean pop ballad band Los Ángeles Negro. In the spirit of this, the quintet select the best pop hits from non-Anglophone countries that have made it to the big time.
1. Carl Orff – 'O Fortuna'
"Back when we were children, this Latin choral piece gave us more sleepless nights than Es, Freddy Krueger and Omen combined. This is probably the song that you hear when you call hell and they put you on hold. Yet a masterpiece!"
2. Solomon Lina – 'Wimoweh'
"Another childhood memory… This Zulu song was the blueprint for the 'Lions Sleeps Tonight' – a world hit that made a lot of people rich except its original author. If you want to know more about the sad story behind this happy song, watch The Lion's Share on Netflix."
3. Miriam Mabekba – 'Pata Pata'
"A few years ago we saw a documentary about Harry Belafonte. Among a trillion other interesting things (e.g. his role in the civil rights movement), we learned that he had introduced the South African singer Miriam Makeba to an international audience in the 1960s. 'Pata Pata', meaning 'Touch Touch' in the Xhosa language, is a very sexual song and has been a floor-filler ever since it came out."
4. Sérgio Mendes & Brasil '66 – 'Mas que nada'
"We are fans of samba/bossa nova music and we see 'Mas Que Nada' (meaning 'Yeah, right') as the opus magnum of the genre. The original was written and recorded by Jorge Ben (now Jorge Ben Jor) but it was Sérgio Mendes who made it an international hit in 1966."
5. Serge Gainsbourg & Brigitte Bardot – 'Bonnie & Clyde'
"Some of us were teenagers in the '90s – and we were into hip-hop music; East Coast, West Coast, UK, German, French. MC Solaar's 'Nouveau Western' was kind of the commercial breakthrough moment for French Hip Hop. Many years later we found out that it's built on a sample of 'Bonnie & Clyde' – a French duet song that charted internationally in 1968."
6. Falco – 'Der Kommissar'
"Falco from Vienna is a phenomenon. His story makes us believe that you can make it in the music business no matter where you are from. Falco not only invented German rap, he even made it an export bestseller. He topped the single charts with 'Der Kommissar' (The Detective) in the US in the same year (1982) that 'The Message' from Grandmaster Flash & The Furious Five came out."
7. Al Bano & Romina Power – 'Felicità'
"We live in Switzerland. For the Swiss, Italy is the number one holiday destination – and 'Felicita' (meaning 'Happiness') is the song that brings us back to the good old days in Rimini, Lecce or Bari. Beyond that, the song was a major hit in continental Europe."
8. Vanessa Paradis – 'Joe Le Taxi'
"Tooth gap: *****. Styling: *****. Lolita attitude: *****. Dance moves: *****. Video effects: *****. Saxophone: *****."
9. Kraftwerk – 'Autobahn'
"We produced electronic music for many years, we released house and techno under different monikers and through labels such as Gomma, Nervous and Defected. Kraftwerk are pioneers of the genre and 'Autobahn' (meaning 'Motorway') was a turning point in their career. They went from krautrock to techno. It's a bit the other way round with us; we went from electronic to more organic in recent years."
10. Grauzone – 'Eisbär'
"Okay, this one is not a hit according to the common definition of the term. But it's a track that made it to the Netherlands and back which makes it somehow international. The Parra Soundsystem from Amsterdam used to play the song at 'The Art of Partying' – a clubnight that we had thrown in our hometown Bern for almost 10 years."
Listen to Sirens of Lesbos's 'Waltz':