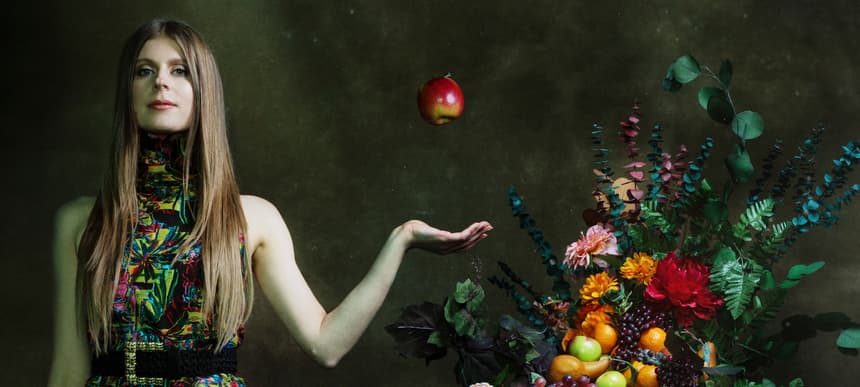 29.04.2019, Words by Felicity Martin
The 10 Best Pop Tracks That Incorporate Classical Music, according to Lydia Ainsworth
"When I first listened to this song my mind was completely shattered in the best way"
Pop can often be found borrowing from the classical world, with many artists from the modern era regularly delving back into the musical archives to give it a fresh spin. Well-worn hits like The Streets' 'Same Old Thing' and Nas's 'I Can' crucially revolve around snippets of Bartók and Beethoven. Singer-songwriter Lydia Ainsworth is someone who has been imbuing her music with orchestral touches – with her forthcoming third LP, 'Phantom Forest', approaching pop from an orchestral standpoint.
"Even if I'm dealing purely with synths," Lydia says of the self-produced album, "the songs are like a score, each one an evolving journey. I love to use strings so I've included my string arrangements on 'Tell Me I Exist' and 'Can You Find Her Place.' I recorded live musicians on drums, bass, and guitar on 'Edge of the Throne,' 'The Time,' and 'Floating Dream,' and wove those live elements into my programmed elements."
Ahead of the LP arriving next month, Lydia has given us her ten favourite popular hits which incorporate classical pieces.
1. Owen Pallett – 'Keep The Dog Quiet'
"When I first listened to this song my mind was completely shattered in the best way. Owen Pallet's orchestral arrangements are so inspiring and moving."
2. Nirvana – 'Dumb'
"In high school I would to lock myself in my bedroom and learn all the cello parts of 'In Utero'. This was my favourite cello part to play along to."
3. Stevie Wonder – 'Pastime Paradise'
"'Songs in the Key of Life' is another album I became obsessed with when I was in high school. I spent many hours locked away figuring out all the strings parts."
4. The Beatles – 'Eleanor Rigby'
"George Martin composed the iconic accompaniment comprised of a double string quartet playing staccato chords with melodic embellishments. Stretching pop boundaries as far as possible with a song about elderly loneliness, a truly original work on all fronts."
5. Björk – 'jóga'
"From 'Homogenic', my favorite Björk album. The song features a most spine-tingling and cathartic string arrangement."
6. Kate Bush – 'The Man With The Child In His Eyes'
"Produced by David Gilmour, the accompaniment to this song is purely orchestral. Mainly piano and strings. I love how horns double her vocal melody as well as the swells of interjecting flute. Hard to believe Kate wrote this song when she was only 13, what a genius."
7. Annie Lennox – 'Walking on Broken Glass'
"'Diva' is one of my all-time favourite albums. The most catchy Baroque unison string and piano pop hook ever."
8. Elton John – 'Skyline Pigeon'
"I first heard this song played at the end of The Favourite, Elton's voice is so young sounding it was hard for me to pinpoint who it was I was listening to! I love the harpsichord accompaniment."
9. XTC – 'River of Orchids'
"I've only just started listening to XTC, way too late in the game. I'm currently obsessed with their 1999 album 'Apple Venus Volume 1'. This song is such an incredible piece of art. Plucked strings and brass in a minimalist fabric."
10. The Rolling Stones – 'You Can't Always Get What You Want'
"Boys choir. Iconic."
Listen to Lydia Ainsworth's 'Diamonds Cutting Diamonds':
Lydia Ainsworth's 'Phantom Forest' comes out on May 10th 2019.