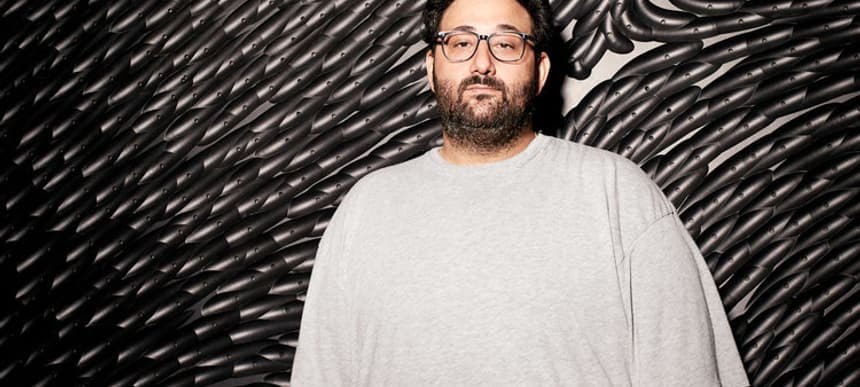 25.07.2019, Words by Felicity Martin
The 10 Best Pride Weapons, according to Muallem
"Sweaty bodies and sex vibes full on!"
If there's someone who knows their onions when it comes to the 'floor, it's David Muallem, aka Muallem. Co-founder and resident of Munich club Blitz as well as being a DJ and producer for over 20 years, he possesses a passion for the euphoric moments that a dancefloor can create.
Tomorrow he hits Ibiza to play Boiler Room's debut event at DC-10 alongside a diverse line-up that includes Seth Troxler, Willow and more. "The Pride period 2019 is full-on and it's the 50th anniversary since Stonewall," Muallem says. "With Pride parties I'll play in mind, I've selected ten weapons, that, when worked right, will create magic moments.
"The list includes brand new music and recordings from the past alike and ranges from well known classics to gems. I didn't try to work on a list of all-time Pride classics – there are enough around – but rather selected tunes that will do it for the crowd and me when it comes to 50 years of Pride."
1. Eleanor Academia – 'Adventure (Extended Mix)'
"'Adventure' was a Music Hall and Sven Väth bomb in the '80s. I found out about it, as this record was played a lot by Ata in the earlier days of Robert Johnson. 'Adventure' is my perfect example when it comes to body music. The bassline is the perfect invitation to undress. Sweaty bodies and sex vibes full on!"
2. Jeremy Glenn – 'New Life'
"Although released way later, I always have to think about '80s Ibiza when it comes to 'New Life'. I love the wavey vibes and the feeling of freedom the song transmits. I carried it around in my bag for quite some time, but it was not until I played an unexpected b2b with Cormac for his Dick residency at Ankali in Prague, when I realised its full potential."
3. Masalo – 'Cycles'
"This is a relatively new record and was released last year on Rush Hour. Im not sure if I remember right, but I believe it's by a former intern at Rush Hour store. I can't explain why, but it always brings up memories of a dancefloor scene from Maestro, the movie, and fits perfectly for my Panorama Bar sets. This is exactly when a colourful queer crowd becomes one moving body. The driving vocals push further…"
4. Impedence – 'Tainted Love'
"Soft Cell's version of Gloria Jones Northern Soul treasure might be the most famous one, however Impedance's recording of 'Tainted Love' is one of my favourite all-time classics. It was a hit in New York and London's late '80s underground. I haven't played it out in ages, but hope to break my set in the right moment with this beauty."
5. Madonna – 'I Don't Search I Find'
"Playing Madonna for Pride is a classic. Although her new album didn't convince me at first – my friend nd_baumecker convinced me to give it a real try – it is wonderfully produced in a technically sense and parts of it include true treasures. Since the album has the worst reviews, I'm sure no-one else has dropped this for Pride, and surprise, although playing Madonna is guaranteed."
6. Cute Heels – 'Third Skin (Steffi Remix)'
"This song is the perfect soundtrack to rougher sexual party vibes. I always drop it when playing Lab.oratory and for me, it always creates the image of naked bodies letting loose and going for it in sweat, smell, tears and joy. Orgy vibes!"
7. Daniel Wang pres. S.D.A.P – 'Don't Go Lose This (Main)'
"What a surprise, haven't heard form Danny in quite some time. He's back with a beautiful version of Hugh Masekela's 'Don't Go Loose It Baby' that was just released on Degustibus. The 12″ contains a wonderful message and I'm sure this one will work perfectly for Pride 2019."
8. The Garden Of Eden – 'The Garden Of Eden (The Serpent In The Garden)'
"No Pride without the right amount of acid. This jam from 1988 is one of my favourites from that era. The strings and haunting chants in combination with the acid lines create pure ecstasy vibes. True dancefloor revelations guaranteed."
9. Willie Colón – 'Set Fire To Me (Inferno Dub)'
"This is one of the 12″s that literally never leaves my bag. It is one of these records you always carry around and wait for the right moment to come up. When it does, it entails the perfect combination of moving bodies and transcending souls. The secret of it all is the simple bass line in combination with these amazing strings."
10. Shut Up and Dance – 'Raving I'm Raving ft. Peter Bouncer'
"This was a huge hit in the summer of 1992, making its way via radio to UK charts. It's anything but rare, nevertheless I haven't heard it in a club for over 20 years and I'm sure it has the potential to create madness at Pride."
Tune in to watch Muallem play Boiler Room's event at DC-10 tomorrow – or buy tickets – here.