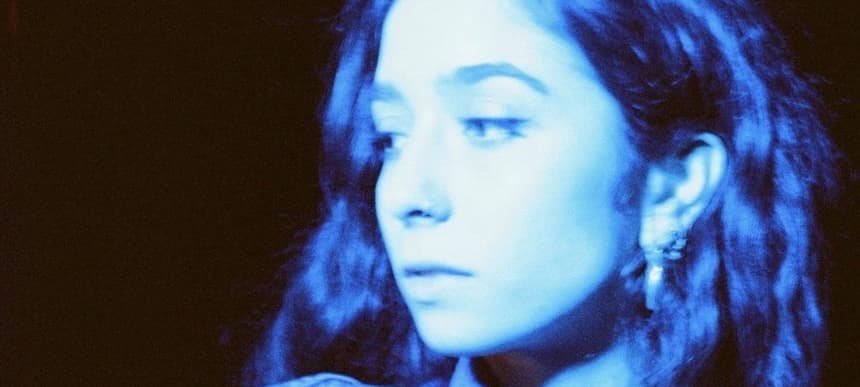 09.04.2020, Words by Felicity Martin
The 10 Best R&B-Folk Tunes, according to Jasmine Jethwa
"Hearing this for the first time I must've played it 30 times at least!"
As someone who counts the likes of Joni Mitchell, Bon Iver, Brandy and James Fauntleroy as sonic inspirations, emerging singer-songwriter Jasmine Jethwa makes music that could easily fit into the R&B-folk category, giving stripped-back guitar sounds a sleek twist. The South London singer-songwriter recently released her debut project: the arresting 'Hurricane' EP that finds her perfecting her folk-meets-R&B style. It follows debut single 'Running Circles', a stunning composition of lilting folk acoustics topped with Jethwa's poignant vocal.
Technically, R&B and folk aren't sounds that should sit together most naturally but, by cherry-picking the best elements from each genre, she's created something completely her own. Jasmine Jethwa invites us more closely into this world with the below, a run-through of the ten R&B-folk tracks that have inspired her sound, from Rosalía to Donny Hathaway to Rihanna.
1. James Blake – 'A Case Of You (Joni Mitchell Cover)'
"I've always loved the original of this, but I remember seeing him perform this live and being so moved. Such a beautiful song, and his delicate vocal gives it an even more haunting feel. The simplicity of this song, with just the piano, really lets the lyrics have centre stage."
2. James Fauntleroy – 'About Love'
"James Fauntleroy is definitely a big influence on me and this song is one of my favourites of his. Simple and a lot of feeling. Fauntleroy is one of the most influential R&B songwriters, but here he combines R&B melodies with a more acoustic sound, which is why I'm drawn to it."
3. Angel – 'Blessings'
"Incredible melodies throughout. Hearing this for the first time I must've played it 30 times at least – so catchy. The harmonies are insane!"
4. Donny Hathaway – 'Jealous Guy (John Lennon cover)'
"Always playing this song around the house, such a soulful voice; and a beautiful blues spin on softer pop song. This one is a true classic."
5. Lauryn Hill – 'I Gotta Find Peace of Mind – Live'
"Lauryn Hill's 'MTV Unplugged' album is one for a chilled night in. Acoustic and heartfelt. Intimate and emotive. This album feels like it's leaning on more of folk influence compared to a lot of her tracks."
6. Rosalía – 'Di Mi Nombre en acústico)'
"Incredible voice. The Spanish guitar and vocal is so in harmony with one another, and the relationship between the two gets more dynamic as the song progresses. Can really appreciate this song stripped back. Rosalia takes flamenco, the traditional folk music of Spain, and brings a modern R&B flavour."
7. James Blake & Bon Iver – 'I Need A Forest Fire'
"Love the synth on this track, gives it a constant unknowing feeling. A brilliant collaboration, which combines Bon Iver's folk sound with James Blake's R&B production."
8. Post Malone – 'Stay'
"The hard tuned voice against the acoustic echo-y guitar creates a beautiful and scopious sound. The classic-ness of the instrumentation, and slightly light-hearted playful lyric "fuck off and pour another drink" fuse both the singer/songwriter feel with modern language."
9. Frank Ocean – 'Close To You'
"A modern spin on a true classic from Carpenters. Such detailed production. Frank Ocean is a master at taking classic songs and reinventing them with a modern R&B feel. See also; 'Moon River'."
10. Rihanna – 'Get It Over With'
"Lyrically and melodically obsessed with this. Another genius co-write from James Fauntleroy, and the strings make me want to cry."
Stream Jasmine Jethwa's 'Hurricane' EP here.