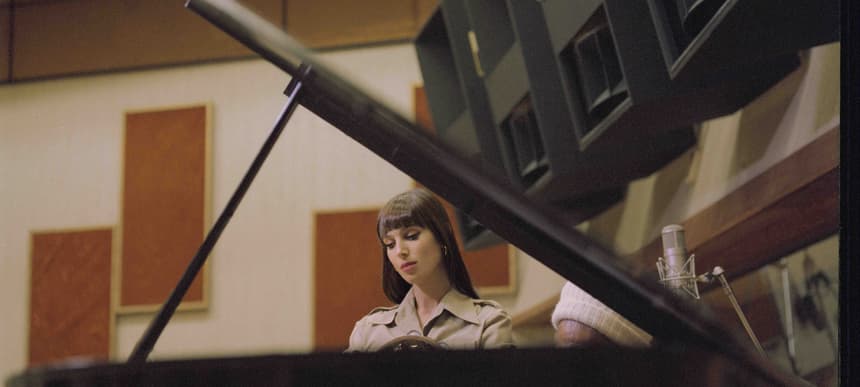 07.05.2019, Words by Felicity Martin
The 10 Best Records Discovered at Honest Jon's, according to Claude Fontaine
"I almost fainted when I first heard it": the gems that the LA songwriter found in the Portobello Road haven...
That feeling of rifling through a record store's crates and uncovering a gem you'll treasure forever is, for a music lover, pretty unbeatable. Claude Fontaine's debut self-titled album, out now via Innovative Leisure, bottles that exact feeling. The Los Angeles-raised singer-songwriter wrote the LP after moving to London just off Portobello Road and stumbling upon Honest Jon's, the 1974-established store famed for stocking vinyl from all corners of the globe.
It was there Fontaine discovered old Studio One, Trojan and Treasure Isle reggae and rocksteady records, as well as bossa nova, tropicalia and música popular brasileira, which made such an impression on her that she penned her self-titled, debut album as a result after moving back to her native LA. Stacking up heartbreak-themed love songs viewed through a classic reggae and Brazilian prism, it's a real globe-trotting LP that's a testament to the power of unassuming-looking record stores. Below, Claude Fontaine names her ten favourite tracks she uncovered during her time in Honest Jon's.
1. Ken Boothe – 'Artibella'
"A significant song for me. The first recording I ever heard that made me want to sing reggae. It's rootsy, steamy, and moving to no end every time I listen, without fail. And one of my favourite singing voices out there. His vibrato is so emotional it'll take you to your knees."
2. Quarteto Em Cy – 'Quarteto Em Cy'
"I'm a tremendous fan of this 1960s Brazilian girl group comprised of four sisters. Known in the US as 'The Girls From Bahia,' their sound is utterly charming, evocative and ahead of its time. I particularly love 'Tudo que voce podia ser' and 'Quando o carnaval chegar'."
3. Jorge Ben – 'Força Bruta'
"Hands down one of my favourite Brazilian crooners. His mysterious spirit, nature, and disposition shine through everything he touches and is nothing short of infectious."
4. V/A – 'Studio One Women'
"Wonderful, sultry, timeless love songs by some of the best female voices in reggae. A gem of the highest order."
5. Gal Costa and Caetano Veloso – 'Domingo'
"The pure and somewhat innocent debut record by two of the greatest Brazilian artists, right before they both began their journey toward psychedelic tropicália. I like listening to this knowing what's to come from both of them. Put this on with the windows wide open, drinking something chilled. Even if you're not you'll feel like you are."
6. Jeanette – 'Porque Te Vas'
"This record was a gift for me found at a record shop in Amsterdam but would likely show up in the bins at Honest Jon's. 'Porque Te Vas' was relatively unknown when it was first released but gained popularity when it was placed in the 1976 film Cría Cuervos, which won the Special Jury Prize at the Cannes Film Festival that year. I almost fainted when I first heard it."
7. Mulatu Astatqé – 'Éthiopiques'
"An intoxicating, hypnotic masterpiece I need to listen to often. However far away these sounds may come from, nothing makes me feel more at home."
8. Vinicius de Moraes e Baden Powell – 'Os Afro-Sambas'
"From start to finish, a flawless experience. Backed with vocals by Querteto Em Cy, the Afro-Brazilian fusion is simply exquisite and was revelatory when it was released in 1966."
9. V/A – 'Studio One Instrumentals Vol.1 & 2'
"A classic set featuring some of the finest pioneers of reggae and rocksteady. Standouts for me are Cedric Brooks' 'Father Forgive Him' and 'Mun-Dun-Gu' but I love all these tracks whole-heartedly. I like to sing along when I'm cooking up something hot in the kitchen."
10. V/A – 'London Is The Place For Me'
"A delightful compilation of calypso and highlife from the Honest Jon's label. I bought this record from their shop during a most typical rainy summer living in London. It reminds me of being in my tiny flat off Portobello Road, snuggled up on the sofa under a wool plaid blanket, drinking earl grey, with the clouded pearly sky peaking through from the outside."
Listen to Claude Fontaine's self-titled LP: