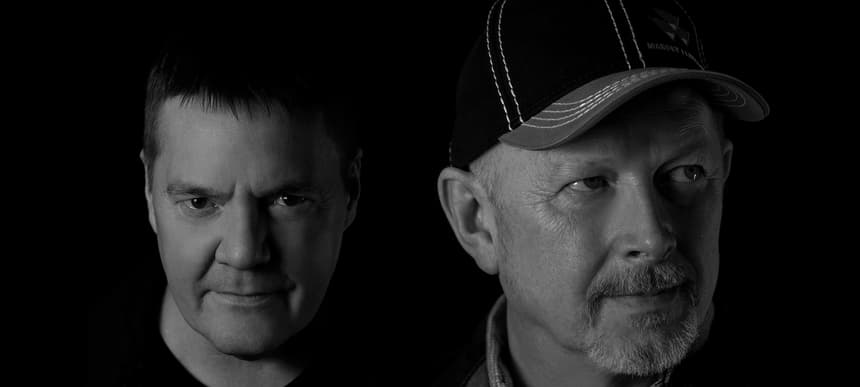 10.10.2019, Words by Felicity Martin
The 10 Best Remixes of 808 State Tracks, according to 808 State
"808 State have remixed a lot of other people's music, but rarely the other way around. Walk the time line with us..."
Iconic and enduring, 808 State are one of those acts who will stand the test of time. The acid house pioneers recently made their long-awaited return – three decades after they formed – announcing a new album ('Transmission Suite') that marks their first LP since 2002's 'Output Transmission'. The record sees them doubling down on the TR-808 drum machine that gave the group their name, but using those sounds to explore more leftfield pastures.
In anticipation of the record dropping tomorrow, the band's Graham Massey has compiled a list of his favourite artists remixing 808 State tracks. "808 State have remixed a lot of other people's music, but rarely the other way around," he says. "Walk the time line with us…"
1. AFX remixes 'Flow Coma' [from 808 State's 1988 album 'Newbuild']
"The self-released debut album was the first fully formed UK acid album by the first incarnation of the group that included A Guy Called Gerald and Eastern Bloc Record's owner, Martin Price and myself. Championed at the time by BBC Radio 1's John Peel, it remained a limited rarity fetching silly prices by the late '90s. Aphex Twin's Rephlex label lovingly repressed it on three pieces of vinyl and it's at this point in 1999 that Richard James did this remix released only on white labels under the moniker of AFX in 2001. It would later pop up on his '26 Remixes For Cash' compilation."
2. Brian Eno remixes 'Lopez' [from 808 State's 1996 'Don Solaris' album]
"'Lopez' was originally conceived as a guitar instrumental but ended up being a collaboration with The Manic Street Preachers when both bands were recording in Somerset in the autumn of 1995. Nicky Wire wrote the words, James Dean Bradfield sang the song. The guitars are by me not JDB as is quoted sometimes. It turned out to be one of our most perfect pop moments. Paul Morley of ZTT took it round to Eno's place around the corner from ZZT's office and Eno must have liked something about it and expressed an interest in remixing it. Adding new drums and some new guitar parts."
3. Bicep remix 'In Yer Face'
"Bicep contacted me with the idea of remixing 'In Yer Face' just after 808 played Moogfest in 2015. We were label-free at that point in time, so the mix was released on Bicep's own imprint and seemed to take on a life of its own, playing to a new generation of ravers. We shared the stage with Bicep at 2015's Festival N°6, and they've also invited us to be part of their Manchester Warehouse Project night on 30th November this year."
4. Monkey Mafia remixes 'Cubik'
"DJ John Carter does a suburb job of transforming this metal riff monster into a sound system dub bouncer, complete with humorous asides and commentary. Commissioned in 1998 for our 10-year anniversary release '808 88 98'."
5. Justin Strauss remixes 'Lift' [from 808 State's 1991 album 'Ex El']
"During the ZTT years 808 State records were licensed to Tommy Boy Records in the USA. A&R man Tom Richardson took a keen interest in getting remixes for the New York club/gay scene to whom Justin Strauss was addressing at the time. 'Lift' was always a bit of a curious egg, channelling an easy-listening/Philly sound via Bollywood – typically 808 centric. Strauss strips it down to a simple party banger."
"Another one of the Tommy Boy remixes from the 'Ex El' album. The Björk collaboration gets pulled further apart for the New York clubs as Eric's Kup of Hysteria Remix. A mix for a specific place and time. It was certainly great to hear it in context on our frequent visits back then."
7. Fritz von Runte remixes 'Lemon'
"Fritz has been a long-term friend of the band since he was our unofficial tour guide on our first trip to Brazil in 1994. Fritz's redesigns are legendary. 'Lemon' was a throwaway track from 1993's 'Gorgeous' album… actually from a free disco 12″ with the first pressings of the album. This mix wakes up in 2011 completely reshaped."
8. The Dust Brothers remix 'Dance Yourself To Death' [from 808 State's 1990 album 'The North At Its Heights']
"MC Tunes and 808 State's first official collaboration was 'Dance Yourself To Death' for a German compilation of the same name on Black Out Records. The compilation includes tracks by Mayday, Kevin Saunderson, Westbam and Masters At Work. We played the track live on BBC2 's Snub TV arts program, ZTT caught it and came up to MCR to talk us into signing with them. MC Tunes requested a remix by The Dust Brothers – not the Manchester Dust Brothers who changed into The Chemical Brothers – but the NY hip-hop producers behind The Beastie Boys' 'Paul's Boutique' and many other hip-hop greats."
9. Dillinja remixes 'Azura' [from 808 State's 1996 album 'Don Solaris']
"This is also a track from the campaign for the '808 88 98' greatest hits compilation on ZTT. A number of UK drum 'n' bass producers did remixes of the 808 catalogue. The legendary Dillinja takes an already drum 'n' bass influenced track featuring Louise Rhodes from the group Lamb on vocals and gives it a proper paint job."
10. Sure Is Pure remix 'Joyrider' [from 808 State's 1996 album 'Don Solaris']
"Danny Spencer and Kelvin Andrews, two DJ Brothers from Stoke were well known to 808 State. Spencer and I had both trained at The School of Sound Recording in Manchester in the late '80s. Danny being only 17 at the time was ahead of the curve with early house music productions and had shared a lot of tech knowledge and enthusiasm for the emerging dance scene with me. We would always bump into each other on dancefloors or various studios around the North West. One being Zombie Studios where we were recording in adjacent rooms in 1997. They are both blinding DJs and engineers and that's what we wanted from them – their craft."
Listen to 808 State's 'The Ludwig Question':
808 State have announced a UK tour in 2020 – find dates and tickets here.
Related: Read Special Request's verdict on 808 State and more singles in our 'Cop or Drop?' series