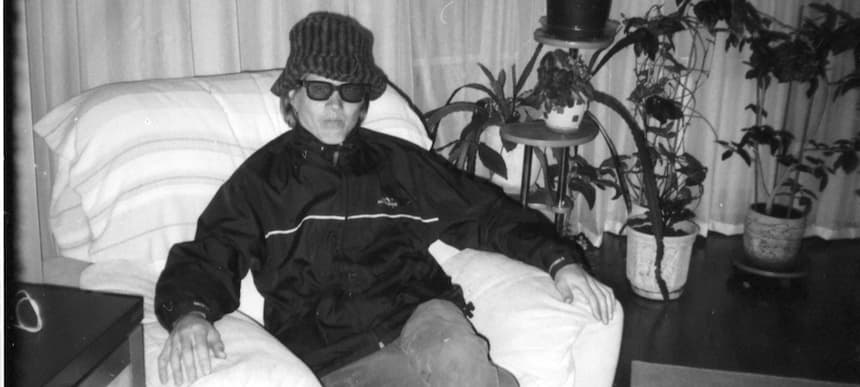 21.01.2019, Words by Felicity Martin
The 10 Best Russian Trance Tracks, according to KIKOK
The Gnoomes drummer and artist from a hyper-remote part of Russia reflects on the trance cuts he was raised on...
As well as drumming for "stargaze" group Gnoomes, Pavel Fedoseev also makes music solo as KIKOK, a name that translates as "arm leg" in Fedoseev's native Komi-Permian language. Based in the isolated Russian city of Perm (22 hours away from its nearest city, Moscow), he swerves boredom by staying at home and makes music as a soloist, fusing '70s Kosmische with cosmic Soviet funk.
KIKOK says: "The genre which is represented in these tracks was very popular in the village where I was growing up alongside another weird styles of music in the '90s-'00s, but I listened to it mostly because my brother and sisters were into this music and that's all what we had on tapes at home. I changed my preferences when I moved to a bigger city but this would be another great story."
With his album 'Sauna' about to drop on Fatima Yamaha's Magnetron Music label, Pavel runs us through the trance cuts he fell in love with as a kid in rural Russia…
"This track hit third place in the UK Singles Charts a while ago, but I remember how I was in a teenage military camp and shot with a real AK-47 and did cross-country running listening to it."
2. Russkiy Razmer – 'Angel Dnya'
"It's a real criminal dance anthem of the late '90s in Russia. Fights, drugs and rave."
3. Virus – 'Ty Menya Ne Ischi'
"When I was in senior school I used to drink a lot of cheap spirits before the disco. After it, I was running from the building in a flash with my mate to vomit outside and this track was playing in my ears."
"It was the summer of 1997 when the first album by this band came out and my mom sent me to a camp for poor and needy children. I was among orphans, shaven-headed bullies who were smeared with brilliant green, but to be honest I didn't care because there was plenty of food which I really liked. This tape was played on repeat at the disco at the sports hall there."
"The inarguable anthem of all Russian school discos. Everyone lifted their hands to the sky to catch the sun."
6. Tatyana Bulanova – 'Moi Son'
"My sister was a huge fan of this singer. One day her female friend and classmate stayed overnight at our house. They were listening to this tape all night long and dancing together like they would be a couple from an '80s movie. It was so funny to me and my younger brother that we decided to tease them and we took a big pillow, hug it and started to dance with them."
7. Mr. Credo – 'HSH- Bola'
"This guy is a true sheik, he still plays for the fully-crowded spaces!"
"The second successful composition by PPK, 'Reload', which lifted to the 39th position in the UK Singles Charts, in fact it's a modern version of the song 'Zodiaс' by the famous Soviet band Zodiaс from the album 'Disco Alliance' that came out in 1980."
9. Dj Groove – 'Schastie Est'
"Dj Groove is one of the first Russians who promoted house and dance music on central TV, and because of that he gained traction among the teenagers and it was a true strike back to the cheesy post-Soviet pop scene."
10. KIKOK – 'Das (feat. Sasha Piankov)'
"The track from my first LP 'Sauna' was inspired by all artists mentioned above. It's also the first feature with my pal Sasha Piankov from the band Gnoomes where I play the drums as well. Besides without this guy I wasn't able to release any record under the KIKOK alliance, because we went through the hell and heaven together and he is my true friend."
'Sauna' is released on January 25th by Magnetron Music – stream 'Das' here.