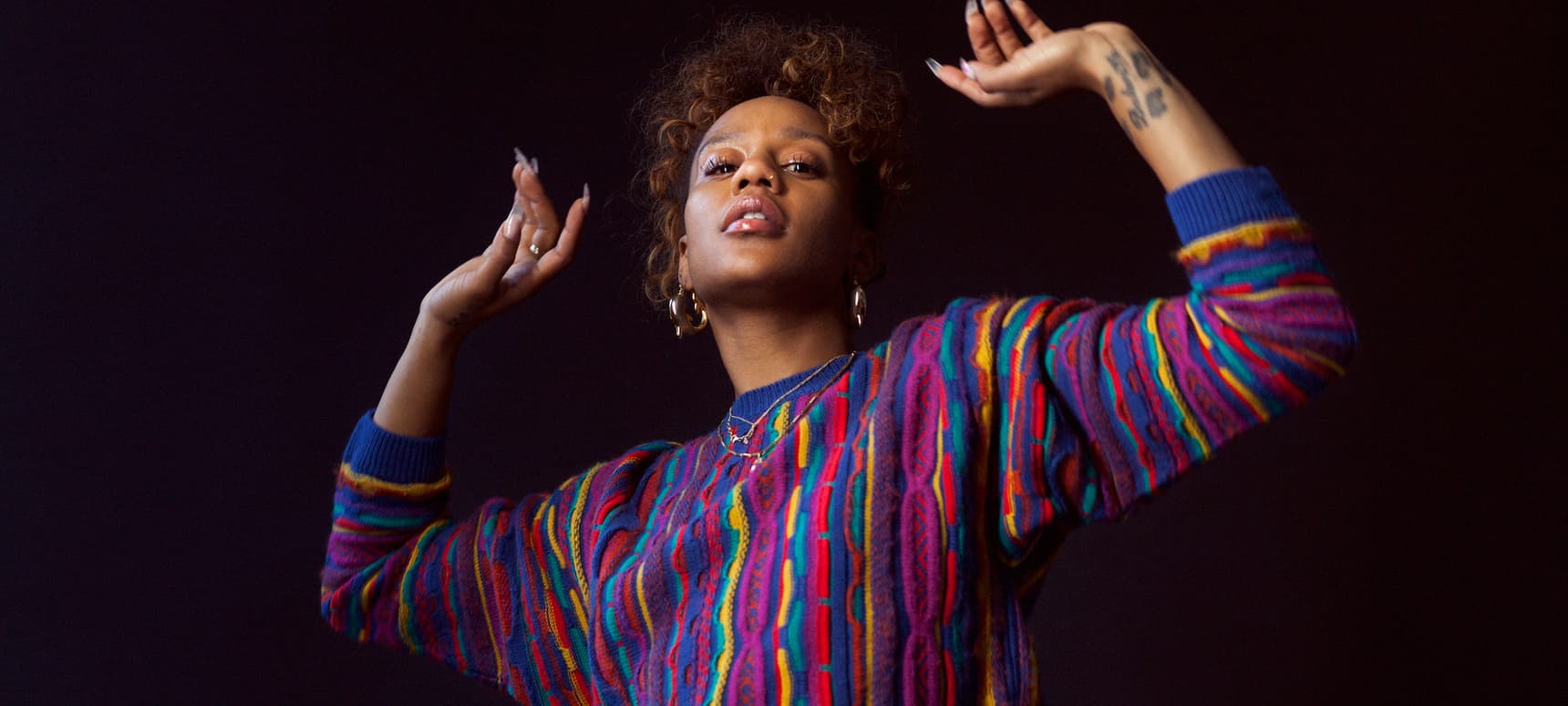 16.01.2019, Words by Felicity Martin
The 10 Best Sade Tracks, according to Taliwhoah
"Who doesn't want their best friend or lover to dedicate this song to them?"
Tottenham-based Taliwhoah grew up fully surrounded by music. The daughter of Boney M's Toyin Adekale, she inherited an early fascination with the process of songwriting and musical genres in their multiple and spidering forms. Now as a frontwoman and someone who's making moves, she's earned praise for her 'New Wave Order, Vol. 1' EP, a collaboration with L-Vis 1990, and more recently a string of slow-burning tracks like the irresistible 'Soul Food'. Her late-night R&B sound, soaring vocals and impassioned production have drawn comparisons with the likes of Solange and SZA, but most notably the queen of English soul, Sade Adu.
Last year, Sade made something of a comeback, releasing her first new music in eight years with 'Flower of the Universe' and 'The Big Unknown', a track written for the Steve McQueen-directed film Widows. A self-confessed Sade stan, Taliwhoah lists her ten essential deep cuts by the soul icon.
1. 'By Your Side'
"This song means a lot to me because I remember discovering it shortly after my Grandfather passed away in the year 2000. It really comforted me during my first experience with losing someone and inspired me to write a song titled 'Angel' that I dedicated to him. I was only 10 years-old but I remember my mum saying the lyrics were so beyond my years and I like to believe this song was really the catalyst for that."
2. 'Like A Tattoo'
"This song is my go-to song when I need to unwind. Theres something so therapeutic about it that I can't quite put my finger on; from the guitar riffs to the piano accompaniment, to Sade's sultry voice. It's just a combination of total soothe."
3. 'Siempre Hay Esperanza'
"To my surprise a lot of people of my generation don't really know that Sade is actually a band (featuring singer/songwriter Helen "Sade" Adu as lead singer) and for that reason I've decided to add this to my list because it really shows off the band's talent as a unit. I love how elemental this track is."
4. 'Is It a Crime'
"I'm a sucker for a crazy jazz composition and amazing storytelling and this track is all that and more. It's definitely one of my top five favourite Sade songs."
5. 'Sweetest Taboo'
"I don't know a person that doesn't love this song and if there is someone out that doesn't, I don't ever wanna meet them, lol. This is actually one of the first songs I ever heard from Sade and I haven't looked back since."
6. 'Smooth Operator'
"When I get casted for my first movie, this WILL be the soundtrack to commemorate the moment, haha. This song feels like silk and everything in the entire world that is smooth (no pun intended). The sax and the keys are my favourite on this track, not to mention Sade's voice sounding like honey over the entire song."
7. 'I Will Be Your Friend'
"Who doesn't want their best friend or lover to dedicate this song to them? I mean, I've yet to have someone do it, but I personally dedicate this to all my friends that I love so much."
8. 'Your Love is King'
"The sax on this makes me want to fall in love. I've decided that this song will play at my wedding one day (whenever that is). I love this song, there's a feeling in it you may not be able to articulate but can most definitely feel. It makes you wanna just wanna dance in love."
9. 'In Another Time'
"This track is off of Sade's most recent album 'Solider of Love' and from the very first few chords it just creates all the feels. The lyrics are so heartfelt and I connect with it in a beautiful way."
10. 'Nothing Can Come Between Us'
"I really believe that everyone deserves to have this song dedicated to them at some point in their life. This is another song that makes me appreciate Sade as a songwriter so much. I can't wait 'til I'm able to fly my close friends out to an island somewhere and play this song for us on the beach."
Listen to Taliwhoah's 'Love Cycle':