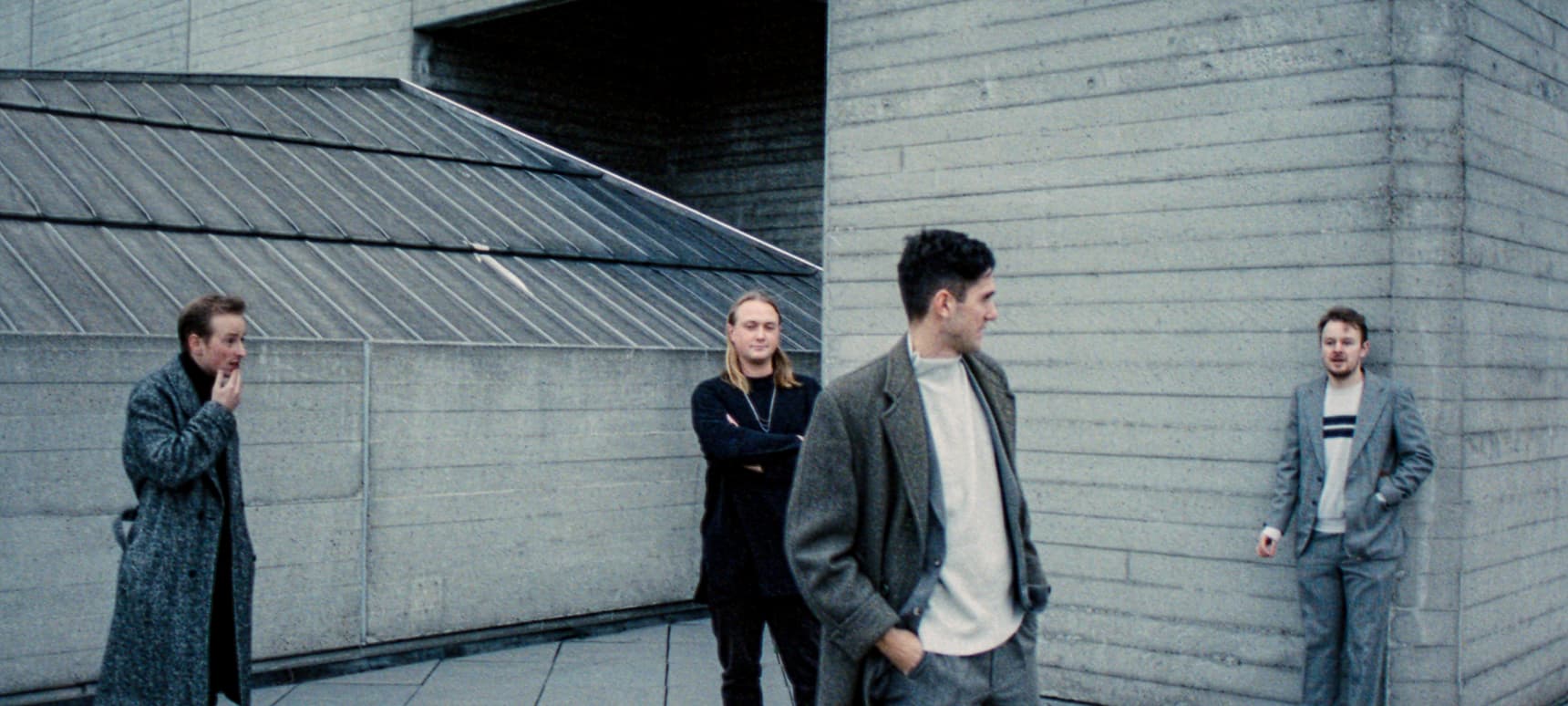 25.02.2019, Words by Felicity Martin
The 10 Best Socio-Politically Conscious Dance Tracks, according to Low Island
From LCD Soundsystem to Fela Kuti, here are the best cuts to ever tackle important subject matter...
Low Island are a band who like to imbue their music with a message. The latest cut from DJ/producers Jamie Jay and Carlos Posada, bassist Jacob Lively and jazz drummer Felix Higginbottom is 'In Person', a track that explores what is a burning issue today – the idea of drifting apart from those you grew up with in an increasingly hyper-connected digital world. With a socio-political message being intrinsic to this work, we invited the band to share their ten best dance tracks throughout history that hold insightful commentary at their core.
"Socio-politically conscious dance music is surprisingly scarce," Low Island say. "While the culture of dance music has often been a vehicle and signifier for political change and oppression, the same cannot always be said of the songs. Even more so in the present day, where dance music artists are enabled to express their politics through their social media and public persona. The need to do so in songs feels less necessary – escapism and love is the more common language. This means a lot of the choices for this feature have looked further back than the present day.
"Dance music has also moved from the social peripheries into the core of the mainstream. As is the case with any art form that this happens to, it can lose its sense of counter-culture. This is no less apparent than in Burning Man's recent re-evaluation of its central message: it has finally acknowledged that its original de-commodification and 'leave no trace' manifesto has been diluted by extreme wealth and brands.
"That being said, there are still of course dance artists making politically conscious songs. Here, we choose a selection of ten. We've tried to be as varied as possible. Undoubtedly we will have missed some crucial ones – hit us up in the comments with more suggestions."
1. The Streets – 'Weak Become Heroes'
"Our go-to DJ set closer (along with the rest of the world), 'Weak Become Heroes' is a song that fondly pokes fun at the drugged-up utopianism of club culture while simultaneously celebrating its diversity."
2. Loose Joints – 'Is It All Over My Face'
"Arthur Russell has always been an incredibly important artist for us. He covered such a uniquely varied range of genres across his – at the time grossly underrated – career. In the words of Arthur Russell biographer Tim Lawrence, this song 'explored the themes of promiscuous longing and oral sex'. After an exhaustive creative process (typical to Russell), the song eventually became a massive hit and a gay anthem. We often play this out in our DJ sets and it's funny to watch people get confused by the meaning of the words."
3. Matthew Dear – 'Wrong With Us'
"'Wrong With Us' was written in the aftermath of the Trump election…. nuff said?"
4. The Shamen – 'Ebeneezer Goode'
"The moment summer of love rave culture hit the mainstream, Ebeneezer Goode (not that we remember) hit the no.1 spot in the '90s as a paean to ecstasy. Colin Angus from the band said it "was intended to be celebratory and cautionary, like holding up a distorting mirror to rave culture". Our acid house raver mate Paul sits us down and tells us stories so that we can live this era through him."
5. LCD Soundsystem – 'Tonite'
"James Murphy is one of our favourite lyricists, not least because he's not afraid to put cerebral lyrics over banging tracks. 'Tonite' is no different. It's got all of Murphy's usual insights on ageing and tongue-in cheek philosophical reflections ('Life is finite, but hell it feels like forever'), with added reflections on our virtual selves ("embarrassing pictures have now all been deleted")."
6. Fela Kuti – 'Zombie'
"Though this is more afrobeat than strictly dance music, it's a great example of fusing a fun groove with scathing vitriol, which is something we sometimes like to do in our own music. The song is a satirical attack on the Nigerian military. It was so provocative that the government attacked and destroyed Fela's Kalakuta Republic, tragically killing his mother and almost killing him in the process. Fela's 1978 performance of this song in Ghana caused riots and his subsequent ban from entering the country."
7. William Onyeabor – 'Why Go To War'
"Like Arthur Russell, William Onyeabor was incredibly ahead of his time and sadly under-appreciated during his active years. Noisey made a documentary about him called Fantastic Man, which is definitely worth a watch. This song was released only three years after 'Zombie' and touches on Nigerian politics. More broadly it deals with east-west international warfare. The lyric "you want another guy stop a bullet for you, but you'll never like to stop a bullet" is particularly haunting."
8. Chris Korda & The Church of Euthanasia – 'Six Billion Humans Can't Be Wrong'
"Released on German label International Deejay Gigolo Records, this hilarious song sees antinatalist/pro-euthanasia/technology genius Chris Korda goading overconsumption over basic techno beats ("where's my lunch? the world revolves around me!")"
9. Kraftwerk – 'Radioactivity'
"We saw this live in 3D last year when we played Berlin Lolapalooza… it was obviously amazing. The visuals really brought the song's message to life, with nuclear signs and nuclear disasters written across the enormous 3D screen "Tschernobyl, Harrisburgh, Sellafield, Hiroshima". On the surface, Kraftwerk's iconic robotic appearance presents a love of technology, modernity, automation and machinery, but their lyrics actually often mourn these things."
10. Dan le Sac vs Scroobius Pip – 'Thou Shalt Always Kill'
"This was a really important song for us growing up. It's such a witty attack on hype and people who can't think independently, which was a big part of the indie NME landscape of our teens. Having listened to a lot of Rage Against The Machine growing up, it was really refreshing to hear a distinctly UK rant track."
Listen to 'In Person', Low Island's latest single:
Low Island head off on a UK/European tour in March and April – head here for more information and tickets.
Related: The 10 Best Political Tracks, according to Drones Club