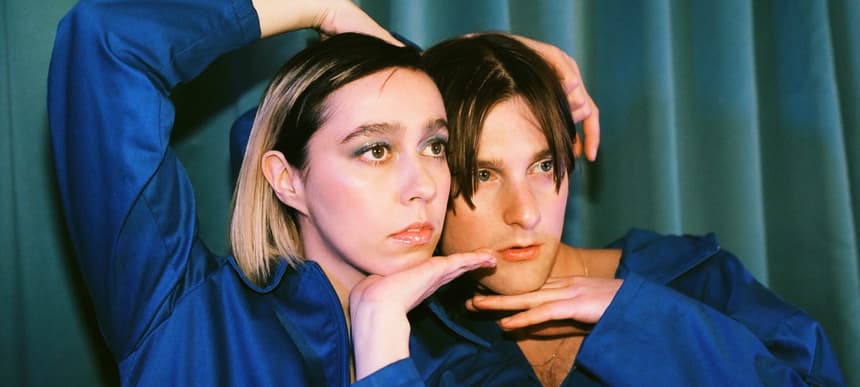 03.12.2019, Words by Billy Ward
The 10 Best Songs To Recover To, according to Blue Hawaii
"Whether you're lying on the couch or in the club these tunes can bring joy and strength..."
Since working under the collaborative moniker of Blue Hawaii, Raphaelle "Ra" Standell-Preston and Alex "Agor" Kerby have spent the last decade exploring the world they exist in through a series of textured, conceptual electronics. Adopting an introspective approach to excavate new ideas, the Canadian duo have refused to stagnate or settle for any particular sound, with their latest album 'Open Reduction Internal Fixation' offering a diverse blend of trance, acoustic, UK garage, trip-hop and house.
Self-reflecting as ever, the new project was born out of unfortunate circumstances. The duo's tour throughout Southeast Asia and Japan was cancelled due to Agor having heel surgery following a bad injury, and the pair named the new album after the procedure that halted their plans – open reduction internal fixation surgery.
With one of the pair suffering from a broken heel bone and the other a broken heart, the record symbolises a personal process of recovery, and it is this theme that the duo explore below, outlining their ten best tracks to heal their respective pain.
1. Wookie – 'Battle ft. Lain'
"All about conquering your fears, stepping up to the challenge when you see no way out – pick yourself up and move on. No other way to recover, IMO."
2. MJ Cole – 'Sincere'
"While we're in garage territory, should probably stick around for this one. Also about staying true to oneself, an important motif if you are recovering and rebuilding."
3. TJ Cases – 'You Bring Me Joy'
"Another classic garage track… but whether you're lying on the couch or in the club, these tunes can bring joy and strength, things needed to stay strong and face the challenges of life!"
4. Sade – 'Love is Stronger Than Pride (1992 Mad Professor Remix)'
"Ok, so this is an ultimate stage in pining over a lost lover and trying to recover from them. To state the obvious, realising you can't hate them, the feeling of love for the other is stronger than the pride in oneself. Sharing the good intentions and spreading love rather than hate as a mechanism to move forward. Chose the reggae remix because its lightness is important in this context!"
5. Oumou Sangaré – 'Saa Magni (Kabaka Edit)'
"The lyrics in this song are about death and the all-encompassing nature of it. It's an important thing to remember when recovering. We all end up on the same plane in the end and the competition we feel only exists in ourselves and is short lived. Choosing this housey edit because it's interesting!"
6. Prefab Sprout – 'Bonny'
"One of those songs with a nostalgic feeling that's self contained and special and though it is melancholy it is also uplifting. The way the chorus comes in after the sad verse kind of makes you wanna get up on your feet. Was emotional to this one in the past."
7. Keni Burke – 'Risin' To The Top'
"Slow groove to soothe the heart and body. Extended steamer. Rising above the things which hold you back and get you down."
8. Studio Ghibli Piano Collection, 'ジブリのピアノメドレー、吉卜力鋼琴音樂集 – Tonight, working with petrichor alone'
"Good to have something like this on hand for those mornings or times when you have music just in the background. Meditating and making space."
9. Dwight Sykes – 'Where Ever You Are'
"The feel of this tune is just plain good, a bit nostalgic and totally emotional yet with no lyrics. I love that his caption is "I hope everyone in this video is doing well". It's like the years go past and you never fully recover your former self but a part of it will always exist within you (and in pictures!)"
10. Dwight Sykes – 'Sometimes'
"This is admitting to the end of a relationship, the first step into recovering and becoming a whole person after the hurt. Picking another Sykes tune, because, well maybe the whole playlist just should have been that. Huge fan."
Blue Hawaii's 'Open Reduction Internal Fixation' is out now – stream it here.