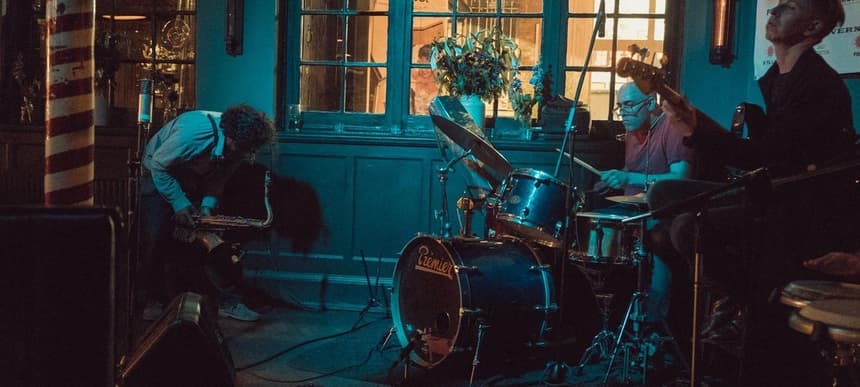 11.02.2019, Words by Felicity Martin
The 10 Best Spiritual Jazz Tracks Of All Time, according to Ill Considered
The quartet list the spiritual jazz tracks that inform their own freeform sounds...
Firmly established within London's burgeoning jazz scene, Ill Considered are a band who put freedom at the heart of what they do. Comprised of four musicians – Idris Rahman on sax, Leon Brichard on bass, Emre Ramazanoglu on drums, Yahael Camara-Onono on percussion – the quartet come together for sessions where there's no planning or talking between takes, and no idea what music will emerge at the end.
Formed on the pillars of mutual respect and musicianship, the troupe are consistently pushing things forward for the genre, holding spontaneity at the core of what they do. Getting talked about in the same breath as artists like Kamasi Washington and Manchester's Nat Birchall, the band are continuing what the likes of spiritual jazz titans like John Coltrane and Pharoah Sanders started. Below, Ill Considered have listed their ten favourite spiritual jazz tracks that continue to inform the music they make today.
1. Wayne Horvitz & Pigpen – 'Miss Ann'
"This tune is a big influence on our production and playing. Unrelenting fire and dirty, excuse-free playing does it for us. It's a collaboration when the result was way off anything I would have expected from these guys and a great fresh take on classic Dolphy."
2. Abdullah Ibrahim – 'Ishmael'
"Another big influence on the band and Idris's favourite tune. Amazing sax playing by Abdullah and a very rare opportunity to hear him do so on record. Raw as fuck and beautiful in its simplicity. The sound is really special to us."
3. Lloyd Miller – 'Shur Thing'
"Wide open and heavy, this jam is a late-night favourite. Killer-sounding record too. Layers of interacting percussion underpinning everything is definitely a big influence on us. We only found this tune recently but clearly we've been listening to it in past lives!"
4. Max Roach – 'January V'
"This Max Roach ensemble cut from the early '80s is another of Em's favourites. Beautiful and melodic, but also powerful and brooding. The whole M'Boom record is incredible, but this track seemed to fit best in this playlist.The use of space with a large percussion ensemble is inspiring."
5. Alice Coltrane – 'A Love Supreme'
"A classic and a deep love of ours. So burning and deep at the same time. Monster playing and deep commitment from the musicians. Incredible strings and keys."
6. Spin Marvel – 'Canonical'
"Featuring some of the greatest European contemporary jazz musicians, this freakish, intense jam appeals to us in many ways. The assured slow build and no-prisoners taken crescendos have definitely left a mark on our compositions."
7. Moondog – 'Viking 1'
"One of Em's favourite tracks, the incredible composition, beautiful performance and phrasing makes the 5/4 meter elegant and groove feel effortless. Almost a lullaby, but a thread of darkness keeps it from being too sweet."
8. Oliver Lake – 'Africa'
"Amazing contrast between the free opening section and the groove parts of the arrangement. Beautiful sounds and killer playing. One of Idris's favourites. The bass ostinato is obviously really appealing to us too."
9. Lloyd Miller – 'Gol-E Gandom'
"Hammered dulcimer takes the lead and the virtuosic playing turns it into an incredible bed for the band to play off. The band fly through this one – it's so uplifting. The simple harmony and how the band play with that is so powerful and mesmerising.
10. Don Cherry – 'Chenrezig'
"We're huge Don Cherry fans and this track is so burning yet contemplative it really perfectly embodies openness and freedom and unrestrained energy."
Ill Considered play a Balamii takeover at Ghost Notes in Peckham next Friday – get tickets here.
Related: